Have you ever felt overlooked? That was the case for Sheldon, whose grumpy face — and the stigma attached to being a pit bull — kept him from being adopted.
All it took was for one shelter volunteer, and one adopter, to see him as he really is: a pup of perfection.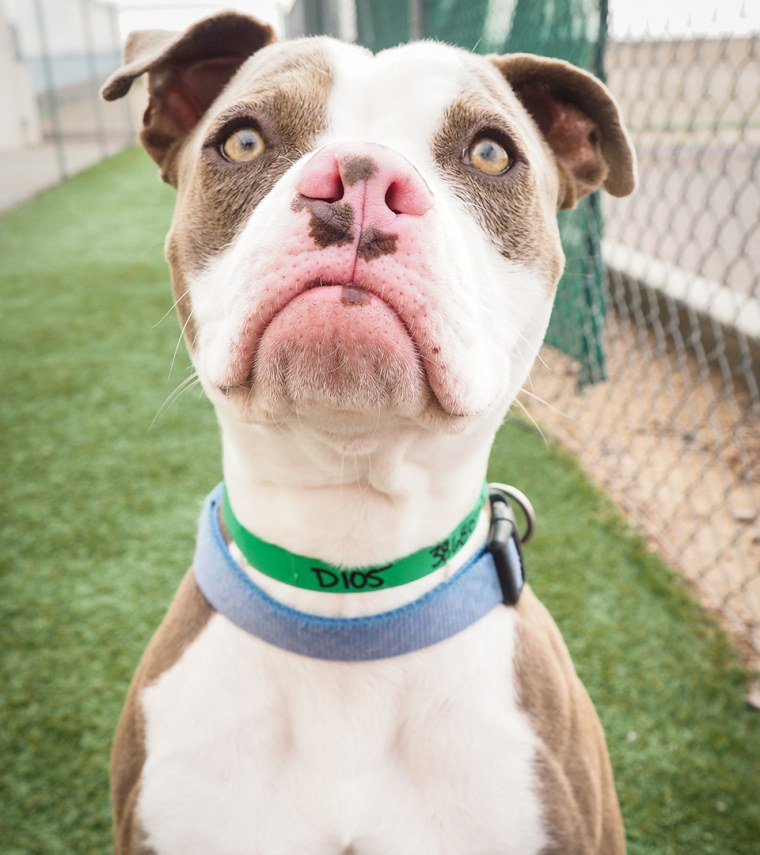 Sheldon arrived at the Arizona shelter just a few days after Christmas. He is a sweet, loving boy who already knew basic commands like "sit" and "paw," so it seemed like he'd been somebody's pet.
But that somebody didn't collect him. Whether it's because of his grumpy face, or because that grumpy face is attached to a pit bull's blocky head — a head shape associated with a whole lot of untrue negative stereotypes — for a long time, nobody else wanted to take Sheldon home, either.
"Unfortunately, no one came for Sheldon," Melissa Gable, spokesperson for Maricopa County Animal Care & Control, told TODAY in an email.
RELATED: Dog left at shelter comes with heartbreaking letter from kid who loved him
Shelter volunteer Heather Haltmeyer saw promise and opportunity where others had seen...less.
"He is definitely a sweet dog!" she told TODAY.
Haltmeyer specializes in taking pictures of dogs who need some extra help getting noticed by potential adopters.
In late January, she took some photos of Sheldon that would best show off his curmudgeonly mug, and darling personality. They were posted to the Maricopa County Animal Care & Control Facebook page, with this excellent come-on:
"GUYS! Look at this face!! We may be biased, but we think Sheldon should be a doggy celebrity with all those expressions! Think of all the fun you could have taking pictures of him if you adopt," she wrote.
The Facebook post was a huge hit. Sheldon's story spread far and wide — and even more importantly, it reached, and moved, someone local.
Arizonian Emily Chmiel spotted Haltmeyer's photos of Sheldon, and really liked what she saw.
"I went down right at opening the next morning to meet him and basically immediately fell in love," she said.
RELATED: Brawny ship captain adopts adorable first mate — a shelter kitten!
If Sheldon's grumpy face got Chmiel in the shelter door, that's not what really sold her. It was his personality.
Coming into the shelter's meet-and-greet room, Sheldon "was bouncy and happy," she said. "Like no matter who was waiting in there, they were about to be his best friend."
He was right. Sheldon got adopted.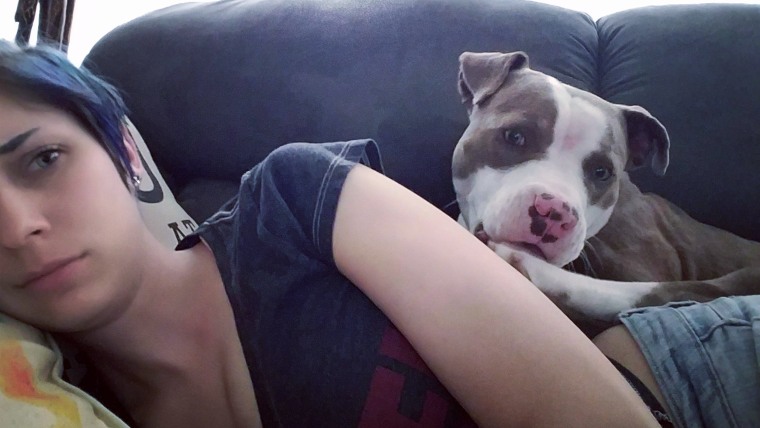 It's been about a month and a half since Sheldon came home. His name now is Cas.
Cas lives with Chmiel and her roommate, and five rescue cats, two of whom are blind. "He loves them all a lot, even if he gets smacked more often than not," said Chmiel. "He's loving life, although he seems to think it's very unfair that he's not allowed to eat the cats' food."
RELATED: 'Grateful' dog snuggles new mom who rescued him from shelter
Cas seems to be enjoying the stuffing out of his new life — as a celebrity and, more importantly, as a pet. He gets chew toys and Starbucks puppuccinos, comfy beds and car rides, and long cuddle sessions with his new mom — which are sometimes interrupted by Cas deciding that Chmiel is taking up too much space, and shoving her off the couch.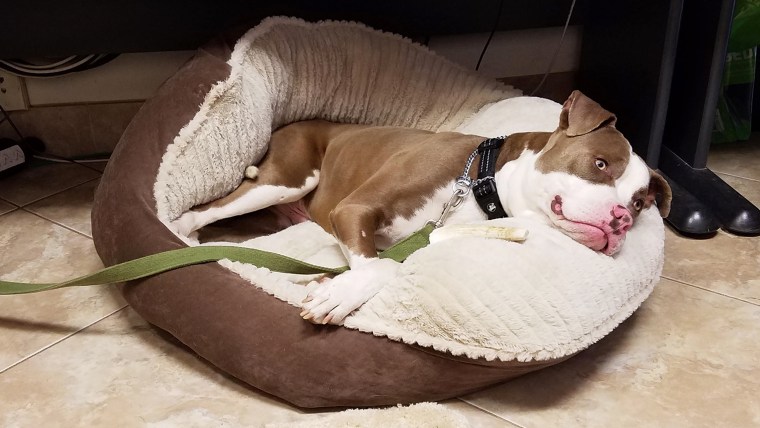 All of which Gable, the shelter's spokesperson, is so happy to hear.
There's nothing better than having a pet leave the shelter after finding a loving home. All the more so when their story might encourage more folks to give other shelter dogs — those with remarkable facial expressions, and especially pit bulls — a second look.
RELATED: People are clamoring to adopt Picasso, the adorable dog with a lopsided jaw
"Many of these pups belonged to a family at one point in time and deserve to once again be in a home," she said.
And speaking of looks: Chmiel tells TODAY she takes great joy observing a wide range of them on Cas' face.
"He is one of the more expressive dogs I've ever met and it absolutely cracks me up," she said.
There's the grumpy expression that made him famous, of course. But these days, more often than not, Cas is wearing a big old smile.