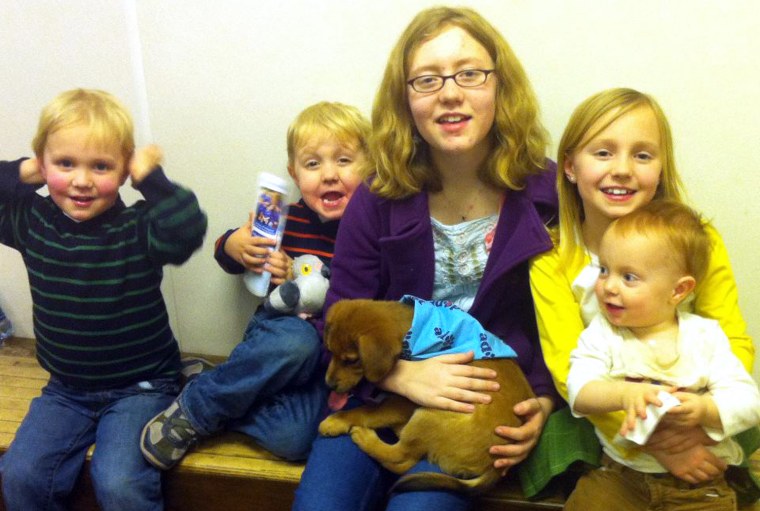 When two sisters outside Boston asked their parents for a puppy, their dad posed a challenge: Get a million likes on Facebook and then we'll talk.
So the Mansfield, Mass., children took Ryan Cordell up on his offer, Boston NBC affiliate WHDH reported. The kids' mom took a picture of them with a sign that said:
Hi World...We want a puppy! Our dad said we could get one if we get 1 million likes! He doesn't think we can do it! So "LIKE" this!
They created a Facebook page —"Twogirlsandapuppy," — on Tuesday and posted the photo. The response went viral: within six hours the photo hit the million mark, according to WHDH.
"I thought I was being very clever saying you'd have to get a million likes," Cordell told WHDH.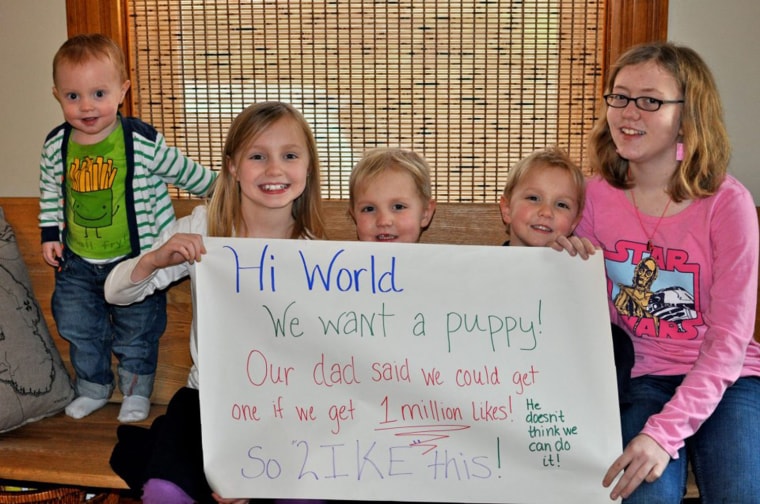 Dad lived up to his promise and the family of five adopted what they think is a Lab-Shepherd mix and named the puppy "Millie," WHDH reported. The puppy was adopted from North Shore Animal League America, a no-kill animal rescue and adoption center in Port Washington, N.Y.
As of Saturday evening, the Facebook post had more than 1.6 million "likes," more than 140,000 shares and almost 40,000 comments. The page's cover photo also had well over a million "likes."
Because of the overwhelming global response, the family has wrangled the help of 20 close friends to help moderate the page and answer messages, mom Eviee Cordell told WHDH. They'll be moving the page to a website soon, according to a Facebook post on Saturday.
Efforts to reach Ryan Cordell for comment Saturday were not returned. Cordell studies viral media at Northeastern University, The Atlantic reported.
More: Tuna the dog takes over Internet, TODAY greenroom
Mutt named 'Mugly' wins ugly contest
Say hi! Panda cubs wave, relax in adorable pics
16 sweet animal photos to brighten up your day 
106 baby chicks get lost in the mail, visit the nation's capital