A little dog named Nate is doing just great — thanks to some TLC from George Clooney.
The Cincinnati-area group LuvFurMutts Animal Rescue reported on its Facebook page that the actor and filmmaker made arrangements to adopt the terrier and surprise his parents, Nick and Nina Clooney of Kentucky, with the dog as a Christmas present.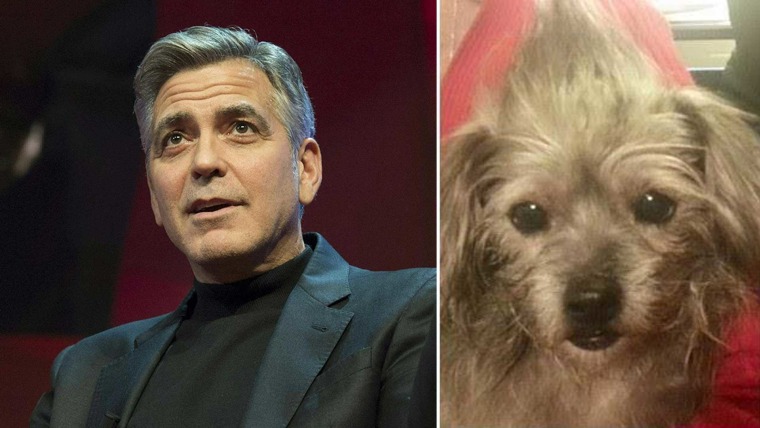 LuvFurMutts Rescue said Nate had been saved from a hoarding situation and had multiple health issues — so much so that many would-be adopters recoiled from the idea of giving Nate a home.
"He was born with birth defects. A barrel chest, a leg that swayed," LuvFurMutts said in its Facebook post. "When we took Nate to adoption events, people would stare and kids would point. Several people applied to adopt him but then said no when they met him. ...
"The lowest point came when an adopter cried when she met him and said she would be depressed the rest of her life if she had to look at him every day."
None of this deterred Clooney and his wife, Amal, who fell in love with Nate online. Clooney knew how affected his parents had been by the recent loss of their terrier of 10 years, so he arranged for Nate to be delivered to them on Christmas Eve. George and Amal Clooney also made a donation to LuvFurMutts that "covered more than Nate's previous surgery expenses," the group said.
"What is impressive is the fact that George picked Nate out, and Nick and Nina accepted Nate just the way he is," LuvFurMutts said. "They could have any dog in the world, but they chose to adopt a dog who was crippled and could have been with LuvFurMutts for life."
This isn't the first foray into the world of dog rescue for the Clooneys. Last October, George and Amal visited the San Gabriel Valley Humane Society and adopted Millie, a basset hound who had been found outside a restaurant begging for food scraps.
In 2010, Clooney adopted Einstein, a once-obese cocker spaniel with chronically dry eyes and a thyroid condition who had been pulled from a shelter and rehabilitated by the group Camp Cocker Rescue. (Einstein is the smiling black cocker spaniel pictured in the photo gallery below.)
RELATED: 'My Old Dog': A paw-some adventure leads to heartwarming new book by TODAY writer
LuvFurMutts volunteers said they are "over the moon" about the turn Nate's life has taken.
"We are ... most appreciative that they love Nate just the way his is — the way God made him," the group said in its Facebook post. "Our Nate is loved and in his forever home and will be spoiled to death for the rest of his life."
TODAY.com writer and editor Laura T. Coffey is the author of "My Old Dog: Rescued Pets with Remarkable Second Acts," which chronicles George Clooney's adoption of Einstein and the hilarity that ensued after they met.