Former President George H.W. Bush has just expanded his family!
He's sweet and cute and furry all over: that's right, the newest member of the Bush clan is named Sully, and he's a yellow Labrador retriever.
Bush revealed the pet to the world on Twitter Monday, showing off a photo of himself, Sully and a special visitor:
In case you're wondering, yes! Sully is named after Chesley "Sully" Sullenberger, the former pilot who landed his plane in New York's Hudson River in 2009.
Even before he arrived at his new home, Sully had his own Instagram page (TODAY's Puppy with a Purpose, Sunny, is one of his followers) and had posted a picture:
Walker's Point is the name of the Bush compound in Kennebunkport, Maine.
And on Tuesday Sully took a moment to share this update:
Dogs have long been a part of the Bush household; Millie and Ranger shared the White House when Bush was president. Cocker Spaniel C. Fred Bush even "wrote" a book!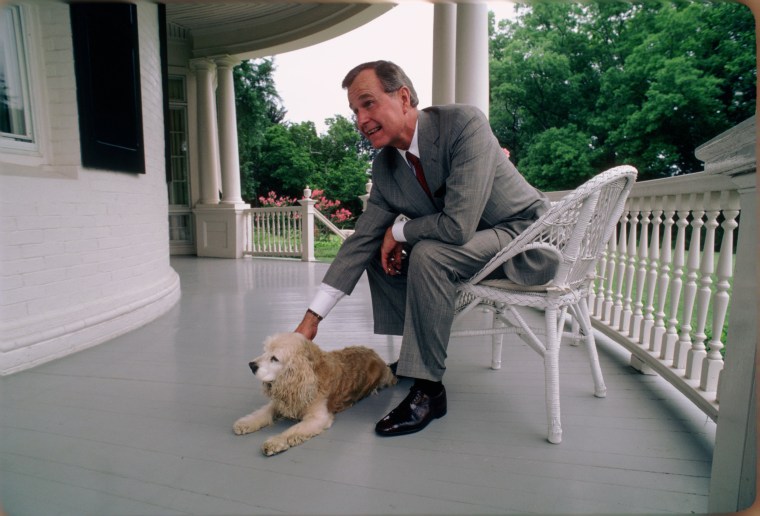 As Bush, 94, noted, Sully isn't just another pet: he's a service dog trained by America's Vet Dogs, which trains and places service dogs with disabled vets and first responders to help them live their lives or as part of a rehabilitation process. Both Sunny and Sunny's predecessor at TODAY, Charlie, were also affiliated with America's Vet Dogs. And Bush is a perfect recipient, having served in the Navy during World War II.
Sunny's trainer Olivia Poff told TODAY that Sully will be able to help Bush around the house tasks like opening doors, summoning assistance and picking up dropped items.
She also noted that Sully is already settling in nicely. "The first words that President Bush said when Sully walked into the room was, 'Welcome home,' so they're already off to a wonderful start," she said.
We also sense that Sully will be a great companion after the loss of the former president's wife of 73 years, Barbara Bush. Mrs. Bush passed in April.
Follow Randee Dawn on Twitter.