It's always nice to see veterans out on the football field. After years of experience, they've got it all down: the graceful moves, the athletic plays, the ... sudden napping?
Yup. In a Super Bowl for adult and senior dogs, napping happens.
Each year since 2005, Animal Planet has aired "Puppy Bowl" in concert with (and in adorable imitation of) the Super Bowl. This year, the network is launching something new: "Puppy Bowl Presents: The Dog Bowl," which features older adoptable dogs and encourages adoption of senior shelter animals. The one-hour special airs Saturday, Feb. 3 at 8 p.m. ET/5 p.m. PT and is hosted by animal advocate and TV personality Jill Rappaport.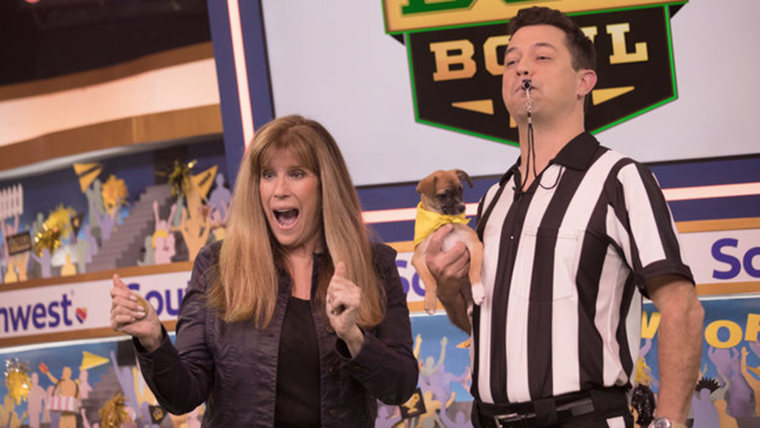 "These dogs have their wonderful playful moments and they have their siesta moments," said Rappaport, consulting producer for "The Dog Bowl." "People's hearts are going to melt."
"Dog Bowl" divides 50 pooches from 10 states into two "teams" — Team Paws and Team Tails — with furry fumbles being called by "Rufferee" Dan Schachner. The four-legged players range in age from a frisky 2-year-old to a seasoned 15-year-old.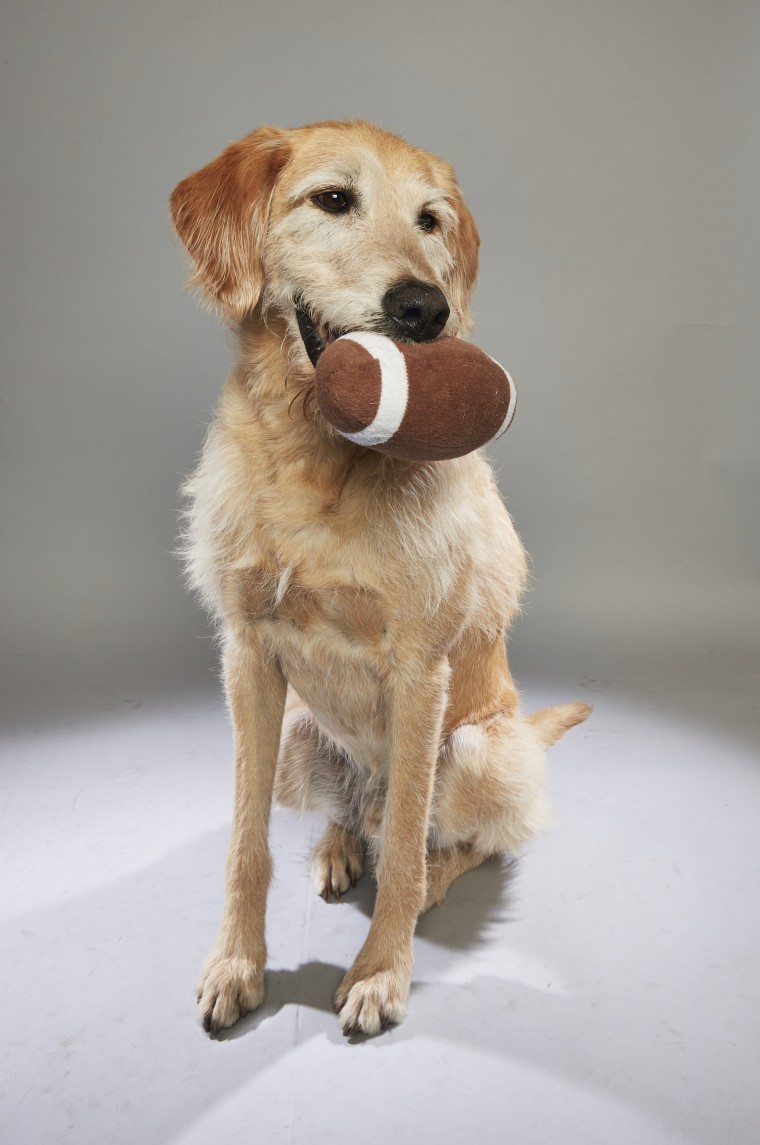 For several years, Rappaport has hosted "Puppy Bowl's" Pup Close and Personal segments, which tell the often-harrowing backstories of how the puppies made their way to the gridiron. She said she decided to approach Animal Planet with the idea of doing another special focused on an especially at-risk category of shelter dogs: the older ones.
"I've always made it my mission to focus on the underdogs of the shelter world — the seniors, the bully breeds and the special-needs pets — because those three are the toughest to get out," Rappaport told TODAY. "Senior pets are often the last ones left languishing at shelters. These dogs have been dumped in the twilight of their lives through no fault of their own. They're not damaged goods. They're the most special, beautiful animals in the world, but people keep walking past their cages."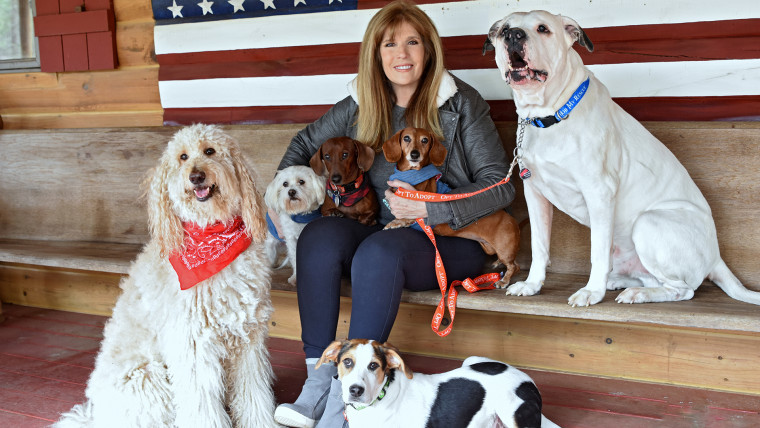 Rappaport lives with six rescued dogs, including four she deems "super seniors" because they are likely in their teens. She loves to sing the praises of older pets, noting that they are calm, sweet, loyal and grateful — and, as a major bonus, they're usually already house-trained.
"When you give them the love and care they need, they thrive and really exceed your expectations," Rappaport said. "They live much longer than you might think because they know they're loved and safe."
In addition to sharing the stories of the dogs on the field, "The Dog Bowl" includes profiles of NFL player Eric Decker and his wife, Jessie James Decker, who help rescue dogs to become service dogs for disabled veterans through their nonprofit Deckers Dogs; NFL player and animal advocate Logan Ryan; Tia Torres from the TV series "Pit Bulls & Parolees"; and Instagrammer Steve Greig, who is known for helping senior animals in need.
Simon Morris, executive producer of Animal Planet's "Puppy Bowl" and "Dog Bowl" specials, said he's excited to be putting a spotlight on older homeless animals this year.
"There are so many wonderful adult dogs that need homes," Morris told TODAY. "They are perfect for a family that is not up for the task of raising a puppy."
Some of the dogs appearing on "The Dog Bowl" this weekend have had the good fortune to be adopted already. Rescue and shelter workers say the buzz around the TV special helped create a buzz for older dogs in their communities.
Amy Hofer, development associate for Ramapo-Bergen Animal Refuge, Inc. in Oakland, New Jersey, pointed to two "Dog Bowl" participants who have managed to find loving new homes: Lexi, a 10-year-old cocker spaniel mix who came to the refuge with infected eyes and ears and badly matted fur; and Kody, a 7-year-old German shepherd mix who got dropped off at the refuge with his "sister," another dog named Sasha, after their human family lost their home. (Hofer happily reported that Kody and Sasha got adopted together.)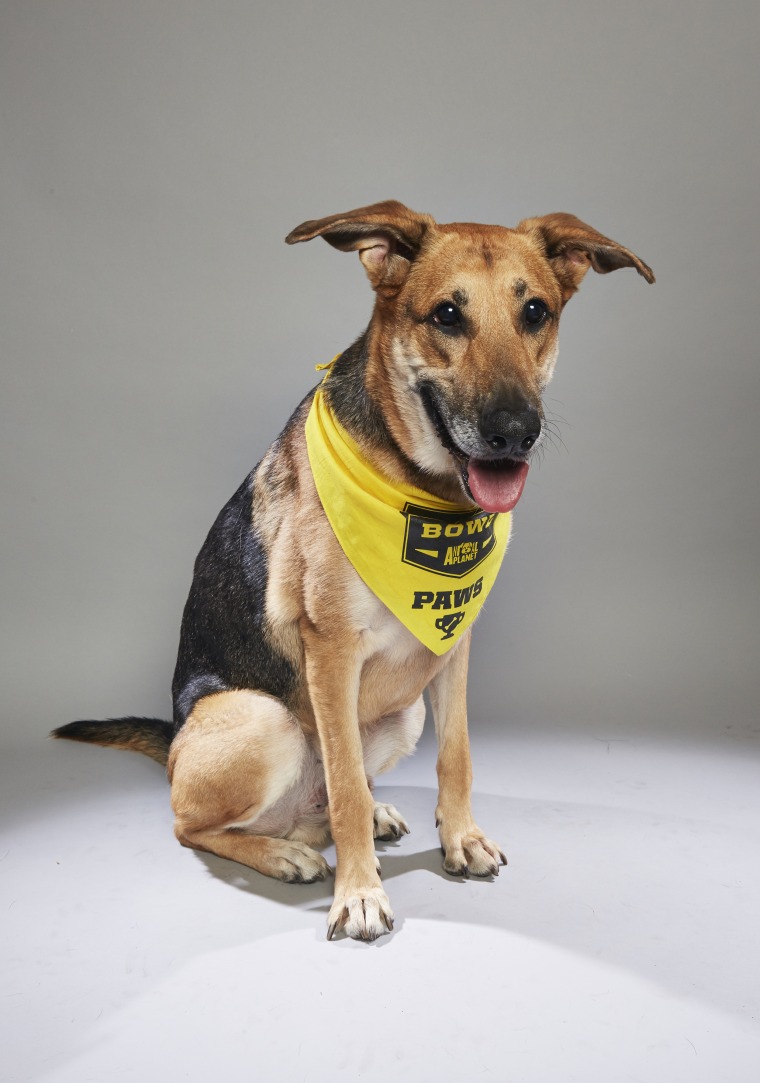 "Publicity for our senior dogs allows the public to feel a connection to each animal," Hofer said. "When the animals touch people's hearts, they want to provide the support that they can, whether it be support for rescue work or, even better, a home."
Lisa Lunghofer is executive director of The Grey Muzzle Organization, which awards grant money to senior-focused animal-rescue programs around the United States, including the Ramapo-Bergen Animal Refuge. She said she hopes people watching "The Dog Bowl" will see how wonderful senior dogs can be.
"TV specials like this show the world that love is indeed ageless," Lunghofer told TODAY. "Puppies are sweet, but senior dogs are just as deserving and grateful — if not more so — for the chance to love and be loved again."
The first-ever "Puppy Bowl Presents: The Dog Bowl" airs on Animal Planet on Saturday, Feb. 3 at 8 p.m. ET/5 p.m. PT. Now in its 14th year, "Puppy Bowl" airs on Animal Planet on Super Bowl Sunday, Feb. 4 at 3 p.m. ET/noon PT.
Follow TODAY writer Laura T. Coffey on Facebook, Twitter (@ltcoff) and Google+, and learn about her bestselling book "My Old Dog: Rescued Pets with Remarkable Second Acts" at MyOldDogBook.com.