Timothy the hippo has a message for the world: "Believe in love. Even if you're just a hippo."
The San Antonio Zoo's 4-year-old hippopotamus also has a lot of messages for the Cincinnati Zoo's Fiona the hippo. Mainly, love letters on social media. Plus poems. And remixed '80s songs, like his recent take on Journey's classic "Faithfully":
And being apart ain't easy on this hippo story
Two strangers learn to fall in super like again
I get the joy of reading about you
Oh, girl, you stand by me
I'm forever yours, faithfully
"Fiona was such a superstar right away, and apparently it caught Timothy's attention," Tim Morrow, president and CEO of the San Antonio Zoo, told TODAY. "I think he's a playful lover. He's still got his innocence about him. There's nothing nefarious about this. He's not trying to 'slide into her DMs,' as people will say."
Timothy is planning a surprise for Fiona's third birthday on Jan. 24. Last year, he sent her a video of mariachis serenading her. (Morrow said the Texas-based hippo hoped she could be serenaded in person, but couldn't find mariachis available for hire in Ohio.)
Additionally, Timothy asked his fans to send him copies of her latest book, "A Very Fiona Christmas," during the holidays, and his team will donate them to children at a local homeless shelter this week in honor of her birthday.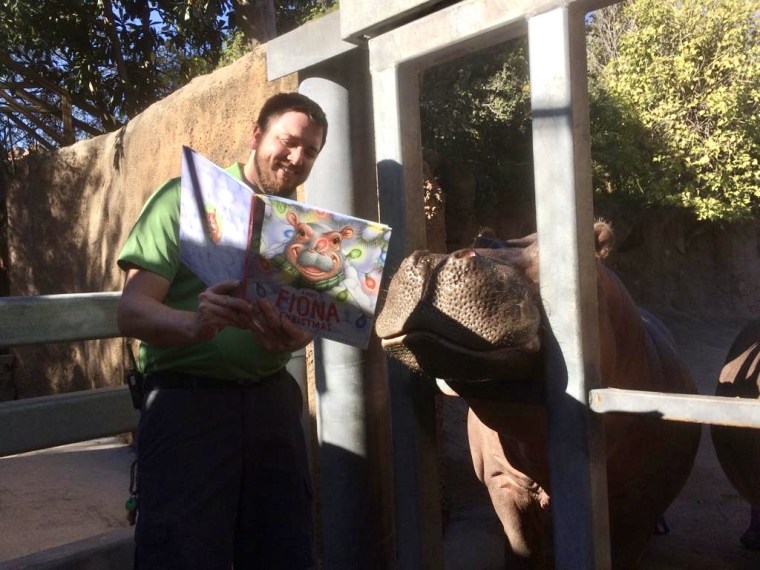 Fiona's birthday is always a special occasion. Born six months premature in 2017, she weighed just 29 pounds and shouldn't have survived. As she beat the odds with the diligent care of the team at the Cincinnati Zoo, she captured the hearts of fans worldwide. She's arguably the world's most famous hippo, with her own internet show, books and even ice cream.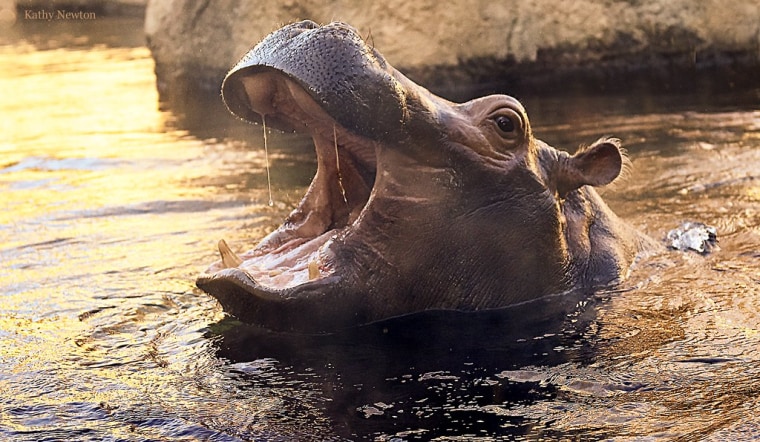 Still, Timothy's bona fides as a suitor are strong. His grandfather Tumbo once graced the cover of National Geographic, so genetically he has star power, too. He currently lives with his grandmother Uma, who is raising him to be a gentleman.
"Grandma's teaching him how to be a gentleman hippo, and not be on the internet too much, and be outside in nature and play," Morrow said. "We try to weave all those messages in and have a lot of fun doing it."
Fans of the star-crossed hippos take photos of Timothy while holding Fiona signs, or bring him gifts "from" her. Morrow said fans often post comments for Timothy like, "This gives me hope in humanity again" and "I wish my boyfriend was this sweet to me."
"Especially in today's times with so much serious news happening around the world, this is just something fun that people can follow," Morrow said.
So will Timothy and Fiona ever take their flirtation to the next level? Hippos must be at least 5 years old to start mating; Timothy turns 5 in April. While Morrow said Timothy would probably be happy to wait for Fiona until she's of legal dating age, whether they'll ever meet is up to the Association of Zoos and Aquariums, which determines which animals in zoos should breed based on genetics and other factors as part of its Species Survival Plan.
That raises the all-important question: If Fiona and Timothy are deemed a match, where will they live? Christina Gorsuch, Cincinnati Zoo curator of mammals, weighed in on Timothy's courtship in an email to TODAY:
"Timothy's crush is sweet, and who can blame the guy for falling for that face?! If he is patient and has the right DNA, there's a chance that he could end up with Fiona someday," Gorsuch shared. "She won't be ready to be paired with a male for several years, and that match will be determined based on genetics and not romantic interests! If the Association of Zoos and Aquariums decides that Timothy is the one, he would have to be willing to relocate. Cincinnatians would riot if Fiona left town."