David Teie, a soloist with the National Symphony Orchestra, is quite talented when it comes to charming audiences with his music.
But thanks to a partnership with animal scientists, as well as a remarkably successful Kickstarter campaign, that audience has expanded to include an unusual subset of listeners: cats.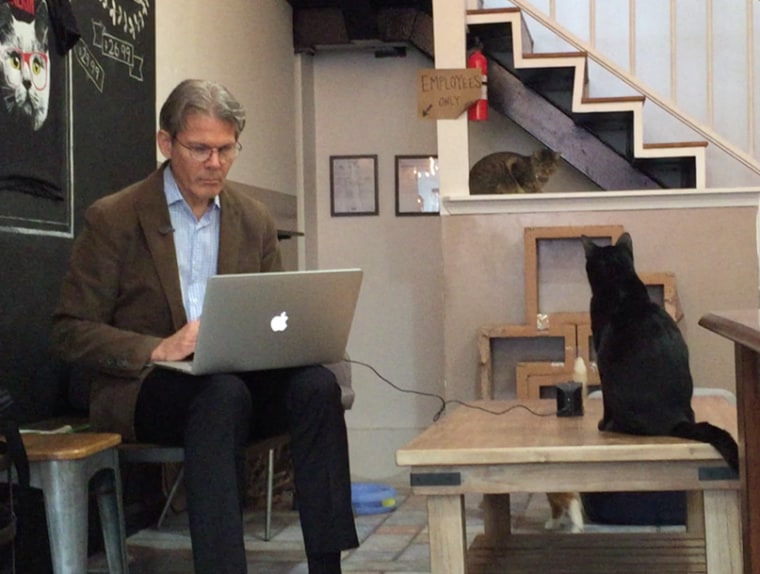 Teie is out with a new album — a one-of-a-kind collection of tracks that brings "scientifically credible music" to felines. Titled "Music for Cats," the compilation features songs with whirring rhythms and quirky cadences — all designed to appeal to the unique senses of the animal.
His idea to create the album sprung from his own hypotheses about music and its calming abilities.
RELATED: Cool cats! Laid-back felines star in #catband music videos
"This really began as a test of a theory of mine concerning how music affects the emotions (of animals)," Teie told TODAY.
But how is this music specifically tailored to cats, and what makes it different from the songs humans enjoy?
Teie offered that the sonic environment in which a cat's brain develops is drastically different from that of a human's.
"The brain structures responsible for our emotions are almost completely formed at birth, so the sounds of the womb are the bases for human music," Teie explained, adding that our music relies upon pulse, meter and melodies.
RELATED: 30-year-old Scooter is the new oldest living cat according to Guinness World Records
Most brain development for cats, however, occurs outside the womb, so "the sound of suckling... is a reward-related sound that all cats will have heard" during that crucial period.
Simply put, cats are unable to relate to the basis for human music.
Teie explained that his music "is intended to calm and comfort in a 'language' that cats understand" and is most helpful for "rescue and adopted, formerly abused cats."
He launched the original Kickstarter campaign with the goal of raising $20,000 to fund the project. And with the help of feline enthusiasts, it didn't take long for Teie to crowd-source that amount — and multiply it by 12 — pulling together a whopping $241,651.
RELATED: Do dogs or cats love their owners more? Study says one pet's more devoted
"The support is extraordinarily encouraging," Teie said. "...People view this as a kind of cause for improving the lives of the cats they love."
As for what he hopes the project achieves, Teie told TODAY: "I love the idea that music, already considered the universal language, can be made more universal as it extends to other species."
So ... curious to know how cats actually react to the songs?
Teie said that "most cats usually show interest at first and then are calmed by the music."
RELATED: Go ahead, lick your cat! New device assures you no hairballs
Several TODAY staff members tested the album on their own feline friends, and, as it turns out, his statement proved to be remarkably accurate.
Maurkice Pouncey, aka Morky (named after the Pittsburgh Steelers player), age 4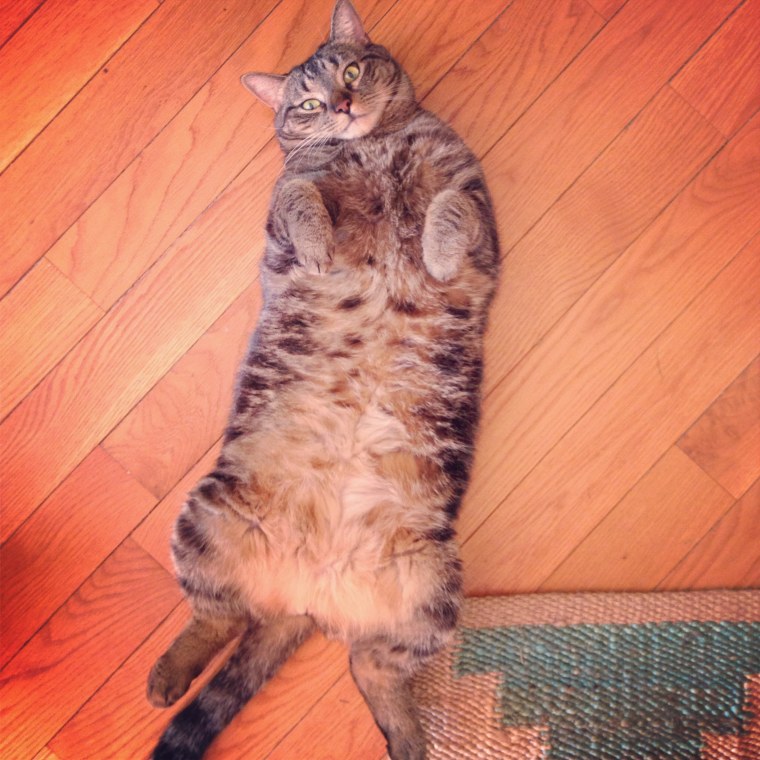 Morky was terrified when the music started. He did a crazy sidestep then paused, and then acted like his world had flipped upside down for the next 10 minutes as various songs played. After the initial mind-blown reaction, he seemed to enter a slightly chilled out, slightly skeptical trance. And somehow it turned into a kind of cat therapy! I plan to play this music for him on the regular now. He was already a stressed-out cat, but things escalated when my son was born last year. I'm hoping this will help him relax!
—Lauren Sullivan
RELATED: Couple holds wedding at a cat sanctuary — with 1,100 furry guests
Little Cat, age 1, and Baxter (not shown), age 9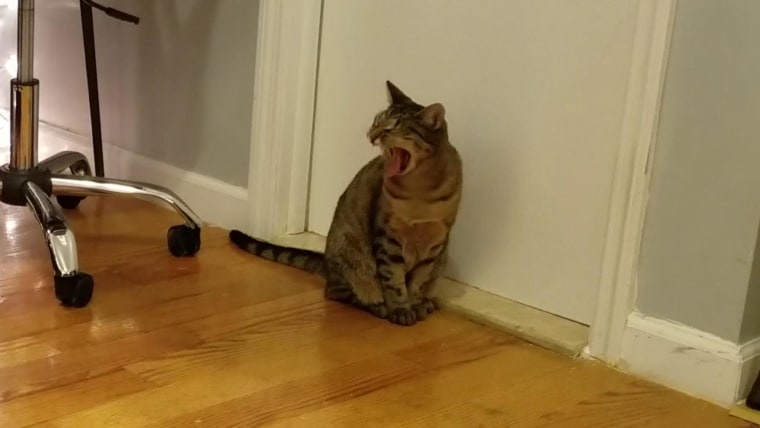 Little Cat seemed to be lulled by the music, so much so that she yawned a few times while it was playing until eventually she just laid down. Baxter, on the other hand, seemed entirely unfazed — then again, nothing fazes him, at all, ever.
—Matt Murray
Chuko, age 4, and Bandit, age 7 months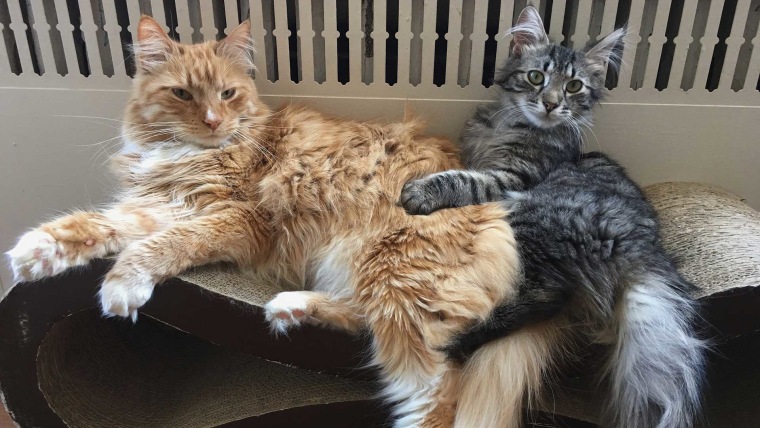 When I first played the album — at a point that sounds like a mix between a cat purring and a heartbeat — Chuko's ears immediately perked up as if he were hearing something for the first time. He darted across the room and looked in every direction for the source of the sounds. Bandit, a kitten we recently rescued from an animal shelter, didn't have any overt reaction, though. She is normally prone to "frapping" and general crazy behavior, but with this music, she seemed very calm. Both cats eventually nestled down on their cat lounger and moved minimally for the rest of the album.
And for what it's worth, my husband seemed to like it, too.
—Robin Kawakami
RELATED: 5 ways to celebrate your feline on National Cat Day
Sofie, age 3
The music made her go to sleep (and I almost did, too!), in a very good way. She's a mellow cat to begin with...
Track 1: Sofie initially looked at the source of the music, then just relaxed and eventually fell asleep.
Track 2: She continued to sleep throughout — in the same exact position.
Track 3: Sofie still didn't move an inch, only opened her eyes and head when my daughter came in the room and sat on the bed.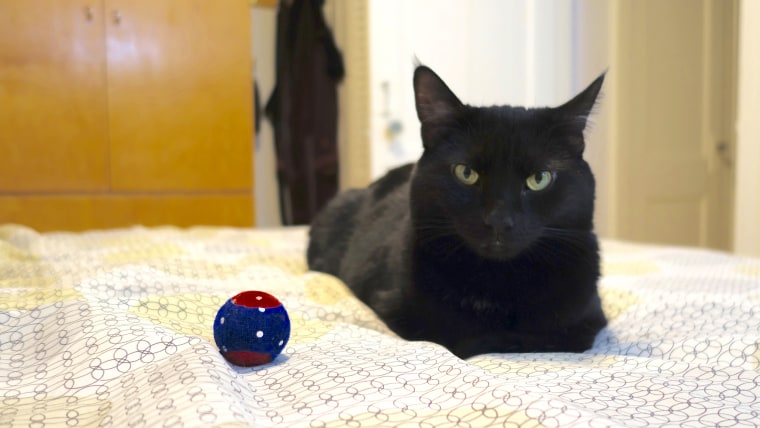 Track 4: She moved in the opposite direction only because my daughter decided to lay on the bed, but then stayed in the same spot with her eyes closed.
Track 5: Sofie shifted her weight in a complete circle, sat and went right back to sleep... despite the distraction of a fidgety 11-year-old.
—Angeliki Jackson