You've probably noticed the (furry) new face in the TODAY family. His name is Wrangler, and he's our "Puppy with A Purpose."
Our anchors, staff and an experienced dog handler are teaming up with Guiding Eyes for the Blind, a New York nonprofit organization, to help train this 10-week-old Yellow Labrador Retriever to become a guide dog.
If all goes well, Wrangler will graduate after 16 months and be adopted, free of charge, by an individual who is blind or visually impaired, profoundly changing that person's life. Alternatively, Wrangler could also become a service dog for an individual with autism.
There are more than 8 million visually impaired individuals in the the U.S. and service dogs not only make great companions, but also play a big role in accessibility. Wrangler hopes to raise awareness not only about the role of service animals, but also the training that goes in to preparing them.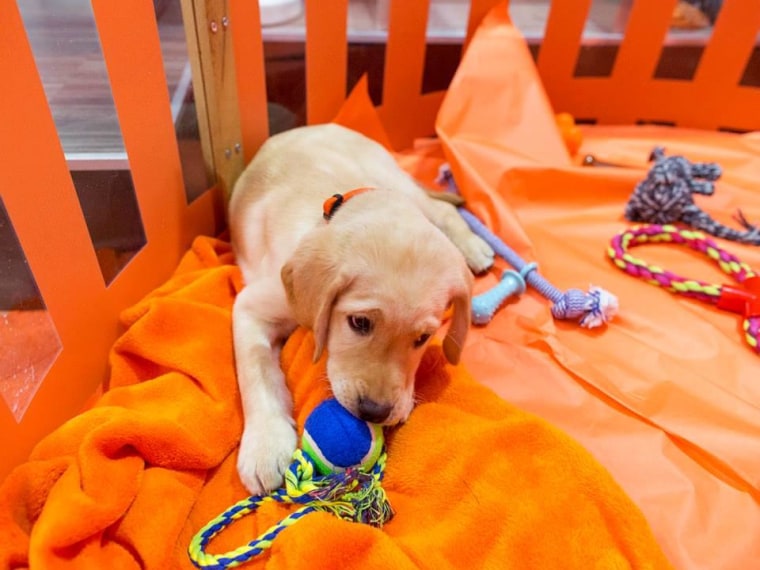 In the studio each morning, Wrangler benefits from a diverse array of important socialization experiences. During the course of his time here, he will meet a variety of new people and learn how to interact with them calmly and appropriately. The positive exposure to the interesting sights and sounds of TODAY will help build the confidence and adaptability he'll need to become a Guiding Eyes guide dog — and ultimately to change someone's life.
A dog's life: Peek inside Wrangler's morning routine
Each day, after his training in the studio, Wrangler goes home with his handler Saxon Eastman, who takes care of him both during and after show hours.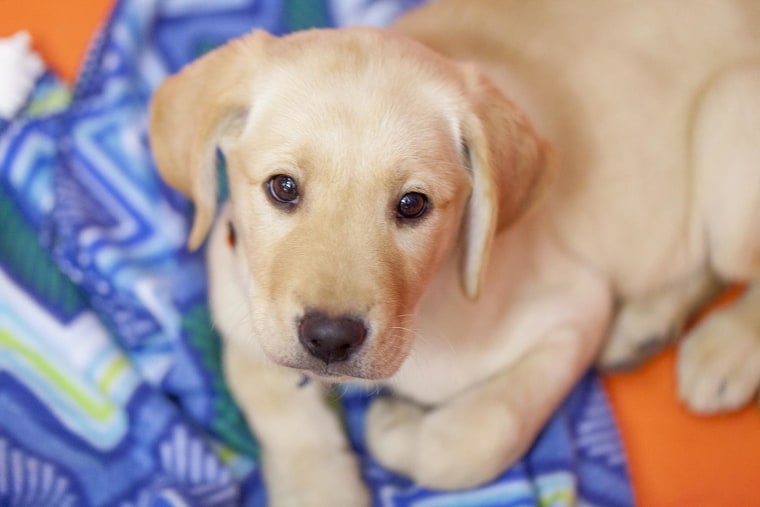 When it came to naming Wrangler, TODAY chose a name that began with a "W" that had not previously been assigned to a dog in the organization. This is because Guiding Eyes for the Blind follows a specific naming convention for all puppies, in which each litter is given a sequential letter of the alphabet and the puppies from that litter all receive names starting with that letter. Wrangler was from the W314 litter, which means he's from the third Guiding Eyes for the Blind class to move through the alphabet to the letter "W" in 2014.
Guiding Eyes for the Blind is a non-profit with more than 1400 volunteers who are raising puppies just like Wrangler. It was founded it 1954, and since that time has matched more than 7,000 guides with people who are blind or visually impaired. Head here to learn more about Guiding Eyes for the Blind.
Can't get enough Wrangler? You can follow him on Twitter at @WranglerTODAY to see what he's up to 24/7. Because, honestly, who could ever get enough of this face? And get used to seeing a lot more of this around Studio 1A!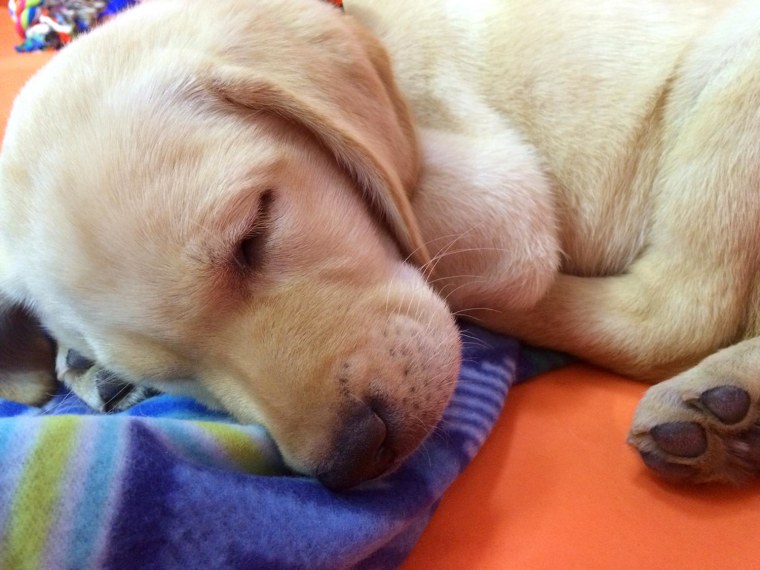 Head here to see everything Wrangler has been up to in his time in Studio 1A.
5 Important Guide Dog Facts