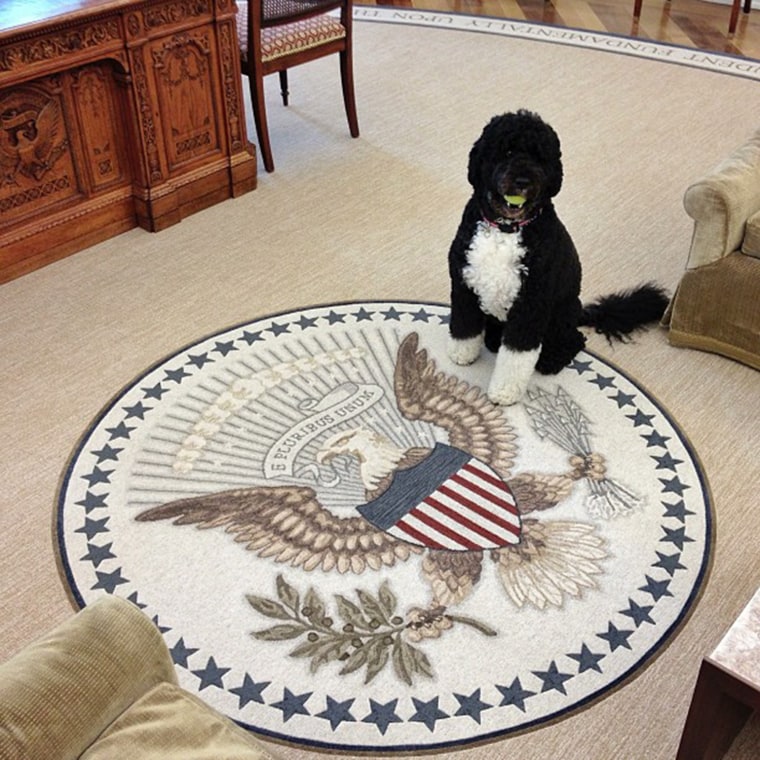 Bo is vacationing with the Obama family on Martha's Vineyard this week, and the Portuguese water dog has already made headlines for his expensive ride over to the island in an MV-22 Osprey. But the first dog was just doing his duty as a family companion — since Air Force One can't land on the Vineyard, the first family and all support staff had to make the trip by chopper.
The 4-year-old canine is used to the limelight. After all, he wears a number of hats around the White House: He's the unofficial gardening supervisor, a charity ambassador, and a dog on a diet. Now, he can add Instagram star to the ever-growing list.
As the official White House photographer, Pete Souza travels the world documenting historic moments, from President Obama's meetings with foreign dignitaries to tense gatherings in the Situation Room. But at the end of July, Souza added a more unlikely camera to his repertoire — his iPhone — which he's used to expand his offerings of adorable Bo photos.
On July 24, the photographer joined Instagram, where he showcases a more casual, behind-the-scenes look at presidential life and 1600 Pennsylvania Avenue.
"Several months ago, the communications office at the White House asked me to join Instagram as another way to show my unique, inside view of the Presidency," Souza told TODAY.com via email. "But I waited until now because I wanted to first become comfortable with using my iPhone in a creative way."
So far, a lot of that creativity has been spent on capturing Bo, fluffy white paws and all.
"Bo is a great subject because, well, he's Bo. Everyone loves Bo," Souza said of the first dog. "He is challenging as a subject, mostly because of his black hair. So you really need to have optimal lighting and the right background to make pictures of him work."
Besides their professional relationship, Bo and Souza share something else in common: They're both of Portuguese descent. And while Bo may be a presidential pup, that doesn't stop him from having a little fun in some of the White House's most prestigious rooms. Plus, he gets something from Souza in exchange for time in front of the lens. 
"Bo is a very well mannered, lovable dog. He also likes to play," he said. "We keep a plastic red bone outside the Oval Office, and if he sees me in the early morning, he wants me to get out the bone so I can chase him around the Cabinet Room."
The latest image Souza posted of Bo, showing the pup in the Oval Office with a tennis ball in his mouth, garnered over 7,600 "likes," the most one of Souza's photos has received on Instagram yet. The White House tweeted out that photo on Tuesday morning. 
"I think the response has been great," Souza said.
So should we expect more delightful photos of the first dog in the future? "Absolutely," he said.

Take a look at a few of Souza's shots below and follow him on Instagram for more Bo.