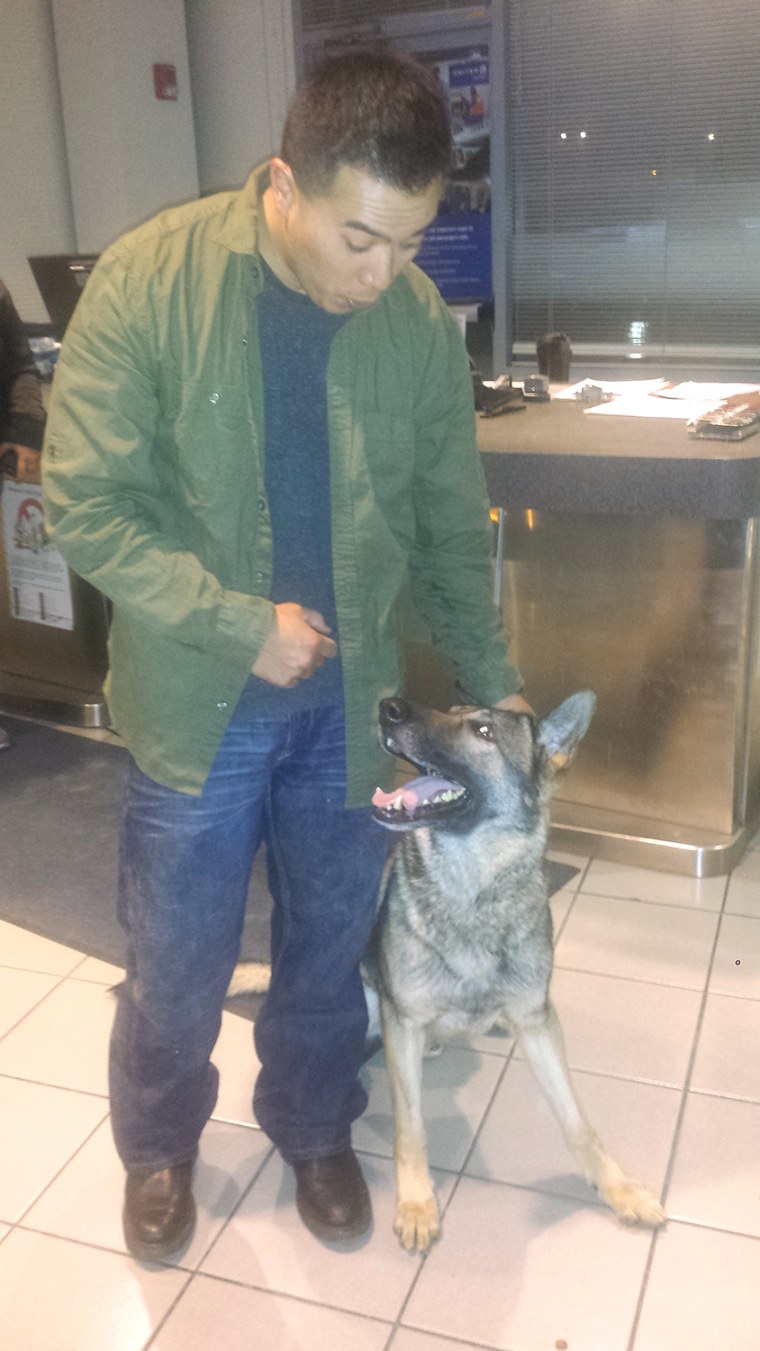 It's not uncommon to witness emotional reunions at airports — but at this one, everybody cried.
Well, almost everybody. One party to the reunion panted, grinned and ran around in circles. He was so excited to be back in the company of his longtime Army buddy that he shimmied with joy, then collapsed on the ground for a belly scratch.
Nico, a retired military working dog, got reunited with Sgt. Calvin Aguilar, his former handler, thanks to a new charity called Mission K9 Rescue. Launched two months ago with the goal of "lending a hand to paws that serve," the group aims to find comfortable, happy homes for all sorts of working dogs when they age out of their vocations.
Most working dogs — narcotics-detection dogs, police K9s, bomb-sniffing dogs and others — live out their golden years with their handlers when they become too old to work. But some can end up in overcrowded shelters or kennels.
"These dogs have a right to a good retirement in a loving home," said Kristen Maurer, 48, a Houston resident and co-founder of Mission K9 Rescue. "That's what we do: Get them the right care, and get them to the right homes."
In recent weeks, Mission K9 Rescue has helped arrange adoptions and transportation for a police K9 named Kash, a narcotics-detection dog named Teya and a contract working dog named Ivy who sniffed out explosives in Afghanistan.
Nico and his former handler reunited on Feb. 13 because volunteers raised $1,500 for the dog's flight from Germany to Houston. Aguilar, 30, an Army sergeant stationed at Fort Hood in Texas, was worried about how to cover that expense — but Mission K9 Rescue took care of it.
Aguilar had been pining for Nico ever since they had to part ways in January 2013. At that time, the German shepherd got assigned to a new handler in Wiesbaden, Germany and a heartsick Aguilar relocated for his current job as an explosive detector dog trainer at Fort Hood.
"It hurt leaving him — it hurt a lot," Aguilar said. "It was like having to give your child to foster parents."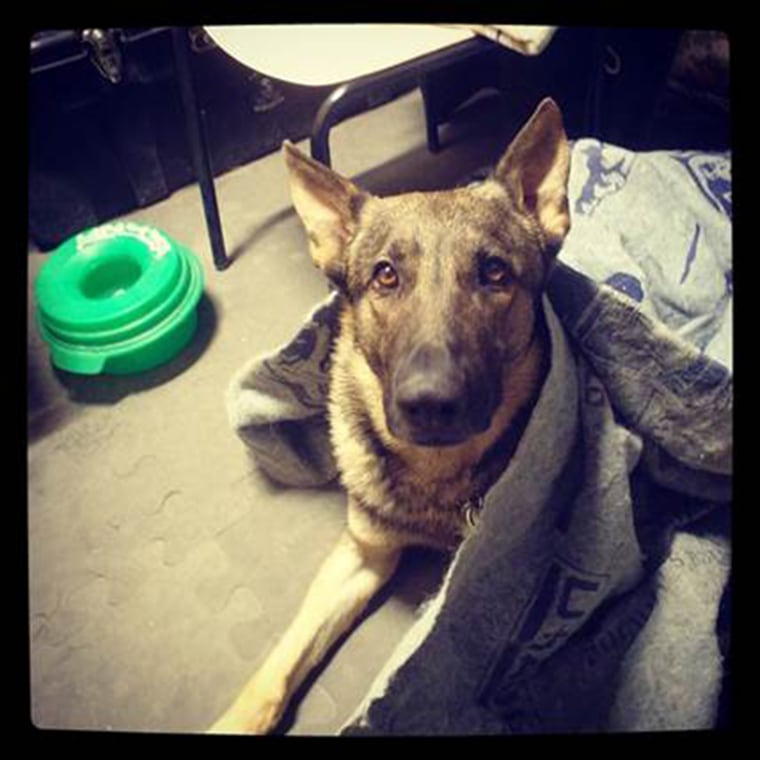 Over 15 months, Aguilar and Nico had forged a bond understood only by them. When they worked together in Afghanistan to find and clear explosives, they learned to read each other's cues. 
When they survived an explosion together — involving the malfunction of an Army machine gun — in August 2012, they became even closer.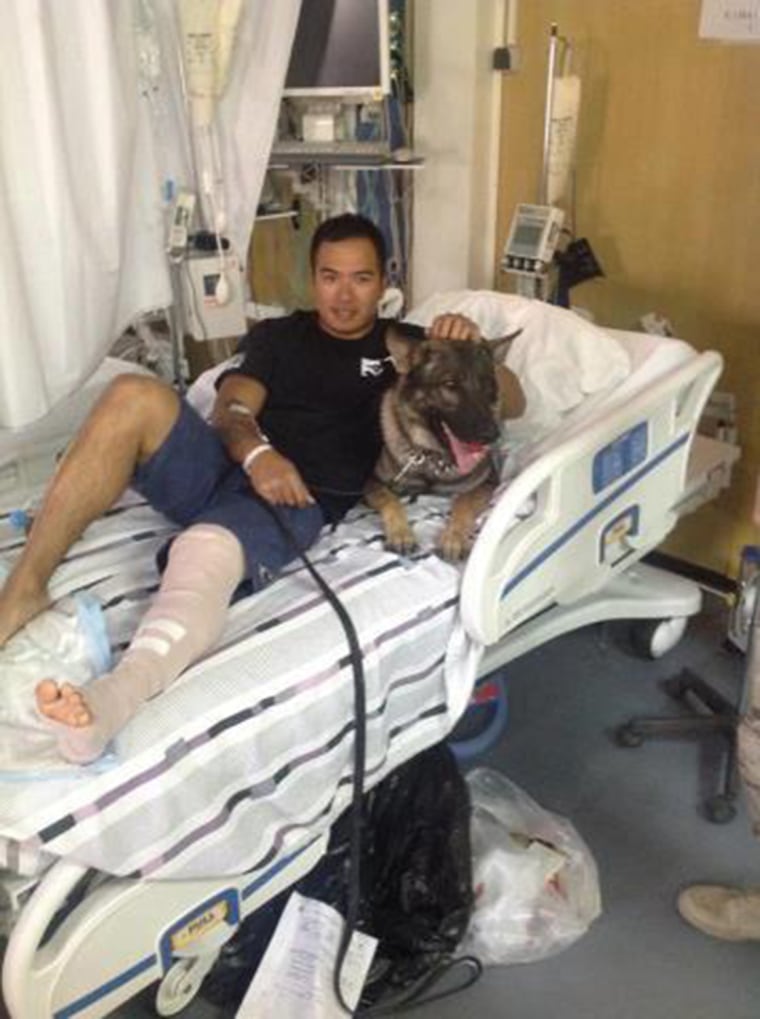 "It pretty much blew up in front of us," Aguilar recalled. "If you can imagine a wall of sound hitting you, that's what hit me and what hit Nico, too. I fell down and I was pretty much bleeding out. He wouldn't leave my side the entire time."
Aguilar was hospitalized for severe injuries to his left leg. Whenever they could, Aguilar's friends would bring Nico by for hospital-bed visits.
Eventually the pair recovered and resumed working together. Nico stayed calm around the sound of gunfire when Aguilar was with him, but the explosion had taken its toll on the dog.
"When he started working with another handler in Germany, he basically said, 'No, I'm not going to do this anymore,'" Aguilar said. "He was so scared, he was physically shaking."
Thus began the process of decertifying Nico as an official military working dog and maneuvering his move to Texas. The U.S. Defense Department gives adoption priority to a dog's most recent handler, but can't always pay to transport a dog — especially if a suitable home can be found near the dog's location in a non-combat zone like Germany or Japan or Guam.
Collen McGee is a public affairs chief at Lackland Air Force Base in San Antonio, Texas, where adoptions of military dogs are coordinated. She said every effort is made to find good homes for retired dogs so they can "have some time to spend on the couch," and in certain circumstances former handlers must pay for dogs' flights.
"There are a lot of great organizations stepping up to help," McGee said.
Maurer started Mission K9 Rescue with other former members of a group called Military Working Dog Adoptions, which disbanded last year. The new all-volunteer group relies on donations to cover military dogs' flights, which can range from $500 within the U.S. to $4,000 from places like Japan.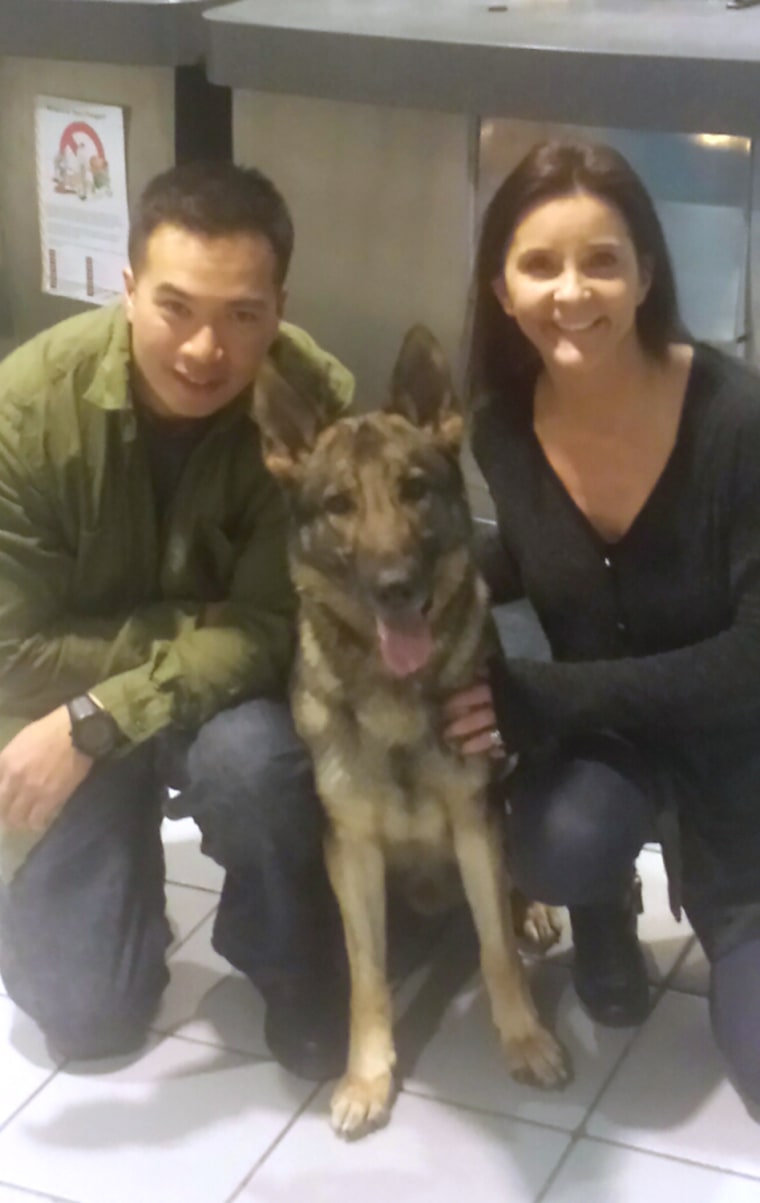 The new group's founders also expanded their focus to include law-enforcement dogs and other working dogs that can end up in shelters in the United States.
"These dogs deserve so much better when they are retired after working continuously for years and saving lives," said Ruby Ridpath, 50, of Colorado Springs, another co-founder of Mission K9 Rescue. "Every one of them is a hero, and they didn't volunteer for this. They just spent their entire lives working selflessly."
Now 5, Nico could have years of good times ahead. The German shepherd is already getting used to the unusual sensation of lounging on a couch in the dog-friendly apartment Aguilar rented for them near Fort Hood.
"For everyone who helped me get to this point, I cannot say thank you enough," Aguilar said. "A giant part of me is back. He's my family."
Learn more about Mission K9 Rescue on Facebook.
To get on a wait list to adopt military working dogs directly from the Department of Defense, fill out the application here.
Need a Coffey break? Connect with TODAY.com writer Laura T. Coffey on Facebook, follow her on Twitter or read more of her stories at LauraTCoffey.com.