There are legitimate cases of people who need an emotional support animal in the air. But experts say that far too often, people are abusing the system to save a buck and get their pets onto flights for free.
"You get on an aircraft and the cabin looks like a barnyard," said Hollis Gillespie, a former flight attendant. She said she's seen snakes, birds and pigs. "Often it's about the money, because one way to travel with a pet on some airlines can be up to $600, depending on the size of the animal."
What's it like to fly with a pig? Get an inside look at scenes you didn't see on-air!
But if a pet is designated an emotional support animal, "it gets to come with you for free," Gillespie pointed out. All you need is an emotional support vest on the animal and an official letter from a mental health professional.
RELATED: Pet owner alert — most restraints for pets in cars fail crash tests
And plenty of websites offer emotional support animal certifications; all you have to do is fill out a questionnaire. TODAY national investigative correspondent Jeff Rossen filled one out and was emailed an official letter from a real mental health professional without ever meeting her or even speaking with her. Rossen took two flights with his dog Rory in his lap (no crate required) without anyone even asking to see the letter.
Rossen Reports producer Lindsey Bomnin upped the ante, filling out the same forms to obtain certification for Spencer, a 3-month-old pot-bellied pig borrowed from the Ross Mill Farm. After showing her letter to agents at TSA and at the gate, she was able to take two flights with the pig in her lap.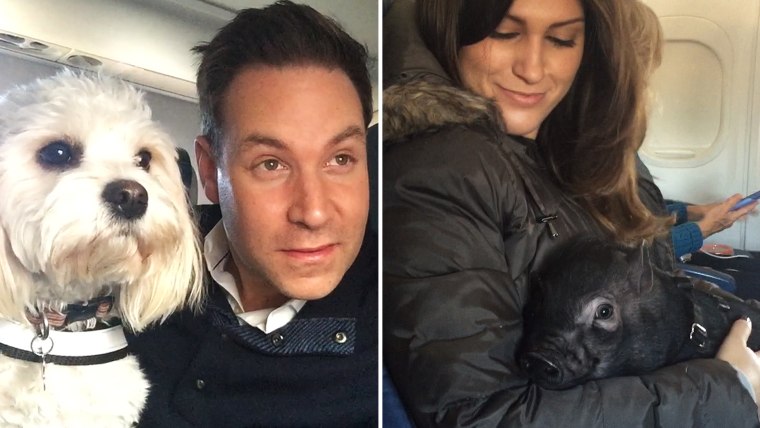 So who's getting hurt? "When you try to pass off your animal as a service animal or an emotional support animal and it's not, what you're really doing is you're passing yourself off as a person with a disability, and it can have real consequences for those who actually need these animals," said disability expert Laurel Van Horn with the Open Doors Organization.
RELATED: Can a police dog sniff out Jeff Rossen on the run?
Experts say the way to get this under control is to develop a standardized certification system where owners have to meet with doctors to prove they need it.
There's also a safety issue. Emotional support animals aren't required to have any formal training (unlike TODAY's Wrangler, who's training to be an official service dog). So if these animals became disruptive in flight — and they have — it could turn into a dangerous situation.
To suggest a topic for an upcoming investigation, visit the Rossen Reports Facebook page.