Hippo the dog came into the shelter as a stray with tumors all over his face, along with other indications of a rough life that was going to be ending very soon.
But Sophiane Nacer, the 19-year-old founder of Cayleb's Kindred Senior Dog Rescue, was determined to make sure this sick and elderly dog would get the chance to enjoy this earth before his time here was done.
"Even if it was just for a day," Nacer told TODAY.
Hippo was found as a stray, in the middle of October. He was brought to the Adams County Animal Shelter in Colorado, where the shelter's vets found him to be "obviously in failing health with multiple tumors," Jim Siedlecki, the shelter's spokesperson, told TODAY.
Under state law Hippo was required to be held at the shelter for five days. Nacer, whose nonprofit specializes in helping old, ill dogs, got Hippo out Oct. 18 — as soon as that period was through.
Nacer wasn't sure Hippo would want to be touched; she thought it might be too painful for him given that his skin was in very bad shape. She also thought it was possible he'd be too sick and too worn out to embark on any adventure.
"We were kind of unsure if he was going to be receptive to anything," she said.
He was, though. Hippo began wagging his tail right away and set out with enthusiasm.
"He would approach you with everything he had," Nacer said.
There's no better way to say this: Hippo had a really, really wonderful time.
There were car rides, and going to Starbucks for a special puppuccino. He and Nacer went to a park, where Hippo eagerly made some friends, ate some delicious food — and decided he wanted to drink from a lake. (Nacer wouldn't ordinarily allow a dog to drink lake water; given Hippo's situation, he was allowed to do more or less what he wanted.)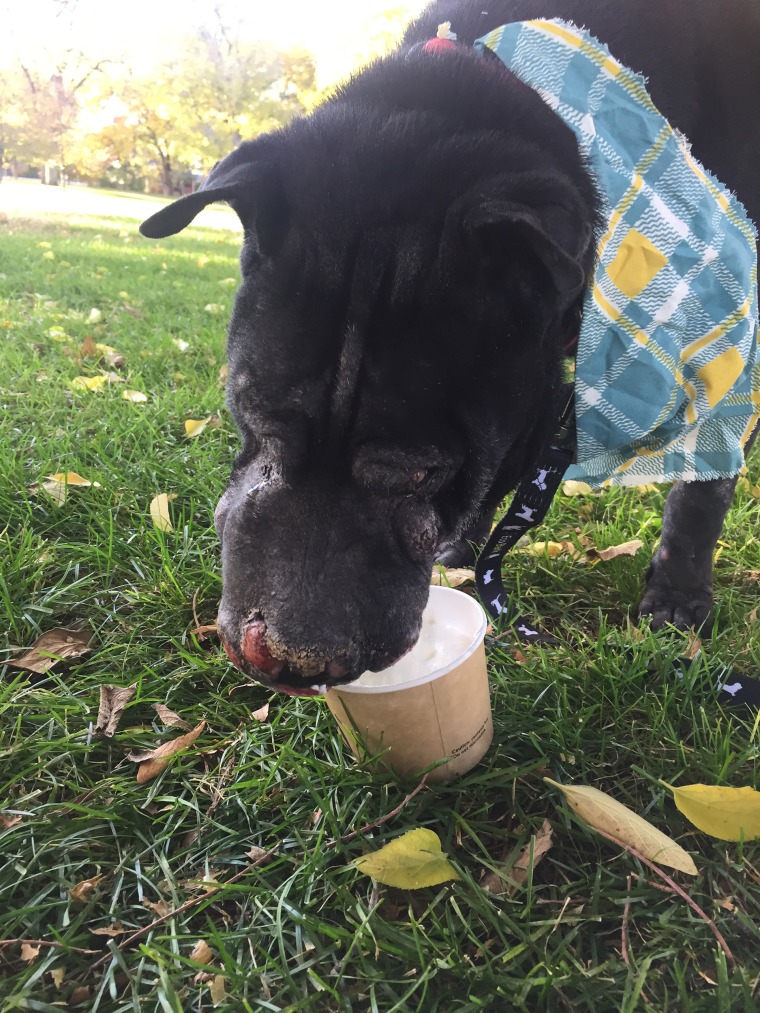 After about five hours, Hippo seemed very tired.
"You could tell that he had enjoyed the day but he was done," Nacer said. "It was time and he knew it."
Nacer brought Hippo home. A veterinarian who specializes in at-home euthanasia came over, bringing along some roast chicken.
"He gobbled it, then fell asleep," Nacer said. "He passed very peacefully."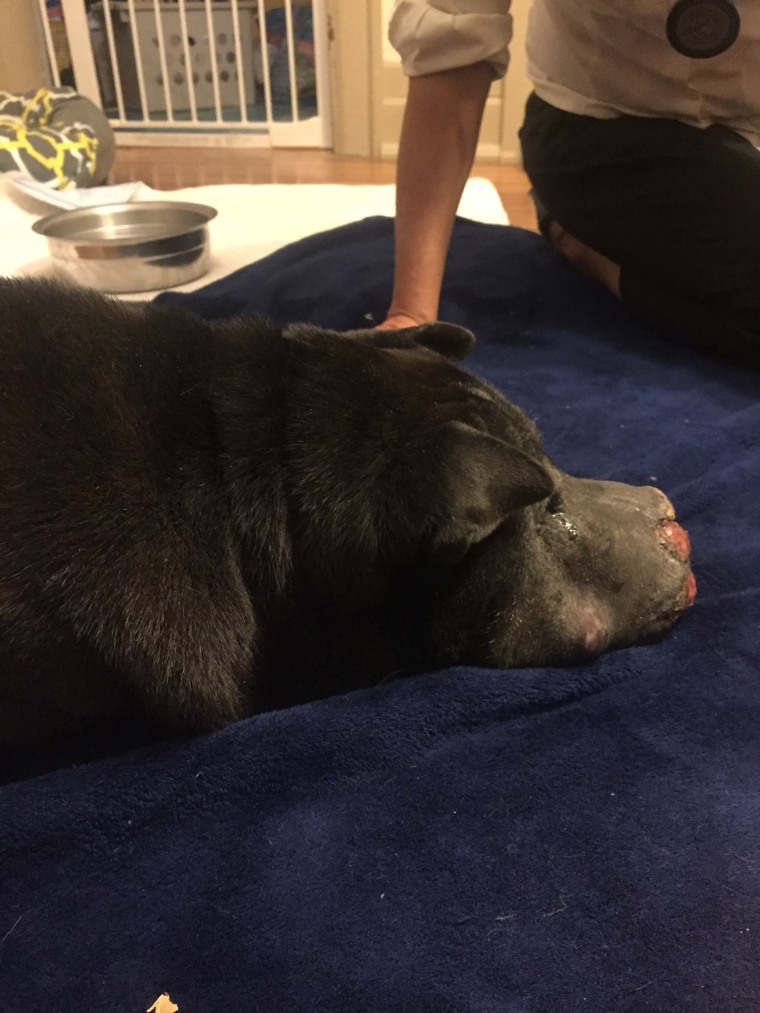 Siedlecki, the spokesperson for Adams County Animal Shelter, says he's thankful that Hippo was able to have this time with Nacer, even though it was brief.
"It's always difficult when animals are in the condition that Hippo was in when he arrived at our shelter," he told TODAY. "We're grateful to have a good relationship with a community partner like Cayleb's to work with in a unique case like Hippo's."
As hard as it is for Nacer to have had so little time with Hippo, the experience is more than worth it for her. She believes that every dog should have this opportunity: to leave this world knowing what it is like to be loved so well.
This is especially true for those like Hippo, who "probably hadn't had a good day in a very long time," Nacer said.
"We got a good day," she said. "He loved it."