A rescue group in New York City is trying to save the life of a domesticated pigeon that was found dyed pink and struggling to live last month.
One of the rescuers from the Wild Bird Fund found the animal in Madison Square Park on Jan. 30.
The group shared a photo of the bird on Instagram at the time, writing, "Pigeons come in many different colors and plumages, but pink isn't one of them."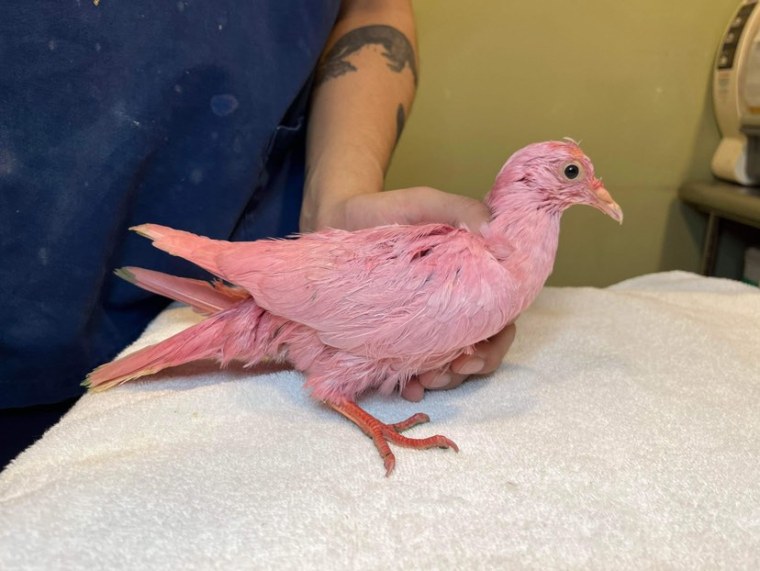 The pink bird is a king pigeon, which is actually a domesticated animal and what the feral pigeons normally found in the wild streets of New York City are descended from.
Catherine Quayle, the social media director of the Wild Bird Fund, tells TODAY.com in a phone call that the fact the bird is domesticated is the "main issue."
"It's a domestic bird that was released to the wild and it cannot survive because it has no survival instincts," she explained. "Typically (king pigeons) are all white. And so even if it had not been dyed, it would have been a real target for predators in the park."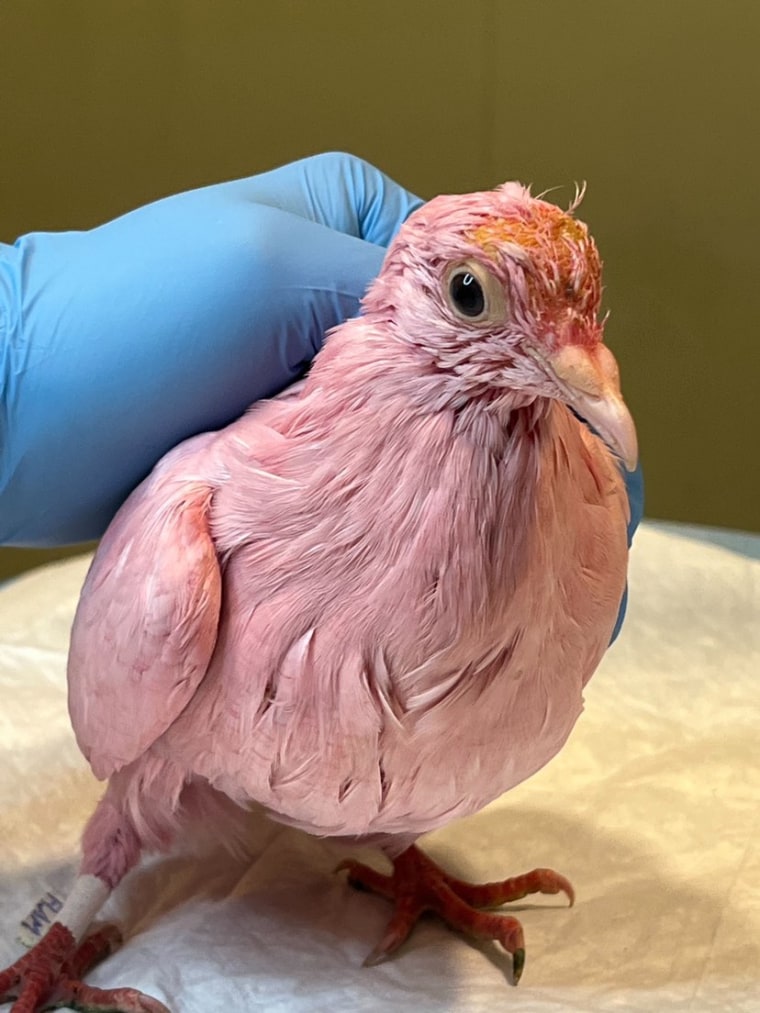 She adds that king pigeons are much larger than their feral counterparts. Rescuers from the Wild Bird Fund often find domesticated pigeons struggling around the city that have been released or escaped from poultry markets, she says.
"So in this case, clearly someone had dyed this pigeon intentionally and released it to the wild," she says. "We don't know why. A lot of our followers have speculated that it was for a gender reveal party, but it could have just as easily been a joke or an art project or something else — we don't know."
Quayle says that the bird is barely 5 weeks old, "practically a baby."
"It probably had never flown before," she says. "So that's the other thing — they released a bird that was just brand new and really was utterly clueless."
She says the bird is currently "not doing well" and they have not been able to get the dye off of him.
"The dye that they used has an extremely strong smell," she explains. "And essentially the bird is inhaling these fumes that are coming off of the dye all the time and it's making him very ill, so he's been throwing up. He's very weak."
She says the bird is on oxygen and they're trying to flush the toxins out of his body with medication.
"He's essentially encased in a toxic cloud. Birds have very sensitive respiratory systems," she says. "So it's a bad situation."
In addition to admonishing people to not dye animals, Quayle tells TODAY.com she encourages people to avoid using live animals in their ceremonies and celebrations.
"Birds should not be used as art projects or as decoration or in any kind of celebration. They are animals that have specific needs," she says, adding that many services that market a pigeon or dove release do not actually train their birds to return home to their roosts.
"It is sad and I think most of the people who do that — if they knew what they were doing, and they knew that the birds had no chance of survival, they wouldn't do it," she says. "We're hoping that the interest in this story will get that message out a little bit."