It's Christmastime, which means you've got a lot of delicious sweets in the house. And you aren't the only family member who enjoys digging in: Given half a chance, your dog will be right there with you.
Then, you'll be taking a trip to the vet, where you won't be alone.
Ho-ho-ho, oh no. A new study published in the journal Vet Record finds that dogs are at a heightened risk of chocolate poisoning at this time of year. The University of Liverpool researchers were looking to see if chocolate poisoning followed any seasonal patterns.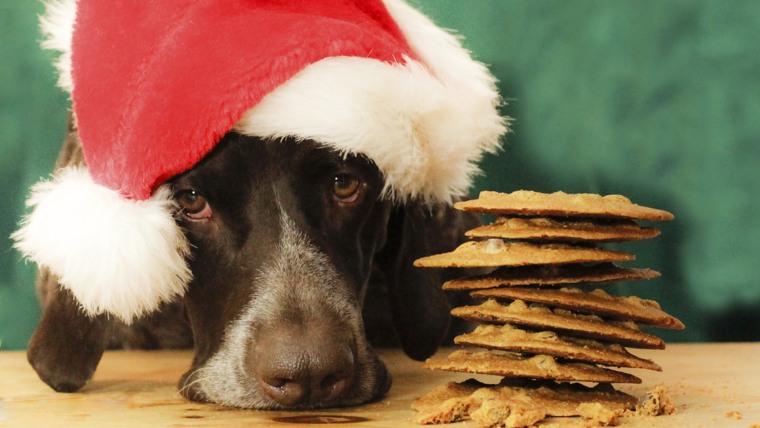 Indeed, they found, it does.
Looking at records from 229 U.K. veterinary practices between 2012 and 2017, the researchers discovered that Christmas is when dogs are most at risk, when they're four times as likely to go to the vet due to chocolate exposure than at other times of year. They're twice as likely during Easter. (Halloween and Valentine's Day, for unexplained reasons, don't see similar spikes.)
It's thought that the Christmas and Easter peaks occur largely because there's just more of that delicious — but for dogs, toxic — sweet stuff around.
Chocolate is potentially lethal for dogs because of the presence of theobromine, which is metabolized slowly by our canine friends. Lucky for everyone, none of the dogs in this study died as a result of chocolate exposure. Most frequently, they suffered vomiting and an increased heart rate. Some dogs also experienced neurological signs like anxiety and restlessness.
The culprits included chocolate cake, Santa Claus figurines, Advent calendars and edible Christmas tree decorations. One case involved hot chocolate. "While chocolate doses were often small, exceptions included ingestion of a garden of Easter eggs hidden for a large party of children," the study notes.
The researchers pointed to "younger members of society" as often responsible for feeding these illicit goodies to dogs. Don't do that, kids: Santa won't be happy, your dog won't be happy and neither will anyone else.