Never underestimate the transformative power of a nice bath, a new hairstyle, a professional photo shoot and a good belly rub.
Shelter dogs across the United States are showing off their true, happy, confident selves thanks to an effort to give them doggie makeovers and plenty of pampering. Twenty-five of the most dramatic makeovers are being showcased in a "Dirty Dogs Contest," which is allowing people to vote online for their favorite before-and-after photos through July 31.
The contest is sponsored by Wahl, a pet-grooming products company, and GreaterGood.org, a charity that focuses on the health and well-being of pets, and the idea behind it is simple: to highlight all the amazing pets available for adoption at animal shelters.
"We want to help people start to think of a shelter, or a rescue group, as a happy place — as a place to go first," Noah Horton, director of operations at GreaterGood.org, told TODAY.com. "These are places where you can find a wonderful pet to take home with you."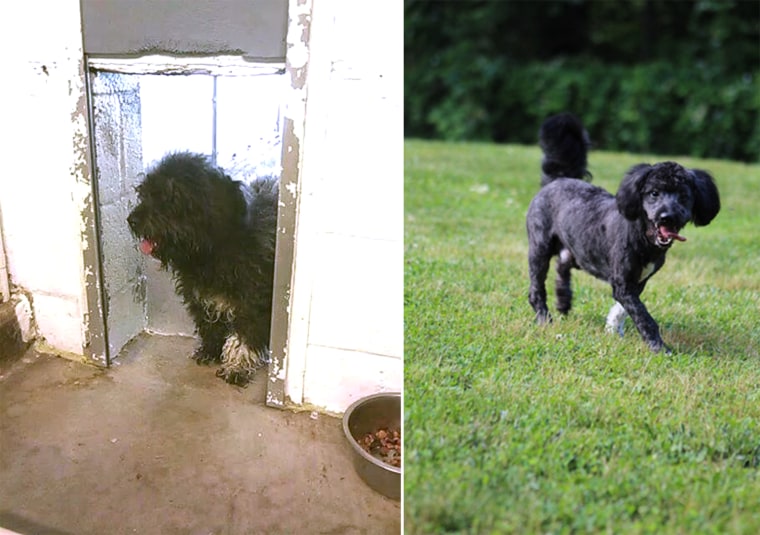 To increase shelter animals' odds of finding homes, Wahl donated more than 1,000 bottles of pet shampoo and, along with GreaterGood.org, helped spearhead grooming and photography training at 150 shelters around the country.
"So many of the pet-adoption photos you see online are super sad and super blurry, with sad animals in cages," Horton said. "We wanted to teach shelter staff and volunteers that the way you groom and photograph your pets has a noticeable effect on your adoption rates."

Shelters that received grooming products and training were invited to submit photos for a Dirty Dogs Before & After Gallery, and hundreds of photos and stories have been shared there. Many dogs featured in the Before & After Gallery are available for adoption, and 25 dogs in that gallery became finalists in the Dirty Dogs Contest.
The top three dogs to get the most votes in the contest will earn cash grants for their respective shelters or rescue groups. First place will get $5,000 and second and third place will get $1,000 each. Winners will be announced on Aug. 2.
Check out this photo gallery to see astonishing ambush makeovers of the furry variety:
What a difference a bath can make! Millions of shelter dogs across the United States just need a little bit of grooming and pampering in order to shine, as evidenced by these photos.
Need a Coffey break? Connect with TODAY.com writer Laura T. Coffey on Facebook, follow her on Twitter and Google+ or read more of her stories at LauraTCoffey.com.