Cathleen the dog had a home for the last six years. But when her family moved away, they weren't able to take her with them, and gave the dog to people living some 20 miles away.
Cathleen apparently missed her old life, and broke out of her new digs to walk back to her former home — twice.
The second time Cathleen was found alone outside the house where she'd lived in Seminole, Oklahoma, her new family told an animal control officer they just weren't able to keep her secured. They gave her up to the local animal shelter last week.
"Cathleen is precious and her original family loved her very much," the Seminole Humane Society/Seminole Animal Shelter said in a moving Facebook post. "Her heart wants to be with them but they cannot keep her. We have now stepped in to assist Cathleen on her next journey."
Cathleen's story then traveled even farther than the dog herself. It spread so widely that adoption applications came in "from all over the United States," as well as Canada and even Portugal, Seminole Humane Society's president Mary Ann Hill told TODAY.
Alicia Nichole Fields, 33, learned of Cathleen's situation last Wednesday, and was "just heartbroken," she told TODAY.
Despite living four hours away in East Texas, she printed out an adoption application and emailed it, and invited shelter staff to "snoop" on her personal Facebook page "and see our place." Fields highlighted her fenced yard, and her other happy animals — pet dogs and free-range chickens — and provided references, like her family's veterinarian.
"I knew with us living in Texas it would be hard for the Seminole Humane Society to figure out how we lived and what our place looked like," she said. "Nothing's fake."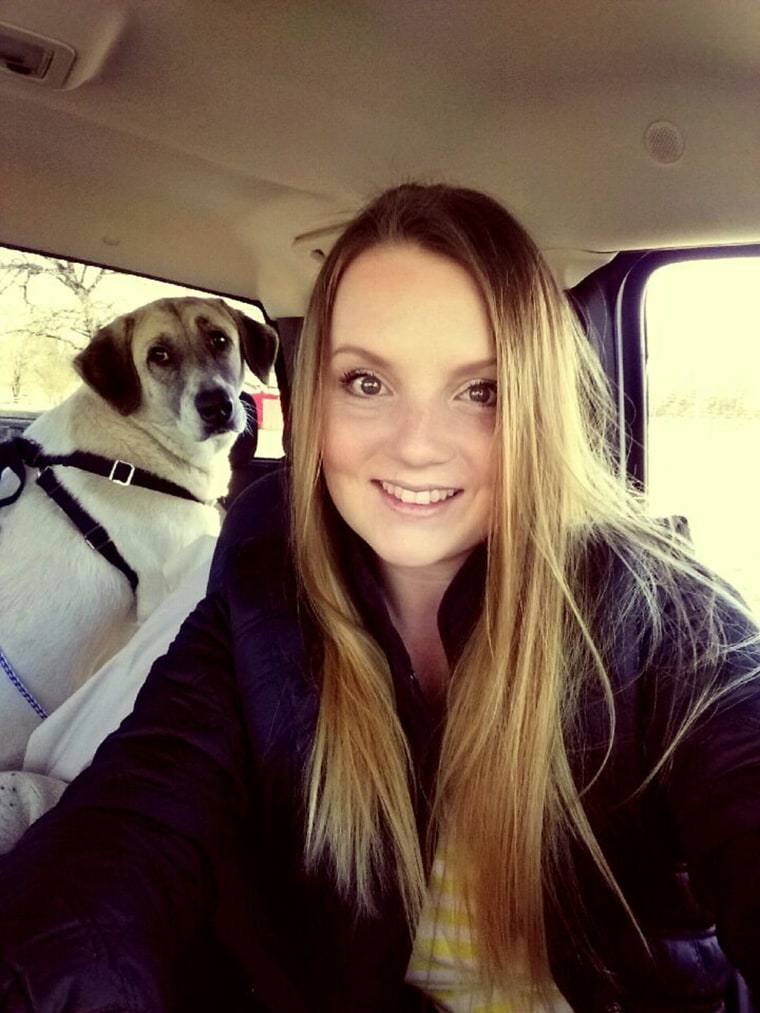 Fields, who sells commercial trucking insurance for a living, was nonetheless pretty convinced she wouldn't be picked. In fact, she hadn't even bothered to tell her her husband, who was out of town for work.
But last Thursday, Fields discovered to her happy surprise that Cathleen would be joining the family. "They chose me," she said.
"Her application was just so wonderful," said Hill.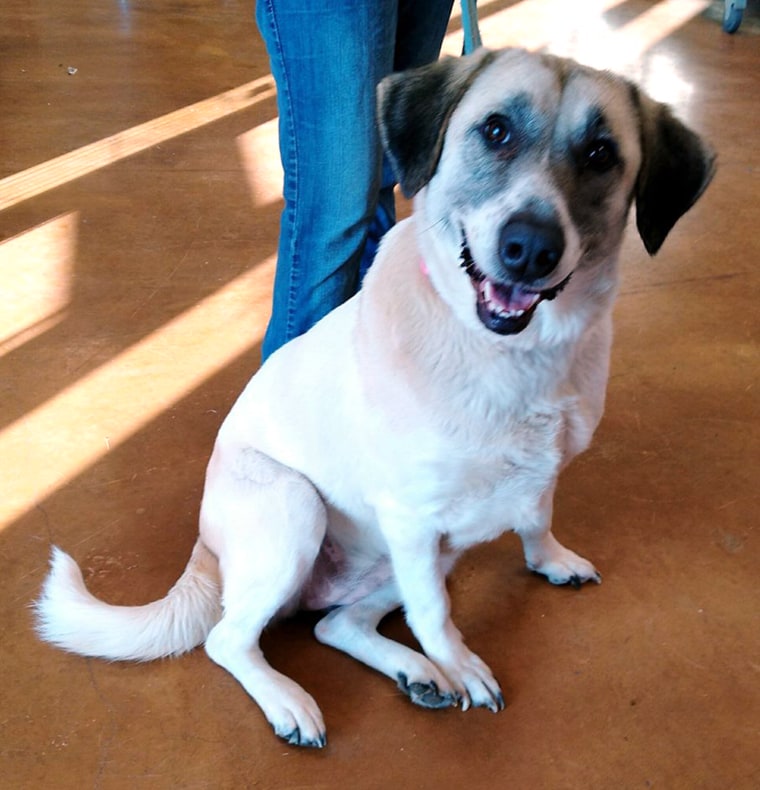 Fields drove four hours to the shelter on Friday to collect Cathleen, then another four hours back to Winnsboro, a Texas city with fewer than 4,000 people. The dog was "super excited" from the moment they met — and so was Fields.
"I wanted her to like us," she said. "I was hoping for the best and she definitely exceeded my expectations."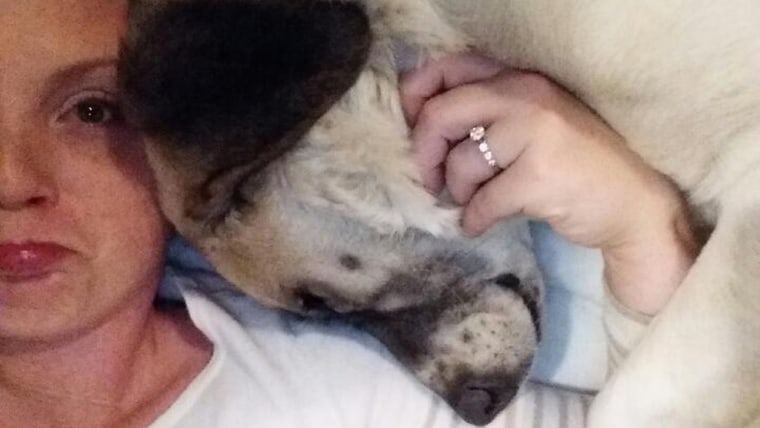 It seems clear to Fields that Cathleen has been loved before, since she is spayed and healthy. Fields hopes Cathleen will come to realize how much she's loved now, too.
And Cathleen is settling into life at her new home. She adores, for example, horsing around with her three new dog siblings.
Some new experiences make Cathleen nervous — being in the kitchen, especially, puts her on edge for some reason — but Fields is working hard to help put her at ease.
Fields' husband is, luckily, supportive. He simply asked that if she's going to do this sort of thing again, to please let him know ahead of time. "He's super great," Fields said.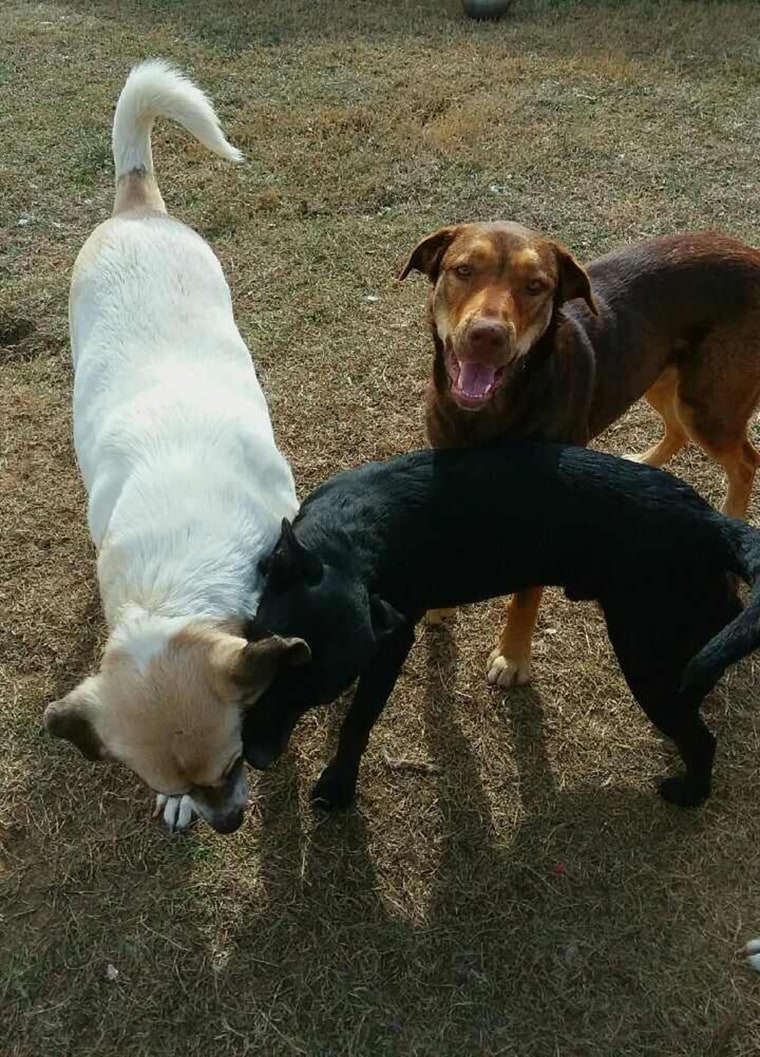 Despite her escape artist past, Cathleen hasn't yet given the impression she's looking for a way out.
She isn't digging under the fence or trying to climb it. In any case, the house and yard are basically Fort Knox-level secure, since Fields has another dog who'd take any opportunity to make a dash for it.
Still Fields can't help but worry that Cathleen will try to sneak away and walk back to her old home again. So, she said, just to be extra safe and careful, "I'm currently doing research on GPS dog collars."