Rex was down in the dumps. The elderly boxer's best friend — another boxer named Tyson — had recently died, and Holly Walthers could see how depressed her dog, who uses a wheelchair, was becoming.
Around that time, someone asked Walthers if she could take in a young guinea pig who had nowhere else to go.
Walthers is founder of the Colorado-based nonprofit Team Leo Animal Rescue; she specializes in helping elderly dogs with special needs, and dogs rescued from puppy mills.
RELATED: Meet the cat who comforts ailing veterans in their greatest hour of need
That includes dogs like Rex, a former shelter dog whose paralysis is caused by a progressive spinal cord disease. Rex was scheduled to be euthanized at a California shelter — until Walthers learned about him, and asked a private pilot she knows to fetch him to live with her in Colorado instead.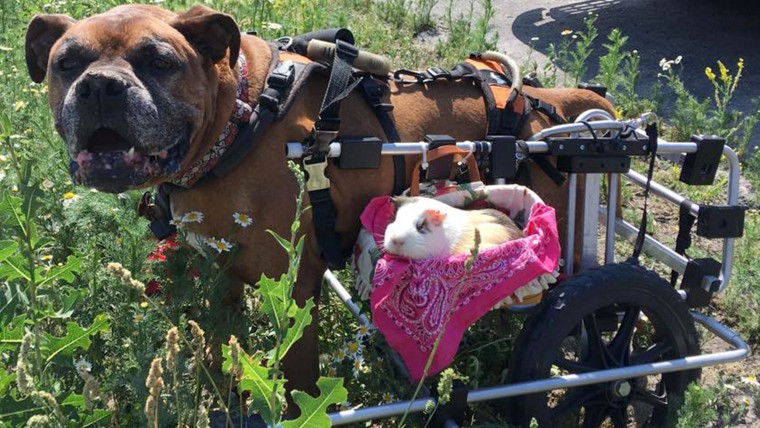 She figured she had room enough for the little piggie, too. So Smores joined the family this past winter. And Rex cheered right up.
"They just took to each other immediately," she told TODAY.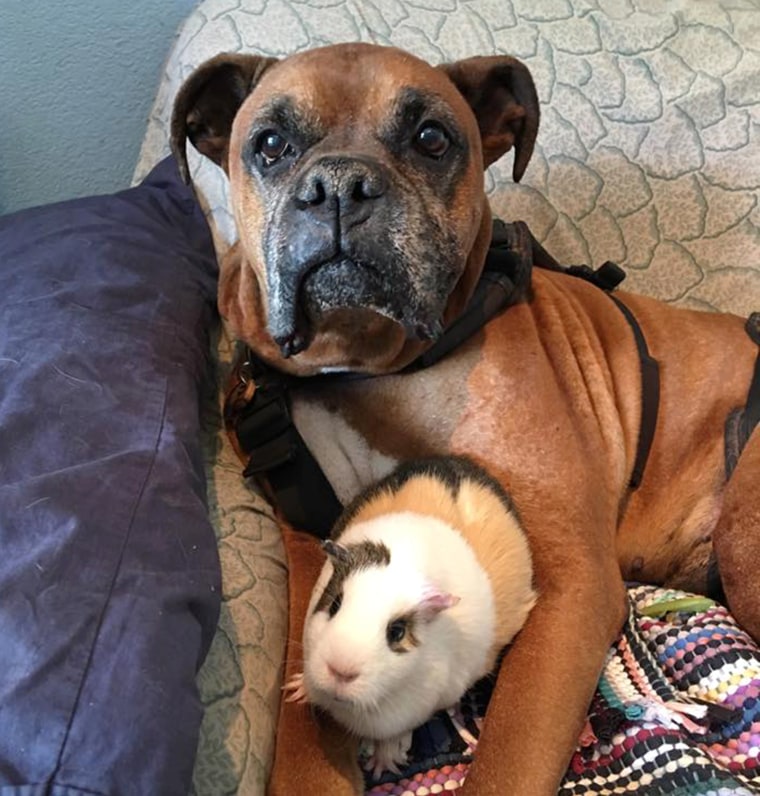 The two now spend their days palling around at Walthers' business — Vail Doggie Day Spa. They nap together, and snack together — like a good brother, Rex saves Smores all the carrots in his food bowl.
They even go out hiking as a pair: Rex in his wheels, Smores literally jumping at every chance to ride shotgun in a basket that serves as her sidecar.
RELATED: Meet TODAY's new puppy with a purpose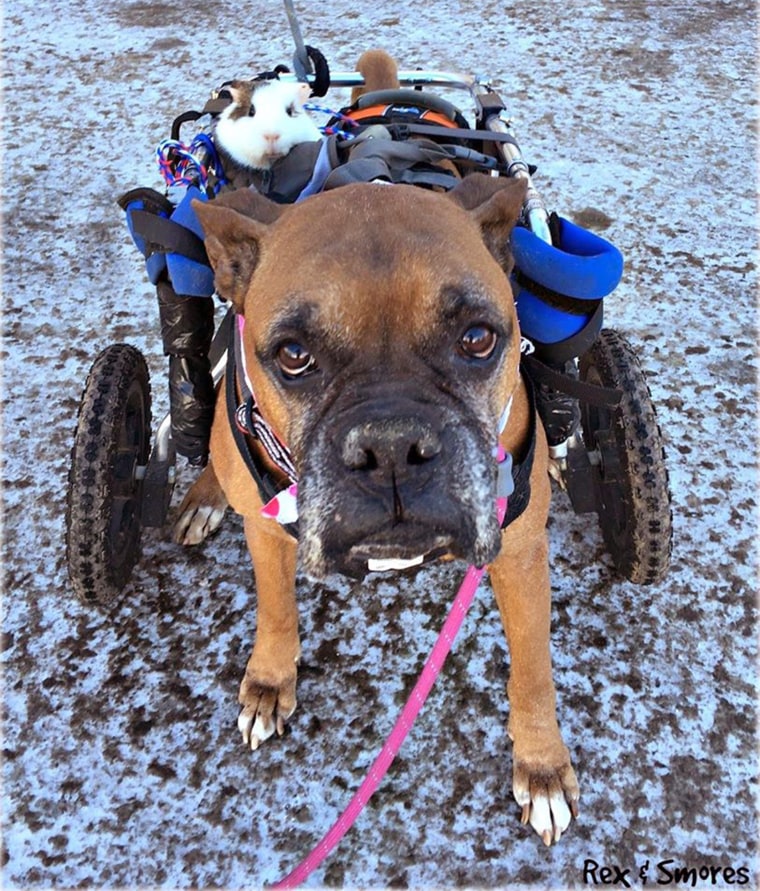 "He won't leave without Smores," said Walthers. "He won't ever leave without her."
(Sometimes Smores wears a wee sombrero, a gift from a friend, but that is largely a solo endeavor.)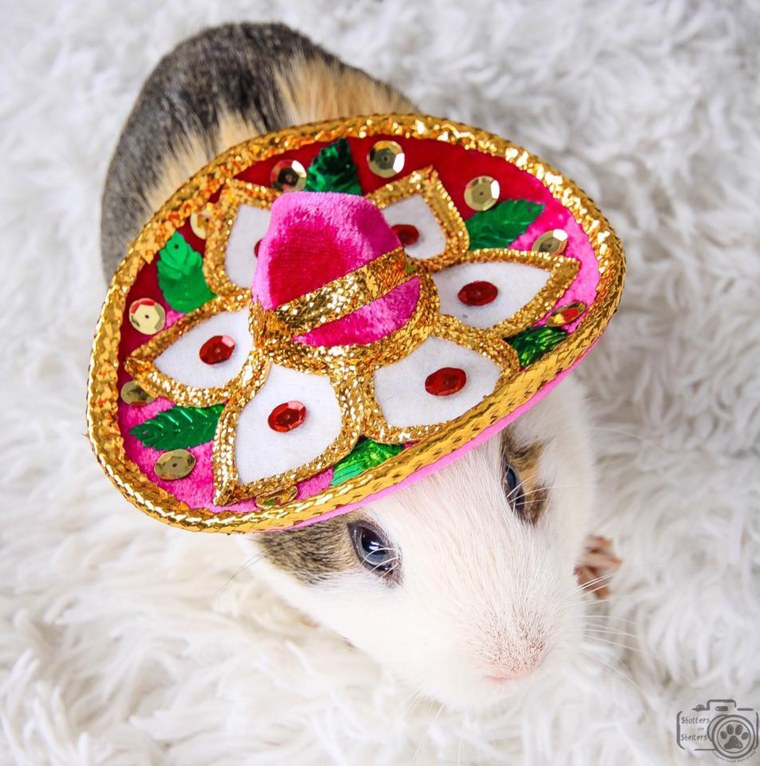 The buddies — obviously — bring lots of joy to Walthers. Since documenting their adorableness to Facebook beginning in February, she's been hearing about how happy Rockin Rex and Sidekick Smores (as they're called online) make other people, too.
Kids from the area frequently drop by to visit — and give these guys treats — while sometimes fans from other states will plan special trips to meet them in person.
RELATED: These are the most popular dog names in the US
And Walthers gets emails and messages from folks all the time. Some tell her that they are having a hard day, and ask for a video of this pair to make things a little better, and give them a little hope.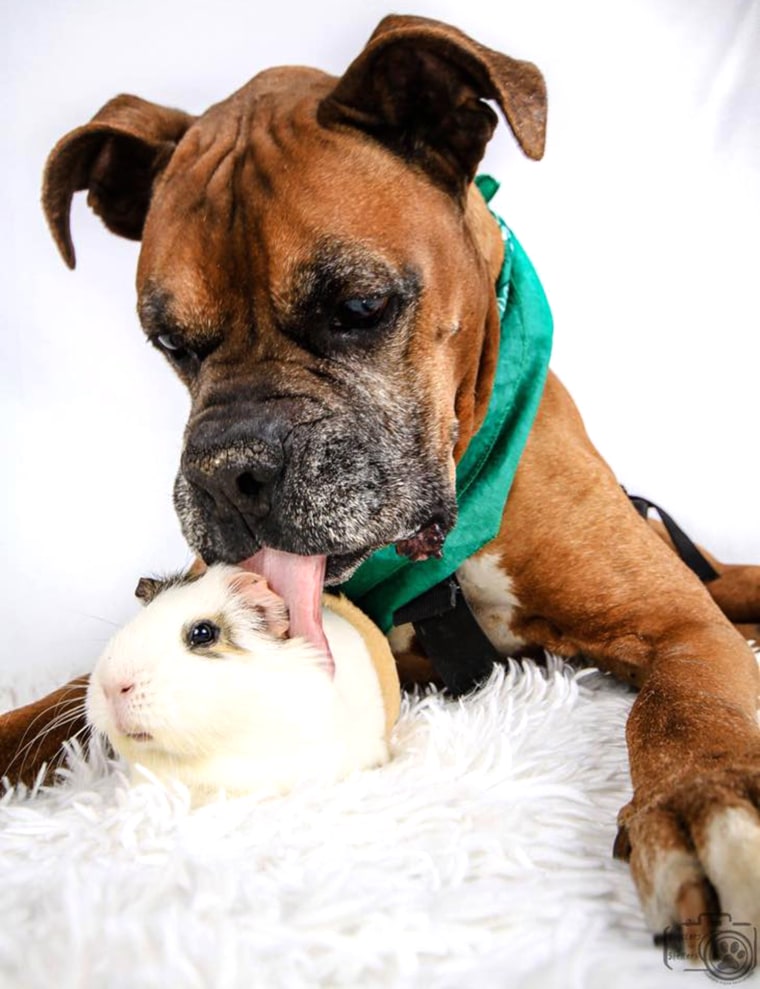 Or they'll say how seeing Rex and Smores has encouraged them to go to a shelter, and bring some hope to an animal there.
RELATED: Firefighters rescue guinea pig from burning house, treat him with oxygen
Others just say they love watching Rex and Smores online, and that they get so much joy from seeing the elderly boxer and his unlikely tiny friend eat snacks together, and hike together.
These people often observe to Walthers that it must be distracting, being around such cute BFFs all the time. These people are right.
"People are always like, I wouldn't get any work done," said Walthers. "Yeah, I don't always get a lot of work done."