One dog just couldn't wait until her cancer-fighting owner, Nancy Franck, got back from the hospital. So on Saturday, the Miniature Schnauzer walked almost 20 blocks solo to visit her.
The 10-year-old dog named Sissy walked all the way into the lobby of Mercy Medical Center in Cedar Rapids, where Franck is recovering from complications related to cancer surgery, according to NBC affiliate KWWL.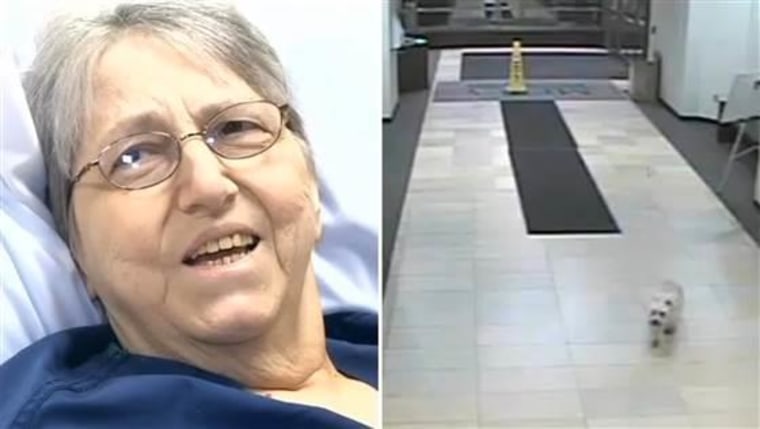 Franck told KWWL that she'd assumed her daughter, Sarah Wood, secretly dropped the dog off.
"I said, 'Did you sneak this dog in?' Sarah said, 'No, [Sissy] snuck herself in,'" Franck said. "Set the door off — she got in by herself, too. So, she was on a mission."
Franck called Sissy's visit a "big boost," especially since Sissy went missing for a few hours that day. Franck's husband, Dale, had taken Sissy and another dog, Barney, out of the house to let the pets relieve themselves, but only Barney came back inside.
"I thought they both came back in the house," Dale said. "I was panicking."
Thankfully, Mercy's security personnel found Sissy, who was reunited with Nancy for a few minutes before returning home. There, Wood told KWWL, Sissy would have a story to tell.
"I'm sure when Sissy got home," Wood said, "she told Barney, 'Guess who I got to see, and what I got to do, and where I went?'"
Follow TODAY.com writer Chris Serico on Twitter.
This article was originally published Feb. 12, 2015 at 5:45 p.m. ET.