Sadie the dog proves that humans aren't the only ones who grieve the loss of a loved one.
When the man who raised her from a puppy, Andy Baelieu, died from a sudden heart attack, the 13-year-old mixed-breed dog was right by his side. "After the paramedics could not revive and save Andy, Sadie laid down beside him and was snuggling his hand," Jeremy May, president of Elements Cremation, Pre-Planning, & Burial, located in Langley, British Columbia, told TODAY.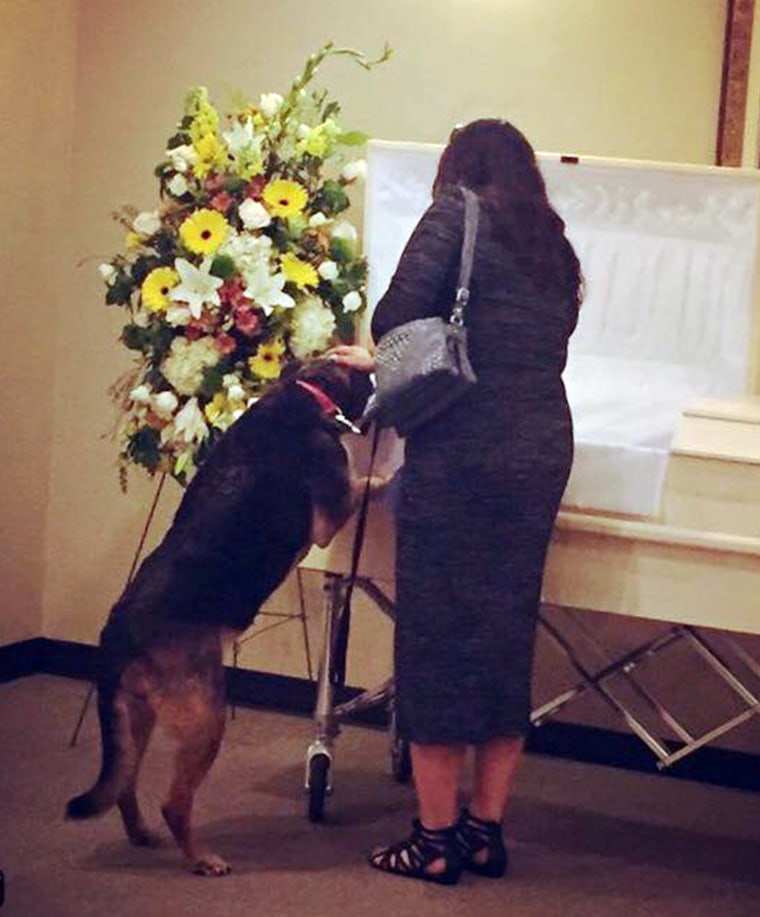 "During the 10 days (between Baelieu's death and funeral), Sadie started showing signs and symptoms of grief," said May, who helped organize Baelieu's memorial service.
"Grief is not a human emotion. Love is not a human emotion. These are emotions we share with other animals," Barbara J. King, anthropology professor at the College of William and Mary and author of "How Animals Grieve," told TODAY.
King defines pet grief as "some kind of really altered behavior that suggests distress, such as social withdrawal, altered feeding or sleeping habits, or distressed vocalizations and body language, which persists for a while."
Sadie certainly fits that description. After accompanying her best friend to work every day for more than a decade, she tirelessly waited by the window for Baelieu to return home. After his sudden death, she couldn't sleep on her own, stopped eating and swiftly lost 10 pounds.
According to King, many studies have shown that dogs grieve for each other, but "the really important thing to understand is that when a pet mourns one of us that it's because they have the emotional capacity that comes from their own relationships (with other animals in their species)."
Having Sadie involved in Baelieu's service was not just a spur-of-the-moment decision. "From the moment Andy passed away, (Baelieu's wife, Julia, knew) that Sadie was going to be there," said May.
On the day of the funeral, Sadie, accompanied by Baelieu's wife, was the last one to enter the room. The dog put her two front paws up on the casket and looked inside at her deceased companion.
"There was this unbelievable sense of emotion and power in the room because everyone knew the importance of Sadie to Andy," said May.
After seemingly getting the closure she needed, May said Sadie "calmly walked out, went home and ate two meals and started to heal and go back to her way of life."
King speculates that Sadie's sense of peace may stem from two places. First, Sadie could be taking her cues from her remaining owner: "It is very possible that the funeral was closure for the wife and Sadie may have picked up on a certain closure that she felt." Second, "maybe the dog, seeing her owner quiet, smelling differently and clearly not in a living state, had a moment of realization," said King.
The idea of having pets at funerals isn't a new concept. May said an increasing number of people are prearranging for their pets to attend services, a practice he finds very important.
"This is not the first nor will this be the last time this happens," he told TODAY. "I would encourage all funeral homes to care more about closure than they do about carpets."