It took two hours for this dog to lose all his cents.

A Jack Russell terrier from Manhattan ate 111 pennies unbeknownst to his owner, and it took a two-hour operation by veterinarians to remove the mini copper mine from the 13-year-old pooch.
"He'll eat anything he can get himself into, whether it's garbage or whatever,'' owner Tim Kelleher, 49, told TODAY.com of his beloved dog Jack. "He was trying to get into a bag of bagels and knocked over the change on my desk. When he went to lick up the crumbs, he licked up the pennies at the same time. Then 111 pennies later..."
Kelleher became aware of his dog's issue on Friday, when Jack began vomiting.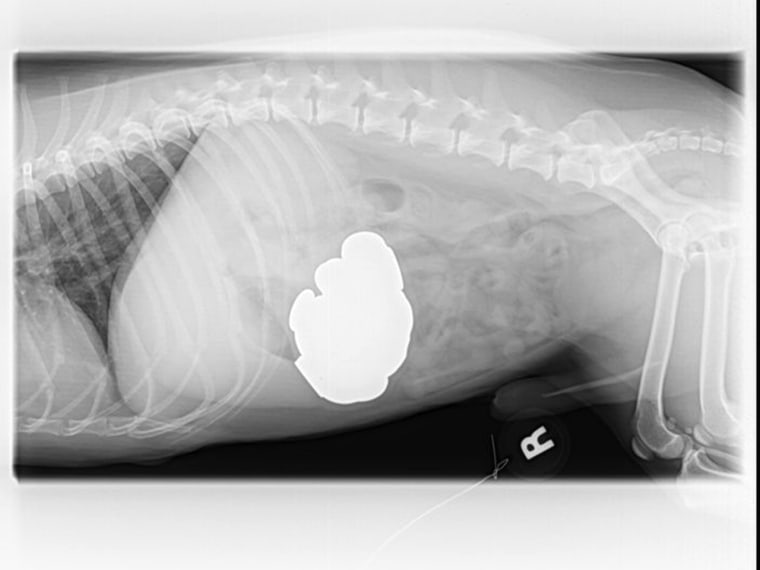 "Once he vomited blood, that was the last straw,'' Kelleher said.

Doctors at BluePearl Veterinary Partners methodically removed the pennies five at a time to save the dog from a potentially lethal amount of zinc in his kidneys and liver. Kelleher then told Dr. Suliman Al-Ghazlat, the internal medicine specialist who performed the procedure, to keep the change after he removed $1.11 in pennies.
Jack has since made a full recovery from his piggy bank lunch.

"He's more than OK," Kelleher said. "He's right back to himself. He's loving all the attention and jumping all over the place.''