It almost seems like a fluke that a rescued dog named Eba is helping save killer whales off the coast of Washington state.
When the mixed-breed dog was just a few weeks old, someone dumped her outside of the Sacramento animal shelter in California. She weighed just 3.5 pounds and was so cold, wet and lethargic that she needed to warm up on a heating pad before shelter staff could even take her temperature.
But after months of care, Eba pulled through. After several mishaps, including wandering away from her foster home, she happened to be adopted by Dr. Deborah Giles, a killer whale researcher at the University of Washington Center for Conservation Biology.
"I had no idea when I kept her that she was going to become a conservation canine," Giles told TODAY.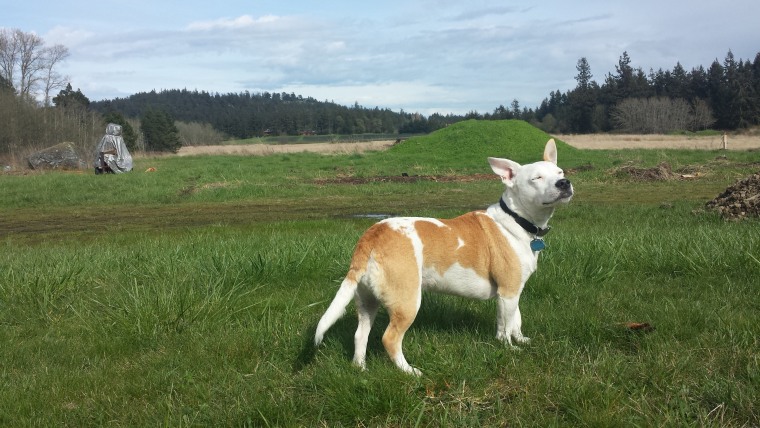 Conservation Canines is a program of the Center for Conservation Biology that rescues dogs from shelters and trains them to detect wildlife scat, aka poop. The dogs typically have a strong toy drive and high energy levels that can land them in shelters — traits that also make them well-suited for detection work. Their reward for a successful find is playing with a toy.
Giles got an inkling that Eba could be more than a family pet after her dog kept shoving a ball into the hand of a colleague, trying to get him to play. Later, she asked Dr. Samuel Wasser, the program's director, if she could try taking Eba out on a boat on the Salish Sea, where she studies Southern Resident killer whales off the Canadian Gulf Islands and Washington state's San Juan Islands.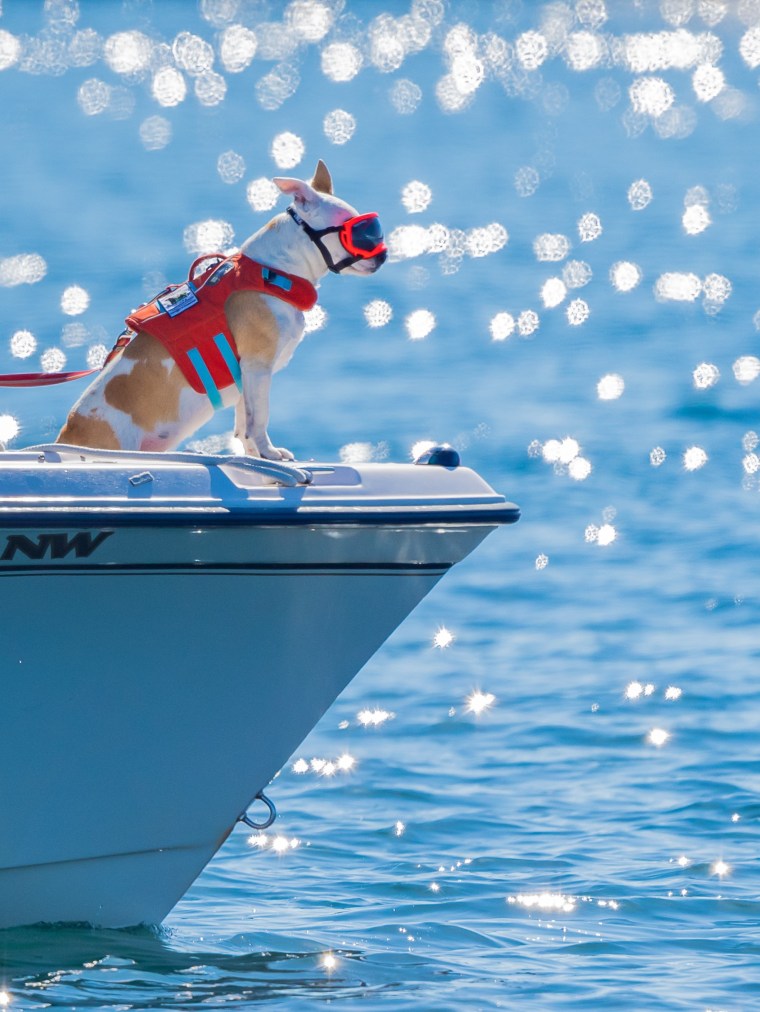 Sure enough, Eba was a natural. The stocky 30-pound dog has a lower center of gravity, so she doesn't have any issues staying upright and confident on the water. After a few weeks of learning to associate the scent of Southern Resident orca scat with a toy, she was ready to work.
"By Eba's second day on the water — July 6, 2019 — she found her first wild whale scat by herself, which was amazing," Giles said.
Conservation biologists like Giles can learn a lot about the health of a whale from their scat, such as measuring stress levels, identifying whether a whale is pregnant and how far along she is, distinguishing recent meals and detecting the presence of chemicals and other pollutants.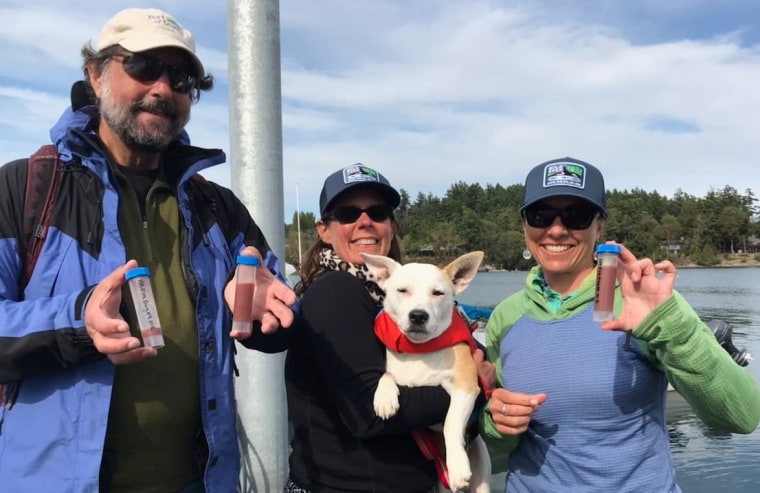 There are currently only 74 Southern Resident killer whales, including two babies, so finding scat and collecting scientific data is vitally important to help inform policymakers and the public. The scat of Southern Resident killer whales is smaller than some species' and not easy to see from far away, and researchers try to keep their distance from whales to avoid disturbing them and causing stress.
"That's where the dog comes in because they can smell these things from a mile away — literally a mile away," she said.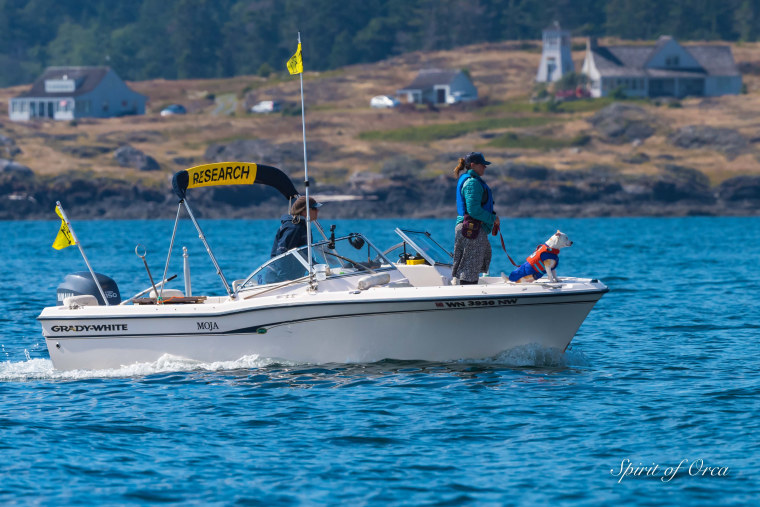 When Eba alerts on a scent, Giles immediately notices.
"The dog is on the front of the boat just kind of hanging out and sniffing, and then when she gets a hit, she has a pretty massive behavior change," she said.
Eba will start whining, licking her lips and heading toward the direction of the scent. Often she'll bolt out of her crate to get to the edge of the boat.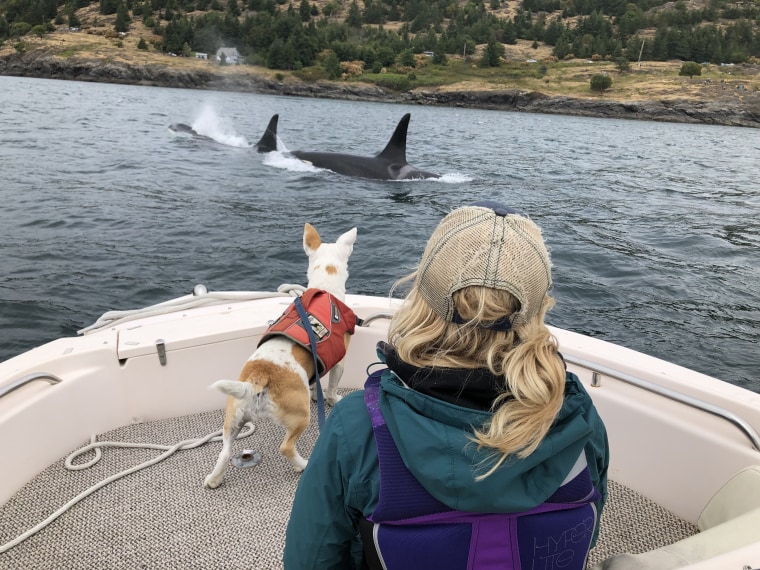 As the handler, Giles uses hand signals to communicate the dog's position to the boat's driver, who might have to change course numerous times as the scat moves along with the water.
"As we pass through the center of scent cone, which is the strongest portion of that smell, she'll whip around to the side of the boat to tell us, 'Hey, wait a minute — you've passed it.' That's when we turn into the wind. Then it might be a series of zigzags back and forth," she said. "It's amazing the dogs can do this work."
Eba's work will be featured on the upcoming PBS series "The Age of Nature." Narrated by Uma Thurman and filmed on all seven continents, the three-part documentary premieres Oct. 14 and explores humanity's relationship with nature and wildlife.
Though Eba also has her own social media pages and website and has appeared in other television programs, she's unfazed by her celebrity. She just loves her job and starts wiggling with joy as soon as Giles turns down the road toward the boat.
"She's really the perfect dog for this work," Giles said. "She's helping answer questions that will go to recovering an endangered species of beloved animals."