A brave dog in Arizona, is doing well after giving birth to seven puppies just after surviving a deadly snakebite.
"Her story is absolutely incredible," Kelsey Dickerson, a spokesperson for the Arizona Humane Society, told TODAY.com. "It is definitely one of strength."
Molly, a pregnant, homeless cattle dog mix, was bitten by a rattlesnake and brought by a good Samaritan to an emergency animal clinic in Phoenix on May 17.
The 1-year-old pup received anti-venom treatment at the clinic — and promptly went into labor, giving birth to three puppies.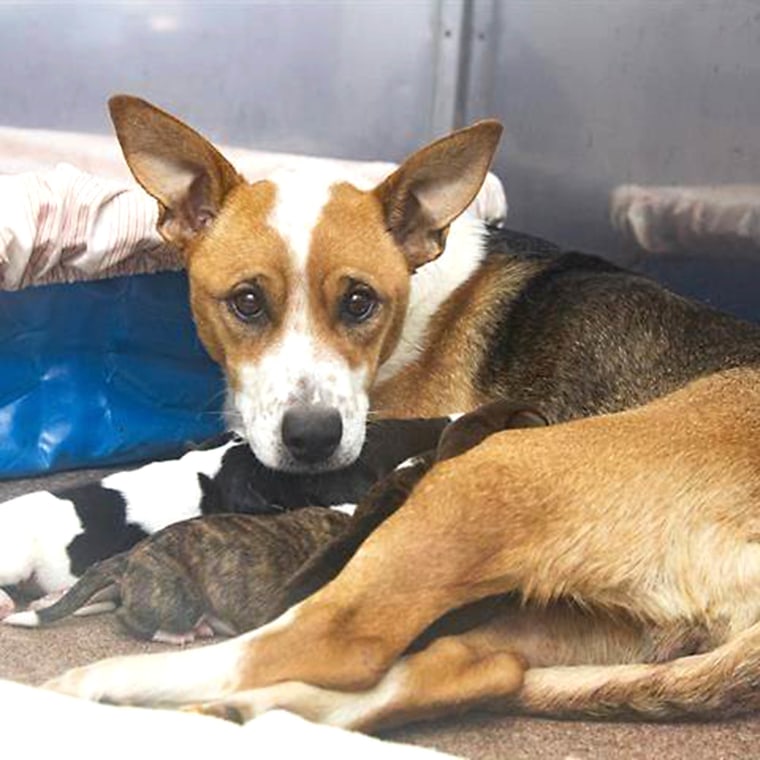 Rescuers rushed Molly and her pups to the Arizona Humane Society's trauma hospital. On the way, Molly delivered two more puppies in the pet ambulance.
Once at the hospital, the courageous mama and her litter of five were medically examined, then made comfortable in the organization's "mutternity suites," where Molly gave birth to a final pair of puppies.
Molly and her litter of seven are all doing well, and the former stray is slowly learning to trust her rescuers.
"She has been through a lot, of course, (and) is pretty protective of her puppies," Dickerson said. "So, she's a bit wary of people. But our amazing behavior team has been working with her every day to be able to help instill that trust within her and let her know that she's in a safe space."
Molly and her pups — or "Molly and her Minions," as her rescuers nicknamed the family of eight — will continue to receive care at the animal hospital until they can be placed in a foster home. 
Whenever possible, the AHS keeps mother dogs and puppies together for six weeks, when the pups are old enough to eat on their own.
After their initial joint fostering, Molly and her puppies will be fostered separately before hopefully finding forever homes.
Dickerson called Molly an "incredible mama" and said she will definitely "make someone an absolutely wonderful pet in the future."
"Once she's done raising her babies, it's time for her to be a baby in someone's home," she said.