KD the dog doesn't like it when her favorite people go too long without petting and snuggling her.
"She usually nudges our hand or gives us a sweet kiss on the face to remind us she is there," her adoptive mom, Reagan Henderson, told TODAY. "All she wants to do is love on people and be loved."
It's exactly how a dog's life should be. But this affection and adoration is very new for KD.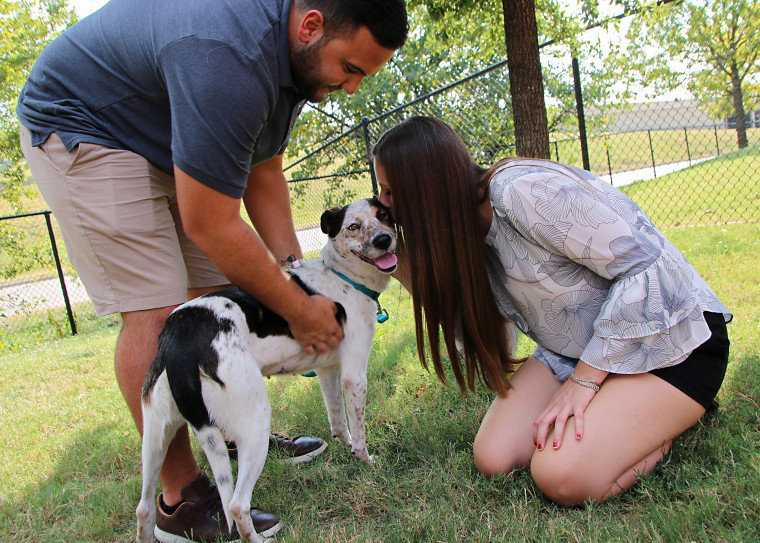 In early August, she was abandoned by her former family. In surveillance video taken along a stretch of road in Dallas where animals are frequently dumped, a man is seen pulling the dog out of the back of a car by a long chain attached to her collar. That chain is left on the dog's collar as the man, without hesitation, immediately gets back in the car and drives off.
There's another video of KD as well. It shows the moment animal rescuers from the Dowdy Ferry Animal Commission — volunteers who monitor this notorious area for living and dead pets, and collect evidence about crimes — found her in the woods near the road.
It was about nine hours after the dog had been pulled out of the car. By then her chain had become entangled in fallen branches and she couldn't move.
Although the dog had been abandoned in early August, it wasn't until Sept. 11 that Gorge Spears, the driver, turned himself in to authorities after they issued a warrant for his arrest (thanks in large part to the surveillance footage). Spears said the dog had belonged to his sister, who was having a hard time taking care of the animal — and he thought it was better to leave the dog by the side of the road than to bring her to a shelter.
Spears has been charged with animal cruelty for this decision. At around the same time he was facing the law, KD was getting adopted.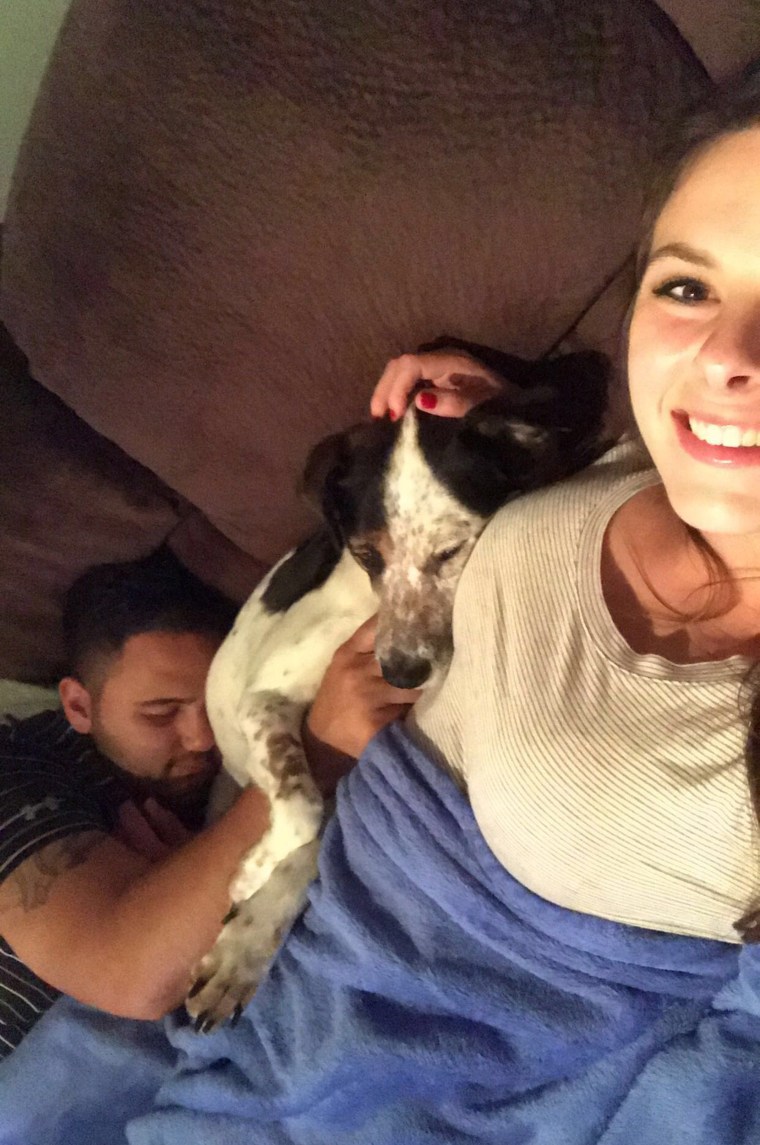 On Sept. 9, Henderson and her boyfriend, Zachary San Roman, both 22-year-old students, went to the Society for the Prevention of Cruelty to Animals of Texas looking for a dog.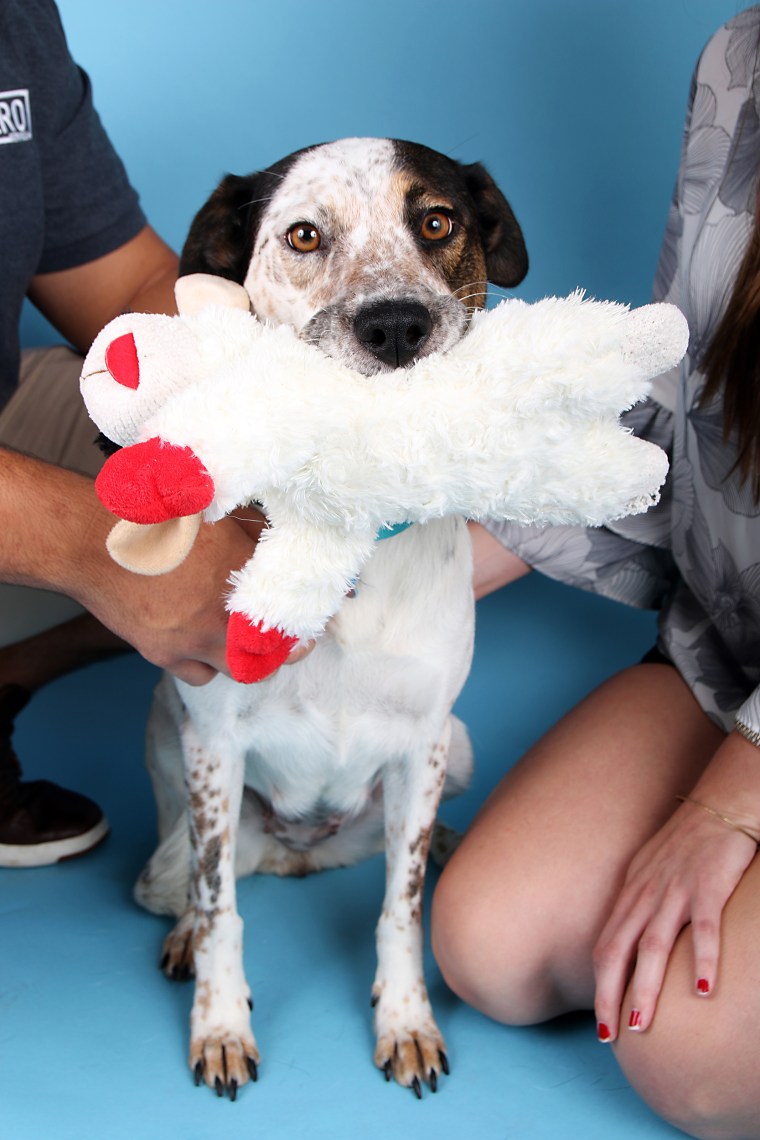 They played with KD — then known as Claira-Belle — at the shelter, and felt an instant connection.
"She was so sweet; we both knew we had to get her," said Henderson.
The couple didn't know the dog's sad past at the time. All they knew is that they'd brought home a pet who quickly established herself as "one of the sweetest dogs I have ever met," said Henderson.
Two weeks in, Henderson observes that KD adores belly rubs, cuddles, going for walks, "watching TV and meeting new people."
KD now enjoys trips to the pet store to pick out new toys. Saturday at Petco, she selected a stuffed lamb; and on Sunday, it was a plushy football that struck her fancy at PetSmart.
She is no longer on a chain. "No more chaining for KD ever again," Henderson said.
SPCA of Texas spokesperson Victoria Albrecht said seeing KD in her new home "has brought us all to happy tears!"
"Her new mom and dad are spoiling her rotten with all the toys and love any dog could ever want," she said. "We're beyond thrilled that this sweet girl has not only a great home but the best home."
The SPCA of Texas hopes KD's tale will spread awareness that not only is abandoning animals illegal, but also that shelters are there to help find pets new homes if needed.
Additionally, Albrecht said her organization is involved with some major initiatives to improve the welfare of Dallas' dogs more broadly — work that is badly needed. For example, the SPCA of Texas is part of a project called the Southern Dallas Pet Initiative, which will be providing 30,000 free spay and neuter surgeries, as well as other veterinary services.
"It is our hope that this story, as well as the spay/neuter surge, will help reduce the number of animals suffering on the streets, whether abandoned or left to run astray," said Albrecht.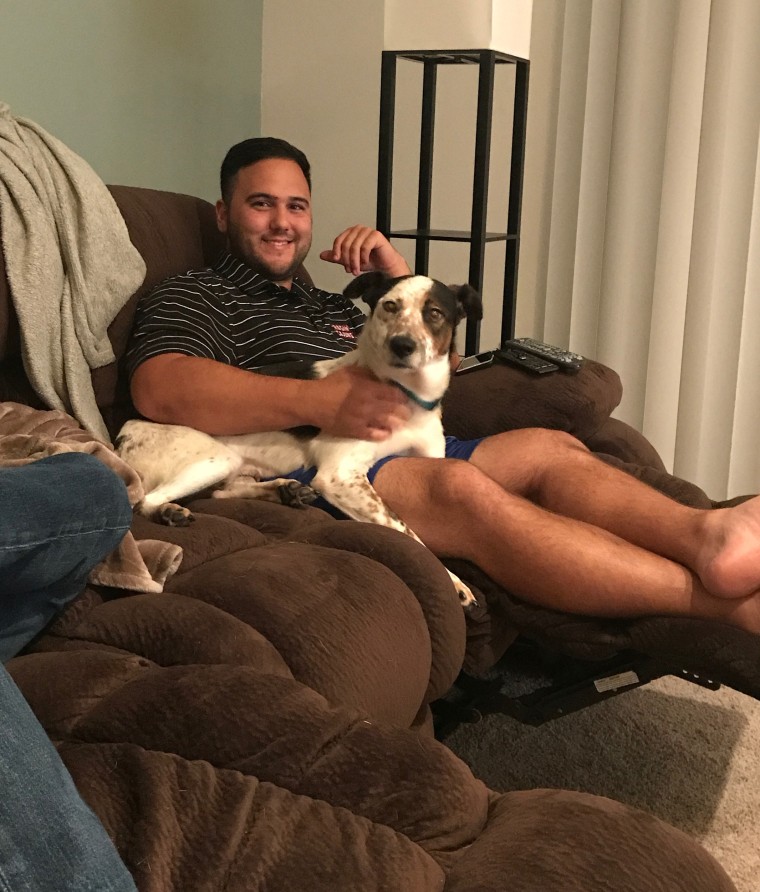 Henderson is thankful for the people who took good care of KD after she was abandoned, and to those who saved her life. It's thanks to them, and fate, that this precious dog came into her family.
"KD is so loving and brings so much happiness into our lives," she said. "She is just so grateful to have people loving on her all the time."