Life did not begin well for a dog named Xena and a cat named Koshka — but now, it's just about perfect.

Once neglected and abused, the resilient canine and feline have been rescued by humans who adore them. Xena and Koshka also are celebrities in the animal world: The ASPCA named them Dog and Cat of the Year for 2013.
The pets were championed at the "Humane Awards" in New York City on Thursday.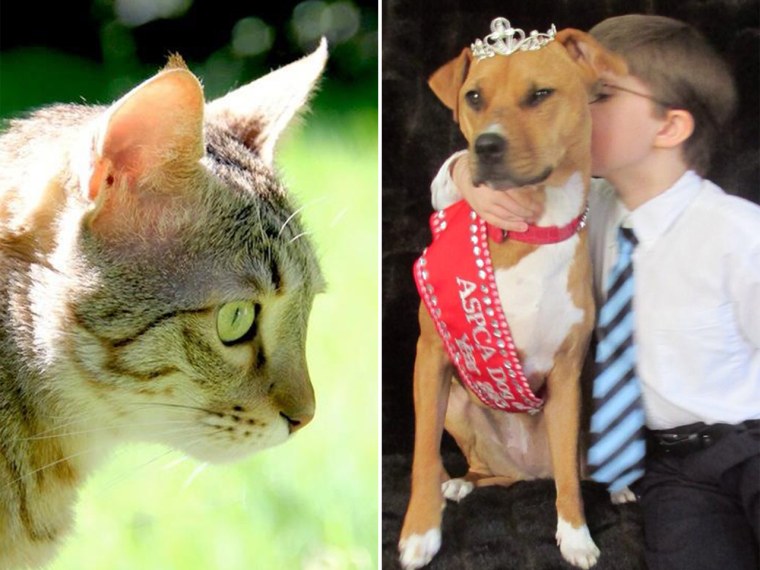 TODAY.com shared the story of Xena the Warrior Puppy with readers in April. After being rescued from extreme neglect, Xena transformed into a constant companion, friend and therapist for Jonny Hickey, an 8-year-old boy with autism.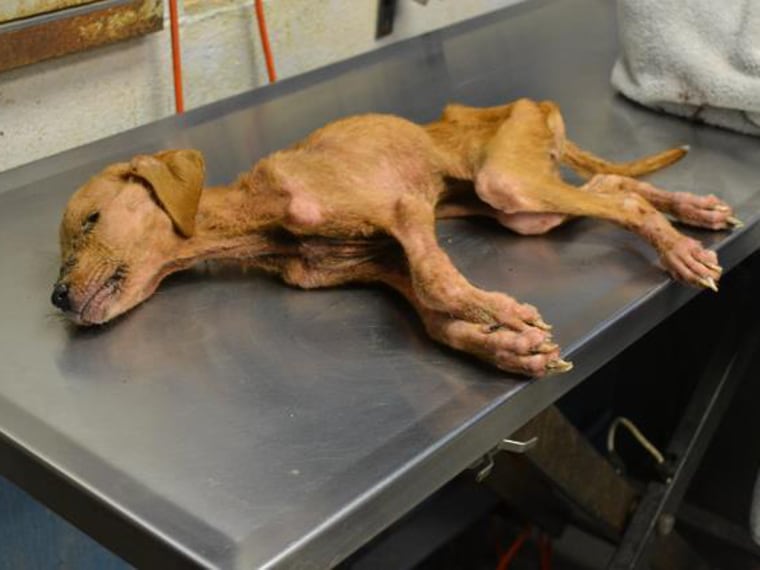 Jonny used to be withdrawn and silent most of the time, but when he met Xena earlier this year, he became "non-stop chatter," his mother Linda Hickey told TODAY.com. 
"He is the happiest child that I've ever seen him be in eight years," she said.
Jonny has come so far that, with Xena by his side, he was able to attend Thursday's awards luncheon — something his mother said would have been impossible just eight months ago. He also completed another milestone that day: his first media interview, in which he happily told NBC's Jill Rappaport, "We're in New York City!"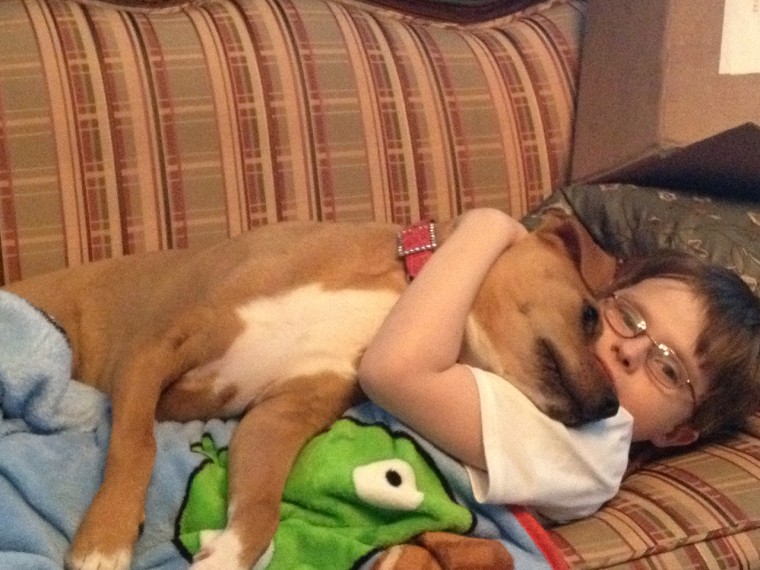 The story of Xena and Jonny has been shared in 95 countries, provinces and territories around the globe. An active social-media community has mushroomed, monitoring Xena's happy antics and supporting Linda Hickey's ongoing efforts to help the rescue group in Georgia that first saved Xena's life as well as autism-awareness programs.
In recent months, Xena also has been visiting with a 12-year-old girl with cancer at a children's hospital in Atlanta and with cellmates at an Atlanta jail who train homeless dogs through the Canine CellMates program.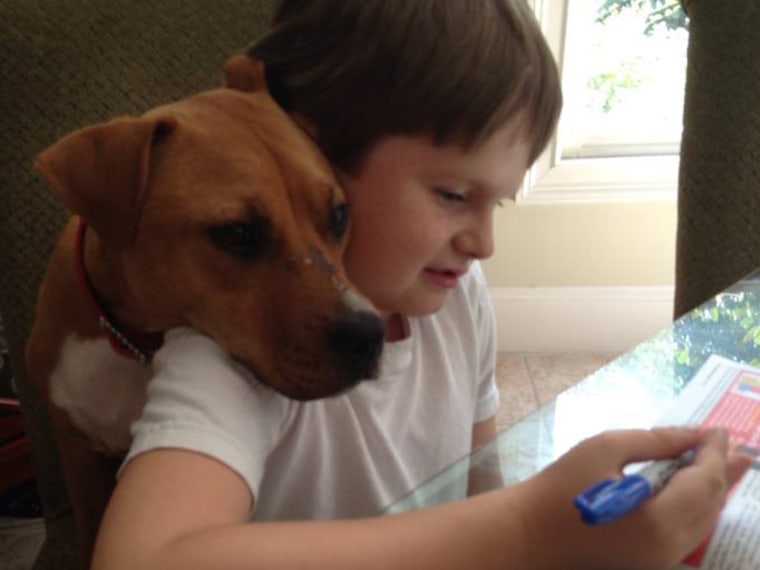 The story of Cat of the Year Koshka began in southern Afghanistan. In 2010, the friendly stray caught the attention of Staff Sgt. Jesse Knott, who kept noticing troubling details: One day the kitten appeared to have been spray-painted, and another day some of his fur was shaved off and his skin was cut. Knott couldn't take seeing the abuse, so he smuggled the furry friend onto his military base.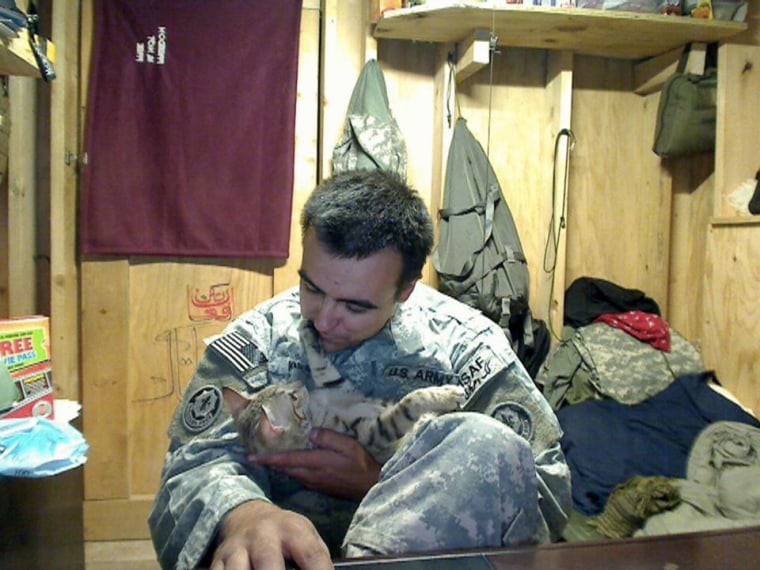 A few months later, Knott said, little Koshka (Russian for "cat") helped save his own life. At an especially dark moment, after Knott's close friends had been killed by a suicide bomber and he was thinking about hurting himself, Koshka kept meowing, head-butting him, touching his forehead with his paw and emitting a deep, loud purr.
The experience deeply affected Knott and convinced him to seek help and also to get Koshka out of Afghanistan when his tour of duty ended. Coordinating Koshka's travels presented serious challenges, though. To make it happen, an interpreter risked his life transporting the cat to Kabul, and Knott's parents spent nearly $3,000 on Koshka's plane ticket to Oregon. 
Today, the cat lives happily with Knott's parents, who help the feline maintain a hilarious Facebook page.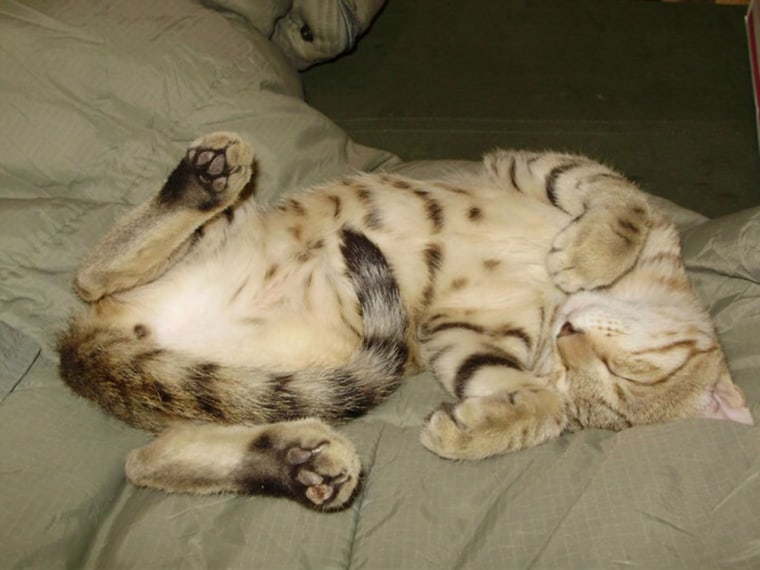 While Xena the Warrior Puppy was in attendance at the ASPCA awards luncheon, Koshka was not.
"I would love to bring him," Knott explained, "but ... after traveling from Hutal to Kandahar, then to Kabul, on to Islamabad, from there to New York, and finally to Portland, Oregon, Koshka's patience and desire to travel has been pushed well past its max."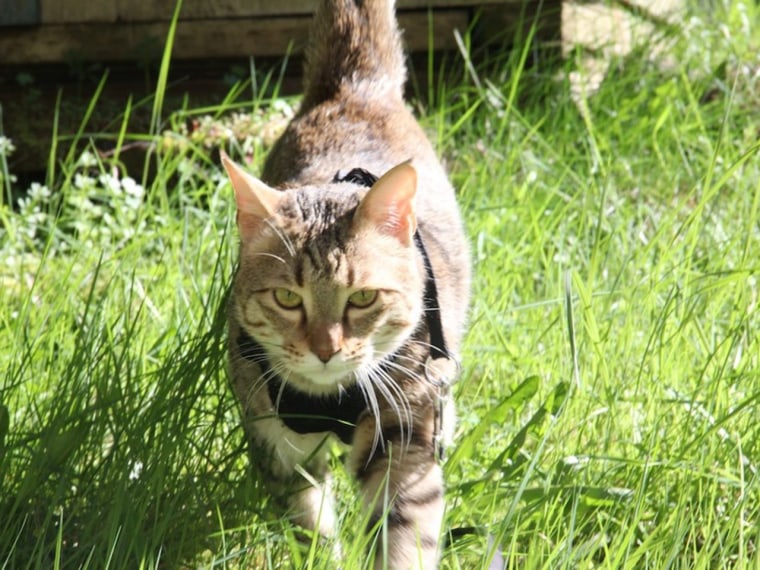 Need a Coffey break? Connect with TODAY.com writer Laura T. Coffey on Facebook, follow her on Twitter or read more of her stories at LauraTCoffey.com.