Rhino Lightning arrived at the shelter last week, with a spiral notebook filled back to front with a child's notes about the dog — a "striped dream," as the adoring author put it.
Addressed to Rhino's new family, the letter says the animal's "cheeks make a lot of slobber." He is "a good dog and he loves cuddles," and is a "very amazing puppy." Rhino "hates snow & swimming," but he "loves to run around" and to sleep under the blankets.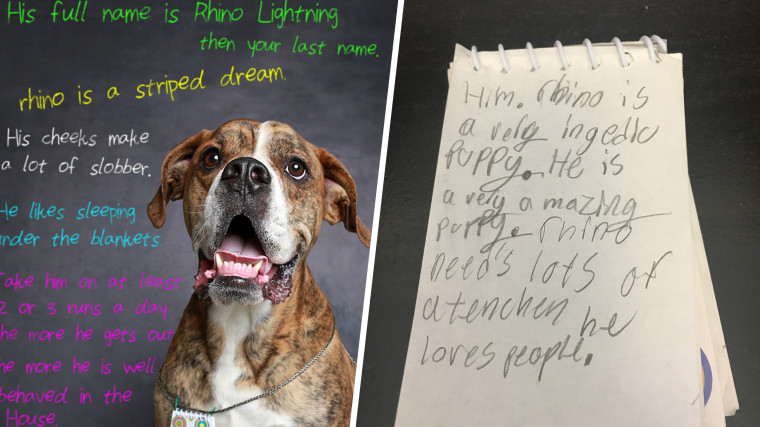 "The family told our receiving staff the notebook was written by one of their kids," Humane Society of Utah spokesperson Guinnevere Shuster told TODAY in an email. "It was​ filled with information about Rhino for his new​ ​family​."
RELATED: 5 things you need to know before adopting a pet from a shelter
Rhino is is about 3 years old, and was clearly loved a lot during that time.
His family told the shelter that they were giving him up because he gets very excited when he plays, and "​is unaware of his size. He wasn't a great fit for the youngest children in the house," said Shuster.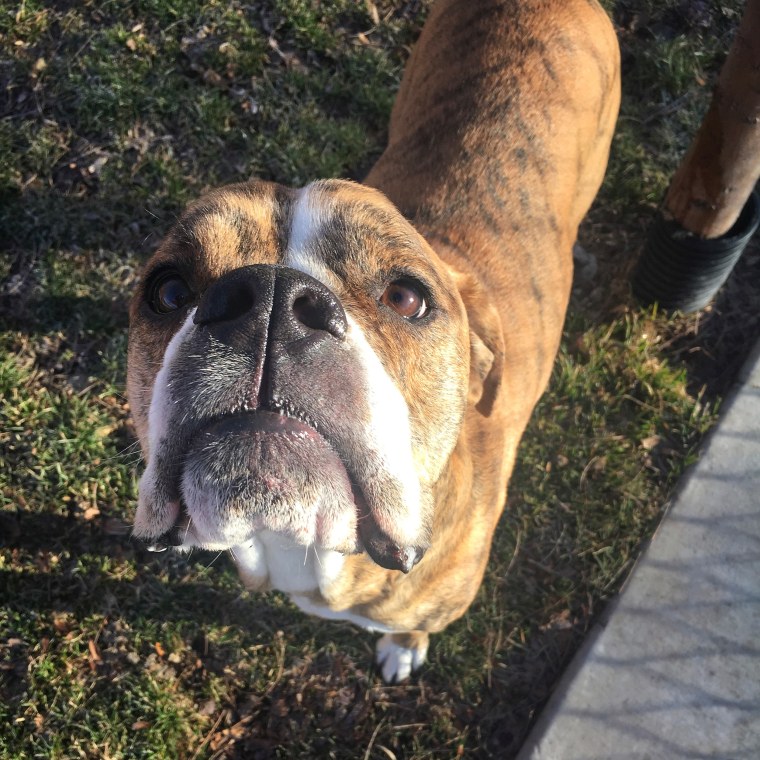 So now the Humane Society of Utah is looking for a new home for Rhino. One with kids who are older — at least 8 years old — "who won't get knocked over when ​he ​zooms through the yard," Shuster said. (Fill out an adoption application, if you'd like to be considered.)
RELATED: 'Grateful' dog snuggles new mom who rescued him from shelter
The shelter has a few more notes to add to the comprehensive report that Rhino came in with. He is a little nervous in his kennel, but calmer and goofy outside. He is house-trained, and smart, and not a big fan of cats.
Rhino can smell peanut butter "from a mile away," said Shuster. "And loves to bounce around in the grass."
RELATED: ASPCA 'safety net' keeps pets out of shelters (and hearts from breaking)
Whoever is lucky enough to adopt Rhino will get a wonderful dog. With him, they'll also get a photocopy of the notebook, so they can learn all about their new companion from the kid who loved him first.
Hopefully the new family will abide that kid's requests: Not to rename him — the notes were very specific on this point — the dog's name is Rhino Lightning, and then his last name is the same as his family's; not to give him too many tennis balls, which he will quickly destroy (though Nerf balls are OK); and to bathe Rhino at least once a month.
RELATED: Animal shelter has matchmakers to help you find the purr-fect pet
Most importantly, though, is to "make sure he is in a safe house," where every night, he is told that "I love and miss him."