While Greenville County Animal Care Services often sees pit bulls pass through its doors, one that arrived earlier this month brought along a unique mystery.

The 2-year-old pit bull was brought into the South Carolina animal shelter by animal control officers who had found him in a nearby neighborhood. Inside his collar was a crinkled black-and-white photo of a man whose identity continues to remain a mystery.
"We've never had anything like this," Susan Bufano, Greenville County Animal Care Services' community relations coordinator, told TODAY.com.
The tattered image reveals a young man leaning against a pole and wearing what appears to be a military suit. The picture was folded and tightly tucked inside the dog's collar.
"It didn't get in there accidentally," Bufano said. "Somebody had to really work to get that photo in there."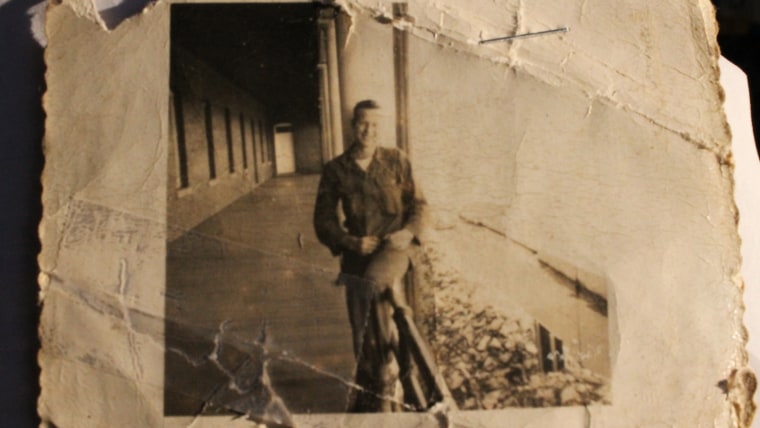 The shelter posted the photograph to its Facebook page in hopes of reuniting the dog with his owner and identifying the man in the picture. But so far, neither has occurred.

"I've had people try to date the photo, figure out the location of the photo, but so far, nothing," Bufano said. Several people have even sent in photos of deceased relatives wondering if the man in the dog's picture is their loved one.
"I've felt so bad having to tell people the photos don't match," she said.
The tan pit bull, who has since been named Soldier because of the man's attire in the photo, is waiting to be adopted, and inquiries from across the country have poured in from people hoping to be his next owner. There was a possibility he would have to be euthanized, but Bufano said that that is no longer a concern.
"He just has so much interest," she said. "Now we're worried about who's going to be the one who gets him."