The little fish couldn't swim upright due to a bladder problem. He spent most of his time stuck upside down on, or near, the bottom of the tank.
This made it hard to eat and the fish's side was getting rubbed raw. Derek Burnett thought that most fish in this situation would give up. Most people would give up on a fish in this situation.
This one, though, "was so tough," Burnett told TODAY. "He was trying so hard to live."
So the 36-year-old manager at Aquarium Designs in San Antonio, Texas — who also studied marine biology — fashioned a buoyancy device made out of aquarium-safe materials.
"I just knew I had to try something," Burnett says. "Next thing you know, I had the goldfish wheelchair."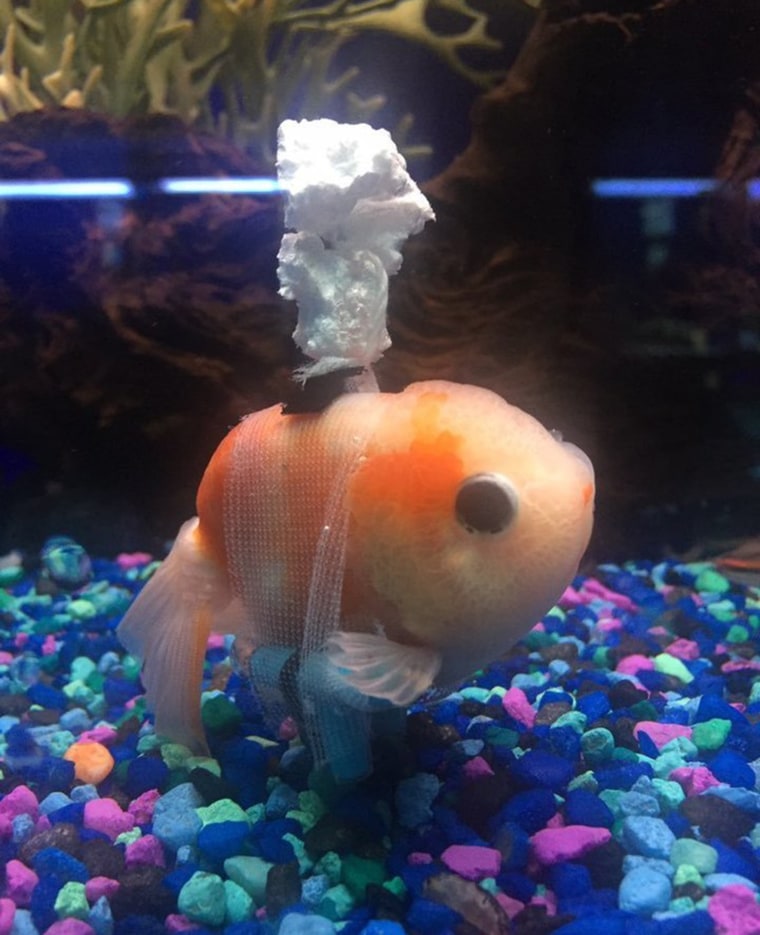 This Ranchu goldfish, who is a couple of years old, was brought to Aquarium Designs a few weeks ago with some others being given up by their previous owner who was unable to care for them any longer.
The other fish, who swim normally, quickly found new families. This one remained.
"No one wanted to take him in," said Burnett.
Burnett was impressed with the fish's friendly, people-loving personality and determined spirit. He decided to take the fish home for the good life he deserved.
At first, Burnett tried feeding the fish a special diet, thinking that might help cure him. When that didn't work, he thought, 'why not try to build a little gadget'?
RELATED: Firefighter rescues blind dog lost in woods for 8 days, then turns down reward
After a couple of tries, Burnett came up with the current contraption. It's made of some tubing and netting, securing to the fish's body without abrasion by using weights on the bottom and Styrofoam on top to keep him properly positioned.
He thought perhaps for the first time, the fish might swim upright.
"He was so happy," Burnett said.
His happiness soon became very public — in a wonderful way.
Taylor Nicole Dean is a San Antonio-based animal lover and video-maker, who knows Burnett through fish circles. Dean, sensing a great opportunity, posted the fish wheelchair photos to Twitter, earlier this week. Let's just say they made waves across the internet, delighting one and all.
"I have to say, I kind of anticipated this reaction," Dean told TODAY in an email. "The message that I really hope spreads from this story isn't just that fish are more complex pets than people think, but that they deserve as much care as any pet we bring into our home!"
Indeed, Leigh Clayton, director of animal health and welfare for the National Aquarium, said if at one point it might have seemed strange to build a wheelchair for a fish, "more and more we're finding and creating innovative practices and devices like this to help animals."
"We treat fish, like all animal species, for a variety of medical needs and feel these innovations can help improve the health and welfare for all," she said.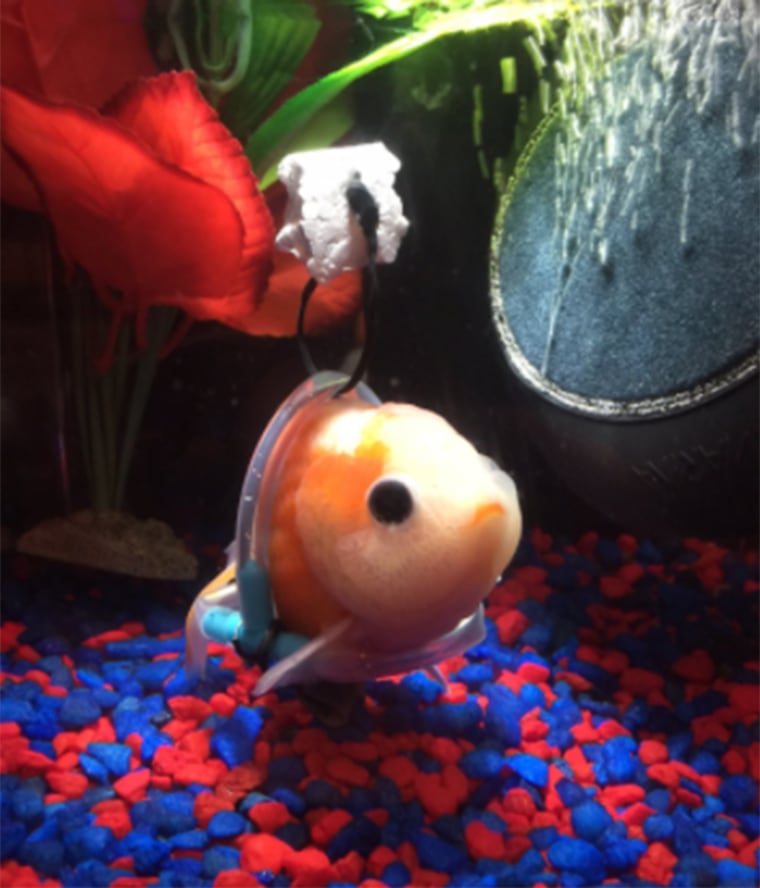 What do you call a fish in a wheelchair? That question hasn't been fully answered yet. Burnett is currently picking a name (the top options so far are David Buoy and Lieutenant Dan).
You can send your own suggestions on Twitter, where Burnett is also posting more pictures and videos of his inspiring fish.
The fish is in his wheelchair nearly all the time now. He doesn't move well without it. But he seems content and strong when he's secured in his device. He even seems to enjoy when reporters and camera crews come by to see him.
"It's been life changing for him and me both," he said. "He's a pet to me. He's a family member."
Other fish owners have started reaching out and asking for help for their disabled fish. Burnett hopes he might be able to do for them what he's been able to do for his own little guy.
"To see a fish suffer, it just hits me in the heart," he said. "There's not many things I wouldn't do for a fish."