Knowing that his dog's last days were upon him, Oregon photographer Ben Moon took his dog Denali to the beach to film a tribute to the canine companion that helped him rally to beat cancer.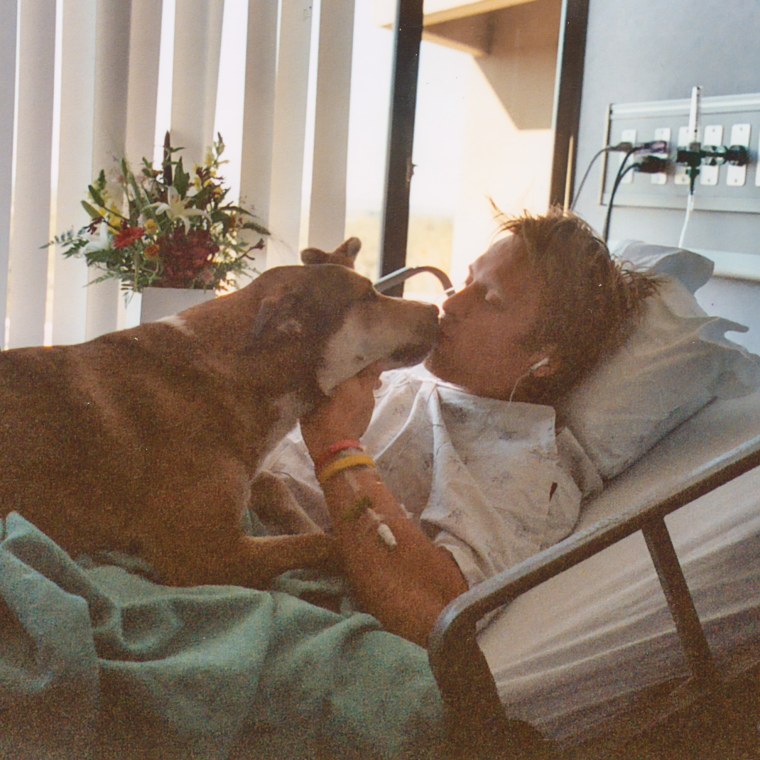 The resulting short film, "Denali," won Best of Festival and People's Choice awards at Colorado's 5Point Film Festival in April, and took the Internet by storm this week. While Moon misses his friend, he's happy with how the film, told from the dog's perspective, captures the depth of that friendship.
"It could have gone cheesy or too sappy or too sad, so quickly," Moon, a 40-year-old adventure photographer, told TODAY.com. "But [director Ben Knight] just nailed it."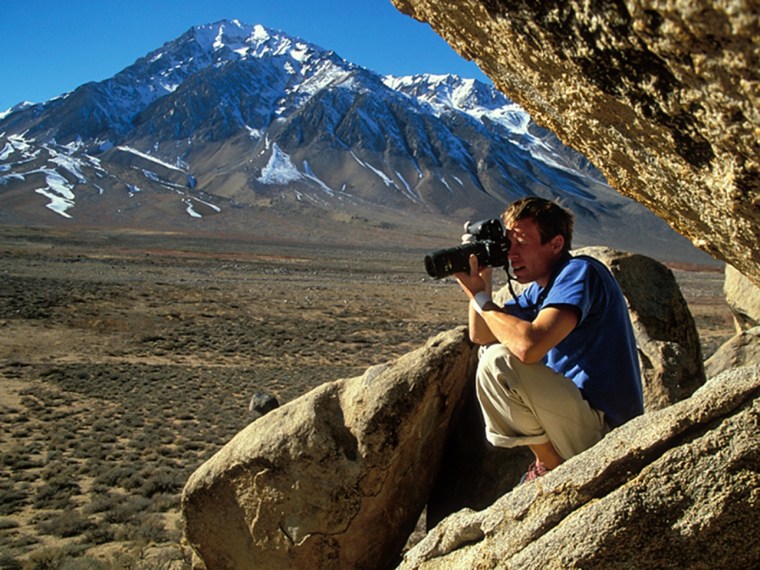 Believed to be a mix of pit bull and husky, Denali was just 2 months old when the two met at an animal shelter in November 1999. "As soon as I passed him, he put his paw out, cocked his head and kind of looked at me," Moon said. "He tore a lap around the room, and then laid on my feet, and rolled up on his back, and looked at me. It felt like he chose me."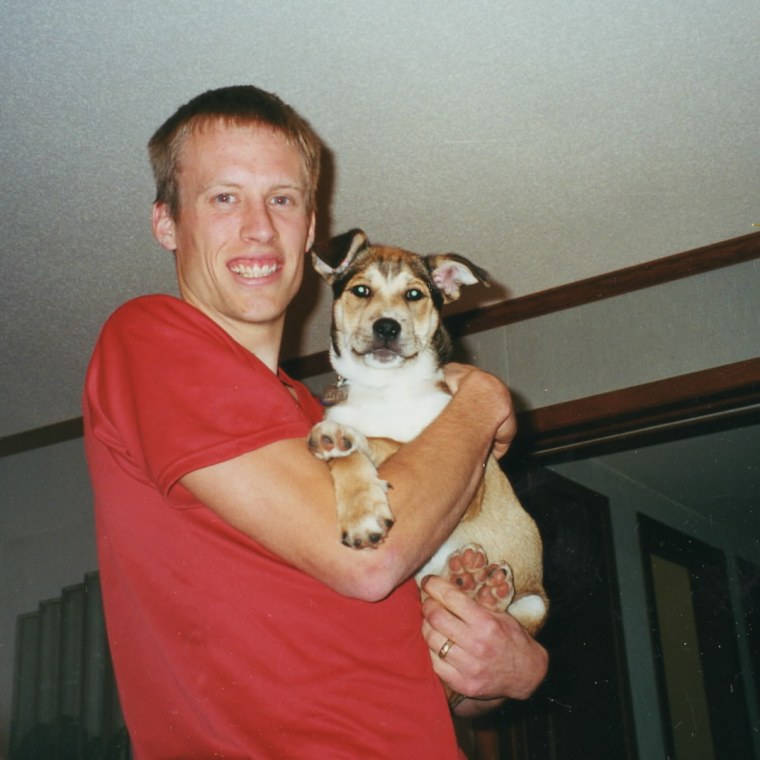 The two were inseparable for nearly 15 years. Their bond was strengthened in June 2004, when doctors diagnosed Moon with colorectal cancer. Despite physical weakness and toxins and emotional lows he endured in the year that followed, Moon was buoyed by Denali's loyalty and affection, thanks to nurses that allowed the dog to be by his side during the recovery process.
"When he was in the hospital bed with me, he'd just sort of step up there so gently, it was kind of mind-blowing," Moon said. "He made sure he wasn't touching anything that was in pain and not invade my space."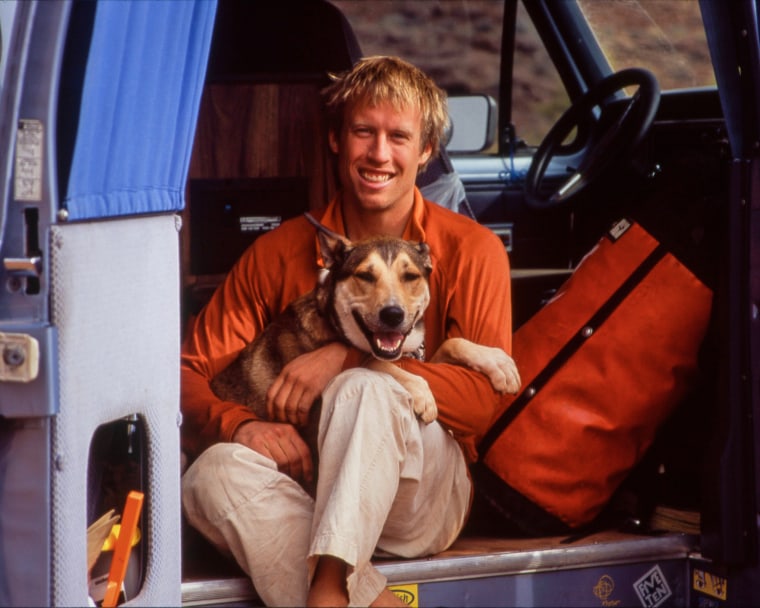 In April 2005, a week before Moon's 30th birthday, Moon received his last treatment, and remains cancer-free. "It's a process, and it changes you for good," he said. "I don't regret going through that, honestly. I feel like I see things different as a photographer and a person."
Able-bodied once again, he celebrated by traveling with his four-legged friend. Many of those moments were captured on Moon's Instagram account.
In more recent years, however, Denali would be the one struggling to stay healthy. After four cancerous lumps were removed from his back and leg, he suffered respiratory and kidney problems, Moon said.
Toward the end of Denali's life, when Moon was approached to do a film, the photographer and his colleagues realized it should be a tribute to his loyal buddy. Moon said he asked Denali to stay healthy and happy for one more month to pull off the cinematic tribute. "That's when I promised him, 'Just let me know when it's your time to go, man; I'm not going to let you suffer,'" Moon recalled. "It felt like this grand reciprocation, because he had been with me while I had gone through cancer."
Exactly one month later, at midnight on Jan. 31, 2014, Denali developed a bad cough. While playing on the beach the next day, Moon said, he recognized "the look" in Denali's eyes, and knew it was time to say goodbye to his friend.
A day after Denali passed away on Feb. 2, 2014, Moon posted a eulogy on Instagram.
"Thank you Denali for giving me the courage to hit the road with a camera, a van, and no plan back in 2001, for never taking your eye off me through a year of cancer treatments, surgeries and countless other challenges," he wrote. "Thank you for your uncanny ability to walk into a frame at precisely the right moment to elevate an image, for teaching me patience and the joy in the simple quiet moments as I watched you grow older, and most of all, giving selflessly the unconditional love that only a true friend can give. It's impossible to put into words all that you were and will always be to me—I was always convinced you were more human than dog, and all of the countless lives you touched felt the same."
He concluded, "Thank you for your unwavering belief in me, happy trails my friend!"
While coping with the loss of his friend, Moon spent part of his time supervising the short film's post-production, which chronicles everything from the moment the two met to the final hours of the dog's life. Half of the funding for the film came from the clothing and outdoor-gear company Patagonia, while Moon's other sponsors — First Descent, RuffWear, Clif Bar and Snow Peak — foot the rest of the bill.
Looking back, Moon says he's thankful for the way Denali helped him through a brutal cancer battle, failed relationships, and the rigors of becoming a full-fledged adult.
"He was athletic. He was so caring. He was hilarious. He wanted to be by your side, and also do his own thing," Moon added. "I realized he was a reflection of myself."
Follow TODAY.com writer Chris Serico on Twitter.