The first few dog trainers seemed too confident about being able to work with Erin Baxter's newly adopted dog, Ruby, who has been deaf and blind since birth.
It made Baxter nervous that these trainers didn't seem to recognize the obvious challenges, that they didn't seem to think training a dog who is missing two of her primary senses would be difficult at all.
Trainer Rick Carde's hesitation, by contrast, was reassuring. Carde told Baxter he'd worked with dogs who are blind or deaf, but never ones who are both. He said he wasn't sure what he'd be able to teach her, or how.
It just hadn't been done a lot. There aren't a lot of deaf and blind dogs who've lived and have gotten into homes so committed to helping them thrive. But he said he'd like to try, which was what Baxter wanted to hear.
"This is my first time doing this, so it's all new to me, too. We are learning together," Baxter told TODAY. "I believe things are put in our paths for a reason and you can choose to follow the signs or ignore them."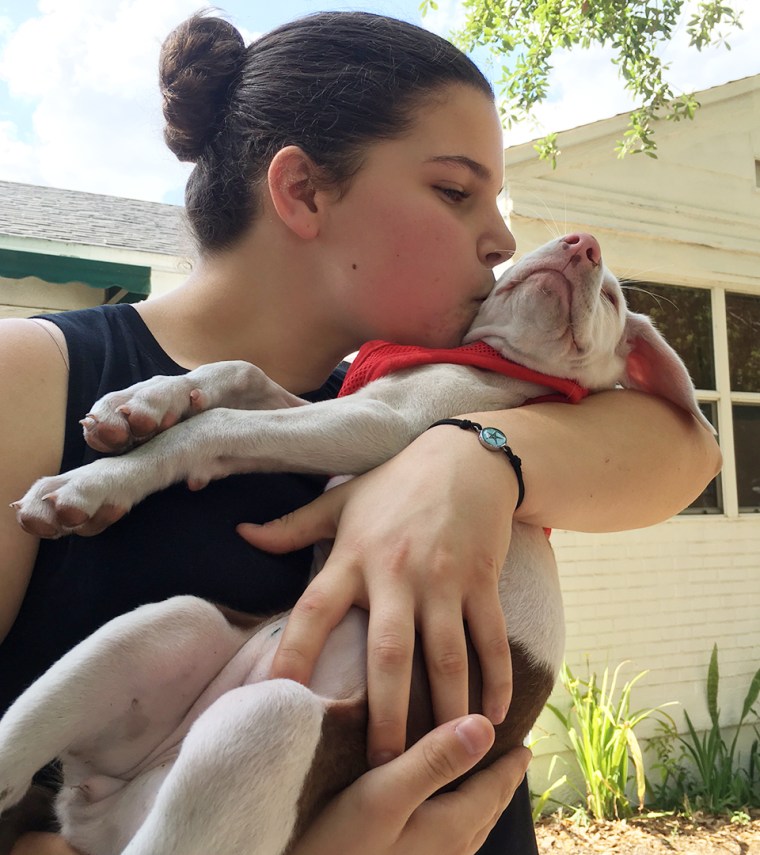 Baxter adopted Ruby last spring. Her family had just lost their beloved dog, elderly Scarlet, "and I was heartbroken," she said.
One night Baxter was up late browsing Facebook when she came across a news story about a local animal shelter that had taken in three deaf and blind puppies.
Baxter had not intended to adopt a new dog so quickly, but she found herself drawn to these puppies, who likely were missing these senses due to careless breeding. Baxter, her husband, and two of their three daughters went to visit the pups in their foster home.
RELATED: Dog who lost ears in fire gets earless stuffed toy to make him feel better
When they got there, the puppies were asleep. Baxter's daughter Avery bent down to be near them. One woke up and climbed right into Avery's lap. As it happens, this was also the only of the three to be wearing a collar — it was red, which evoked their dog Scarlet.
"I felt like it was meant to be," said Baxter. "There were so many signs leading me to do this. I couldn't ignore them."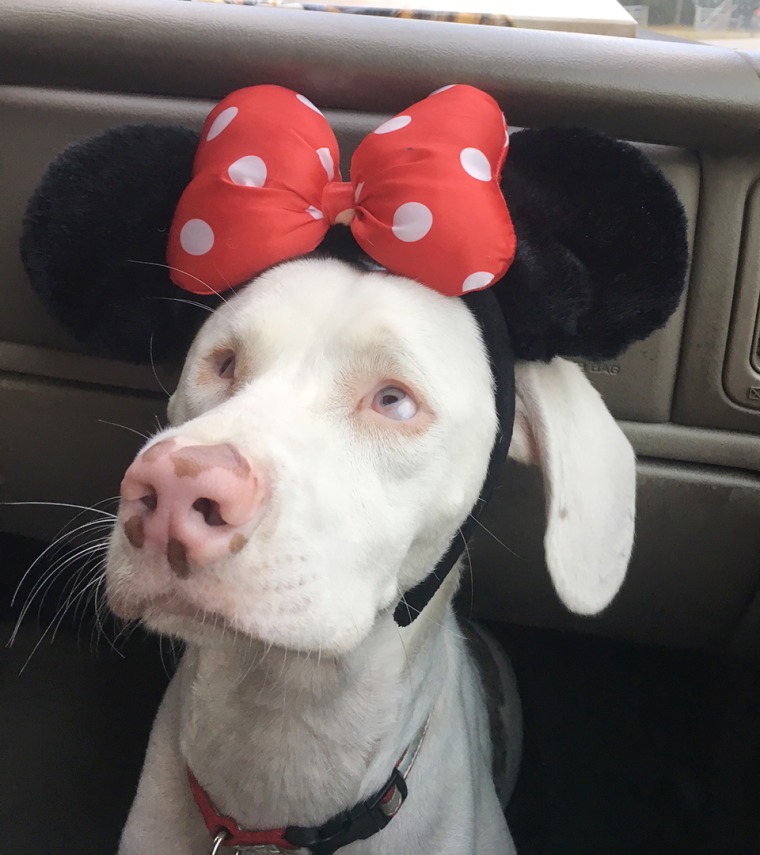 It was easy to fall for the slim brown-and-white dog, whom they named Ruby in an homage to Scarlet.
Ruby couldn't see or hear, but she quickly established her place in their home in Wimauma, Florida, about a half-hour from Tampa. She learned to navigate the furniture and began playing with the household's two other dogs — and, was always, always loving on her humans, licking their faces, sitting in their laps.
Baxter initially looked for a trainer who could teach Ruby basic obedience. She had an inkling that Ruby's personality would make her well-suited for therapy work, but her primary concern was having a fail-safe way to make Ruby sit, in case she was heading toward danger that she wouldn't be able to sense for herself.
"My biggest fear when we brought her home was her getting out without a leash or person and her running into the street," said Baxter. "I found the right person willing to put the time in with her."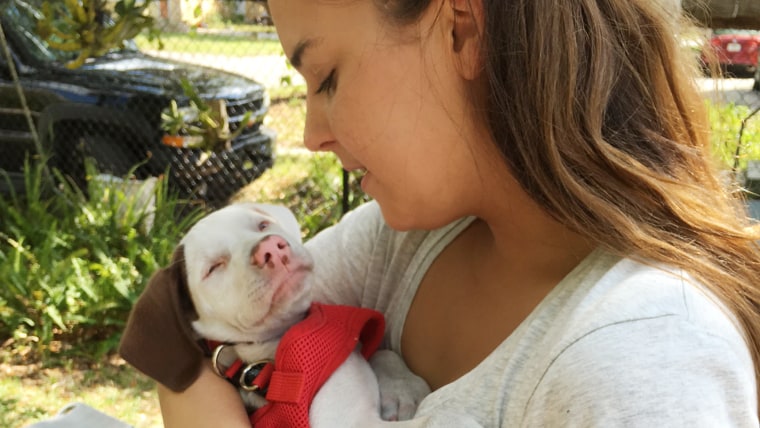 Five, sometimes six days a week since January, Baxter has been bringing Ruby to Carde's dog training center, Tampa Bay K-9 Solutions. Through trial and error, Carde learned that Ruby wouldn't respond to scent commands — but she would to pressure.
He developed a system of signals: touching Ruby between her shoulders means "lay down"; a stroke under her chin means "follow." She wears a vibrating collar that tells her when she needs to stop and sit.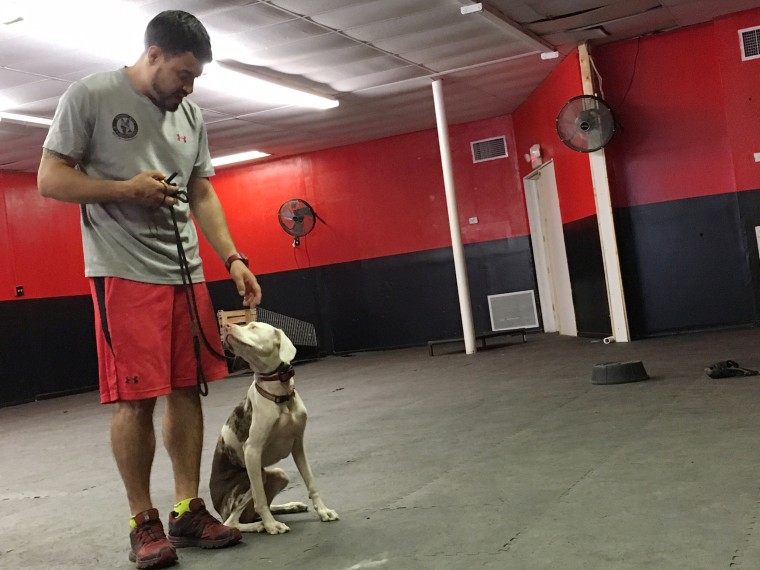 After working together for some time, Carde asked Baxter if she was serious about training Ruby to do therapy work. She said yes.
"She comforts just about anybody that has the weight of her body on them," said Baxter.
Ruby's warm, friendly, loving disposition is perfect. Carde began developing a whole new set of training methods to help Ruby learn her therapy dog skills, like being able to ignore distractions.
Carde and Baxter imagine Ruby providing great comfort to, say, veterans with PTSD, and kids who've lost their vision.
"She can do it, you can do it," Carde said.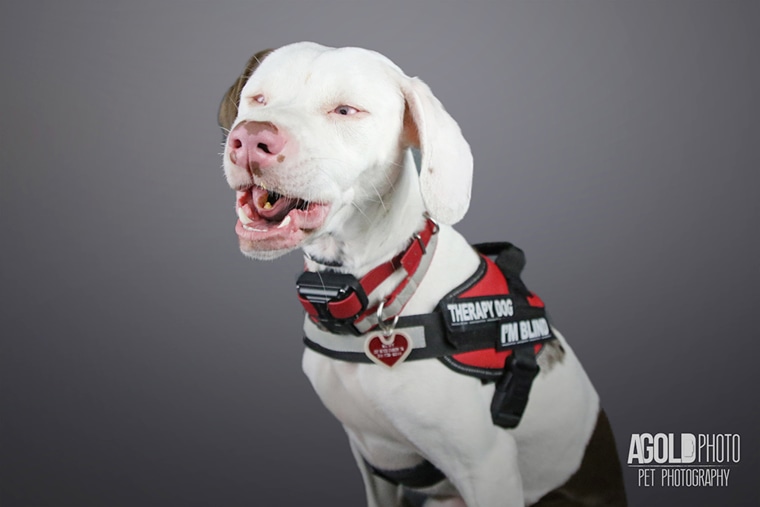 Lately, Carde has been telling Baxter that it's almost time for Ruby to be done with her training. Yet he can't quite get enough of her, either.
"I keep saying another few weeks. But that was a few weeks ago," he said. "I got emotionally attached to this one."
It's easy to understand. Ruby is a friendly, smart, affectionate, uniquely comforting dog who under just about any other circumstances wouldn't even have been given the chance to live, let alone to be loved and to help her community.
RELATED: Charming Clydesdale horse roams halls at nursing home cheering residents
That is, if the shelter hadn't tried so hard to find the puppies good homes. (The other two landed safely, too.)
If Baxter hadn't fallen lovestruck. If Carde hadn't been willing to try to figure out how to train Ruby. If Ruby hadn't been so willing to try. If she weren't still so willing to try.
"She is special and perfect and amazing," said Baxter. "She is not disabled in my eyes. She's just her."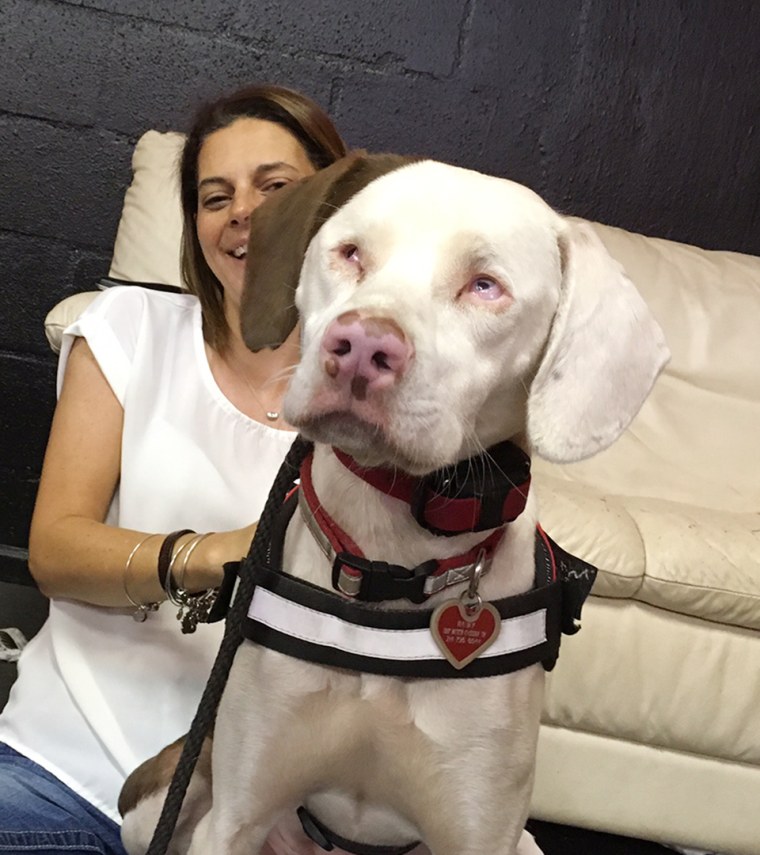 Ruby takes a break from the day's training session to sit in Baxter's lap on the floor. She is covering every inch of Baxter's face with happy licks. Which gives Carde a new idea, one that'll keep Ruby coming in a little longer.
"We could maybe make her kiss on command," he proposed.
The two get to brainstorming about how to do the training.