Milo is an 11-pound dachshund and Bonedigger is a 500-pound lion. But that didn't stop these two from becoming the best of friends.
In the video above that went viral on Friday, Milo appears to be giving his buddy a very thorough teeth cleaning — or some sort of sloppy French kiss. Bonedigger reciprocates the thoughtful gesture, licking the dog in return with a tongue that's roughly the size of Milo's head.
The 5-year-olds go way back. Joe Schreibvogel, an animal expert and face of the Garold Wayne Zoo in Wynnewood, Okla., who goes by the name "Joe Exotic," first introduced his four dachshund puppies to Bonedigger when the lion was just a 4-week-old cub. A metabolic bone disease rendered Bonedigger mildly disabled, and Exotic thinks that might have something to do with the connection the animals formed.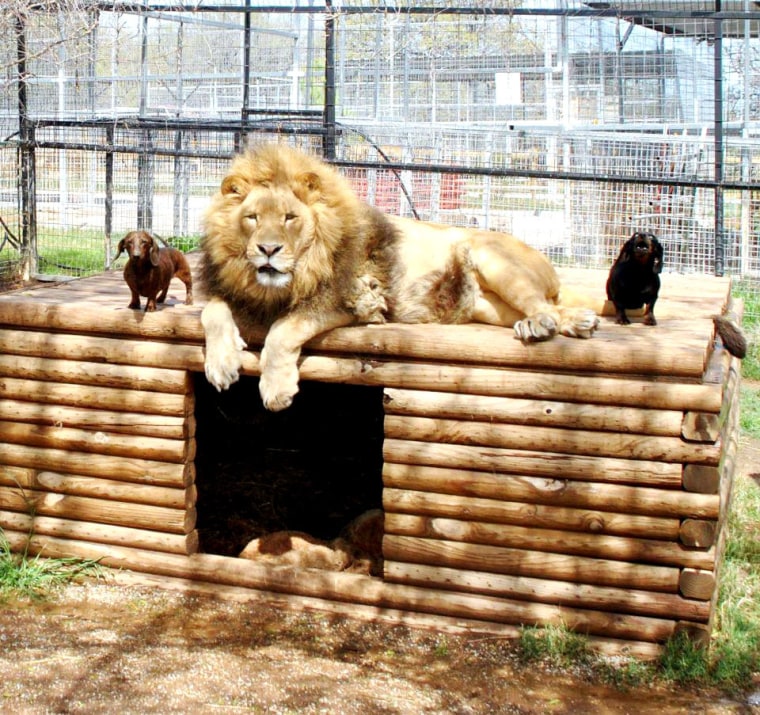 "The dogs thought it was just a big puppy and have loved each other since," he told TODAY via email. "I also think they know the lion is not as normal as the rest."
While all four dachshunds play with Bonedigger, Milo and his littermate Angel have forged a special bond with him: They sleep, dine on raw meat and even mimic the lion with high-pitched roars of their own.
And don't even try to separate them: "You do not ever try to take his dogs out of the yard," Exotic said. "[It] makes him very mad. They sleep on top of him."
Take a look at more adorable photos of Bonedigger and his companions: