Interspecies friendship alert! New footage of a baby cheetah and his unlikely puppy friend's recent play-date is on display in a YouTube video the San Diego Zoo Safari Park posted this week.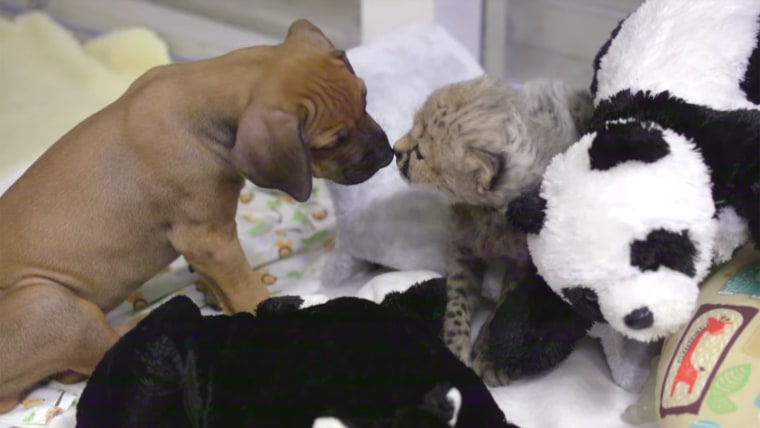 It shows a 7-week-old cheetah, Ruuxa, and an 8-week-old Rhodesian ridgeback puppy, Raina, exchanging playful paws and wrestling among toys while smiling visitors take pictures through the Safari Park's nursery window. The post comes just two weeks after Safari Park introduced the world to even tinier versions of Ruuxa and Raina, to the delight of nearly 600,000 viewers on YouTube.

But zookeepers didn't pair the unlikely buddies just to make cute videos.
Keepers stepped up to raise Ruuxa, who was born without siblings, because he was rejected by his mother – often the case when a cheetah cub isn't part of a larger litter. Pairing the lone cheetah cub with a companion, like a puppy, helps to calm the wild animal and teach it there's nothing to fear about its public surroundings.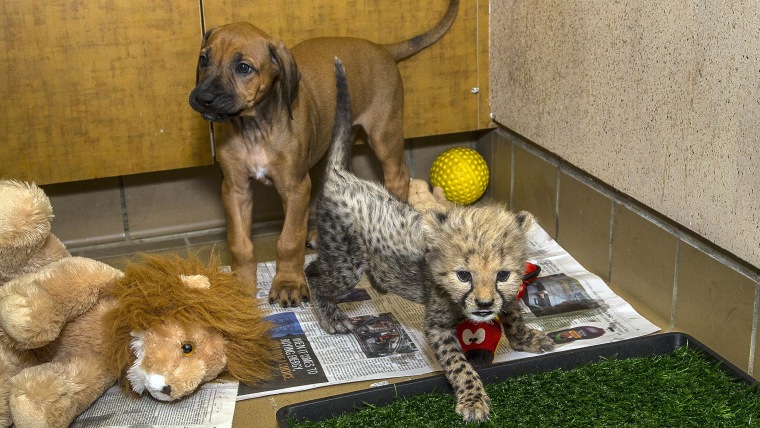 Janet Rose-Hinostroza, an animal training manager at Safari Park, told TODAY.com that she's helped acclimate six young cheetahs with puppies at Safari Park, but none as young as Ruuxa or Raina.

"Ruuxa is less apprehensive than the other cheetahs that have met their dogs," Rose-Hinostroza told TODAY.com. "It was our plan all along that he would just know Raina from his earliest memories, take it in stride, and hopefully feel more like she's a sibling. He recognizes her as another animal and recognizes her as a playmate. He seeks out playing with that dog, which is so funny. … He's very curious about her, very interested in her."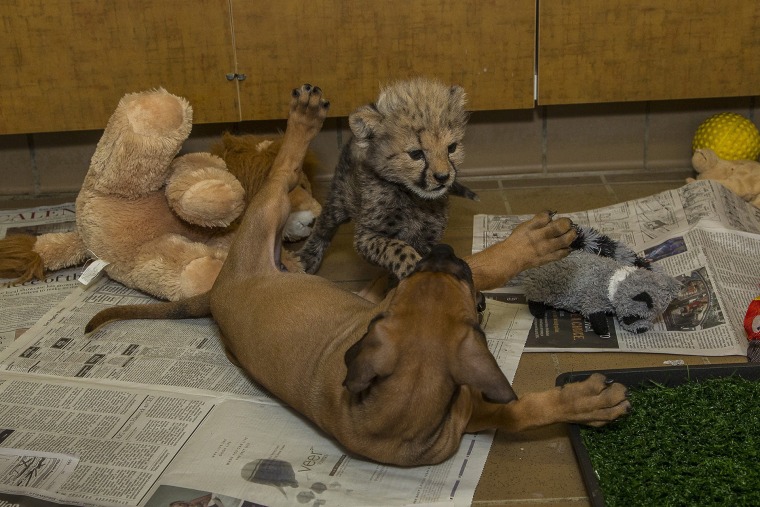 Safari Park officials will monitor Ruuxa and Raina as their friendship develops. Despite the growth spurt Ruuxa will hit as an adult, he's unlikely to turn on his canine friend, even when he surpasses her size, Rose-Hinostroza said.

"In this relationship, the dog is always [assuming] the role of the older sibling," she added. "They're actually the dominant animal in the relationship."
It's part of the zoo's mission to save species like the cheetah, which is on the brink of extinction. According to the Cheetah Conservation Fund, the cheetah population today is about 10,000 – down from 100,000 in the year 1900. Habitat loss, human interaction and illegal wildlife trade are said to be among the reasons for the decline.
Christina Simmons, a spokeswoman for the zoo, has a theory on why this particular interspecies friendship has been so captivating, both in person and online.
"Most of the folks that are commenting on social media mention how surprised they are that cats and dogs can get along," she said.
Zoo visitors can watch the unlikely pair pal around in Safari Park daily, from 12:15 to 1 p.m.
An otter and a kitten, a kangaroo and wombat and a monkey and a rabbit — just a few best buddy pairs that make some very odd couples.
Can't get enough of adorable zoo animals? Check out this baby rhino, born at the Buffalo Zoo a decade after her father died.
Follow TODAY.com writer Chris Serico on Twitter.