About six months ago, Chris and Mariesa Hughes spent yet another difficult night sharing their normal-sized bed with seven rescue dogs. That's when the upstate New York-based couple came up with a big idea.
Why not create a humongous bed, the likes of which had never been seen before, that could comfortably fit the whole family?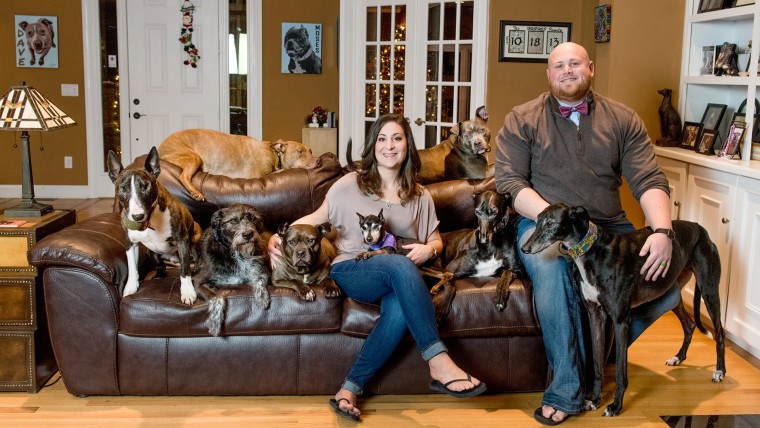 "At nighttime all of the dogs want to sleep on the bed and sometimes it becomes too cluttered, and we end up being pushed off of the bed or sleeping on the couch," Chris Hughes told TODAY. "So we built the megabed."
RELATED: Should your pets sleep in the bed with you?
And what a thing to behold! The megabed takes two mattresses — a king up top and a full turned sideways below. It's is a hair shy of 14 feet long, and 7 feet wide. The headboard is 6 feet tall.
By comparison, the average king-sized bed is 6.6 feet long, and a bit over 6 feet wide.
RELATED: 'Smiling' dog allowed back home despite town's pit bull ban
"I had to make some modifications in the design and start over on the headboard because it was so large. It wouldn't fit through the door in my shop," said Mike Ford, the furniture maker and dog lover hired to turn the Hugheses' dream into reality.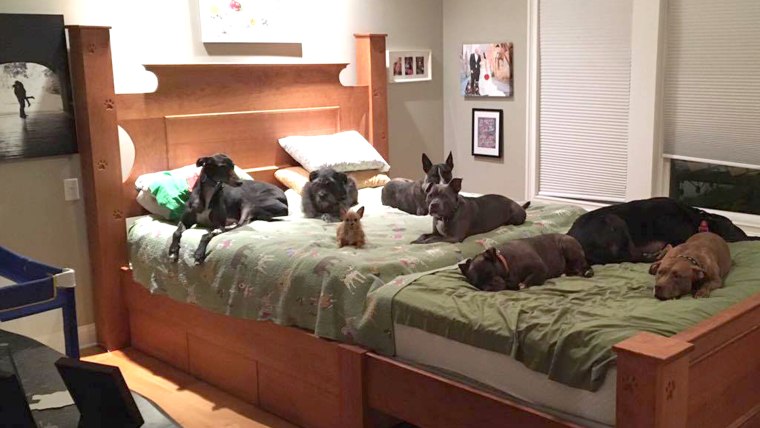 The bed, which took six months to build, has built-in stairs for the older dogs who can't jump up so high, and roomy drawers, for the Hugheses to store blankets and bedding.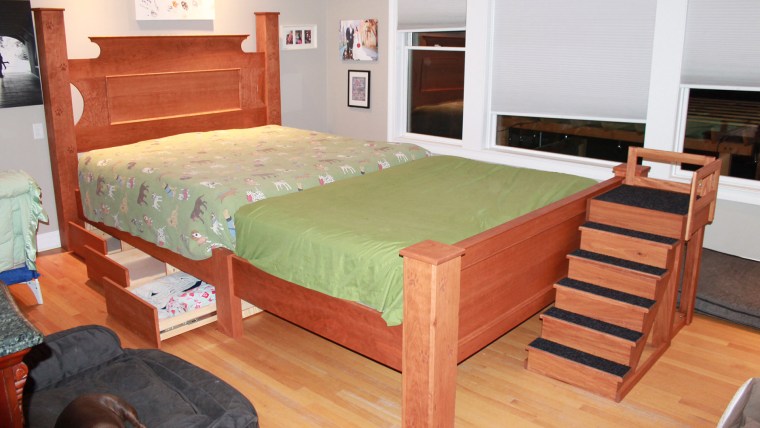 "I can't get over how awesome the bed is," said Hughes. "It's freaking huge!"
RELATED: This Pomeranian adorably guides his blind best friend through life
And it's pretty fancy, too: The bed is decorated with hand-carved paw prints, modeled on Ford's "very best buddy, Bailey" — who died last July at the age of 16.
"I added the dog print from my senior dog because they have such a heart for senior dogs themselves," said Ford.
A huge heart, indeed.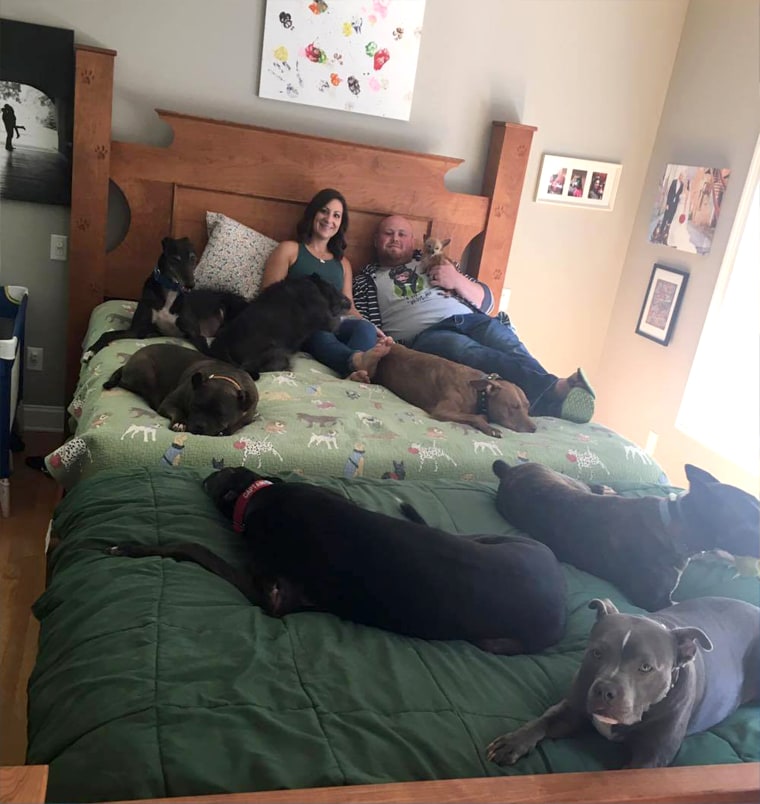 Chris and Mariesa Hughes are founders of a The Mr. Mo Project, a nonprofit that gets elderly and sick dogs out of shelters where they face a high risk of euthanasia, and places them in homes for the rest of their lives. The Mr. Mo Project covers these dogs' medical and living expenses; and the "fospice" homes, as they're called, give them care and love.
RELATED: Dog in wheelchair forges unlikely friendship with sombrero-wearing guinea pig
Given the Hugheses' huge passion for pets, there was never any chance not letting their own dogs sleep in bed — or of not having so many dogs. And in any case, at well over 6 feet tall himself, Chris alone needed more space.
These days, the husband-and-wife team is loving the megabed, along with eight rescue dogs. A new one, unsurprisingly, was added to the clan after the bed's blueprints were first drawn up.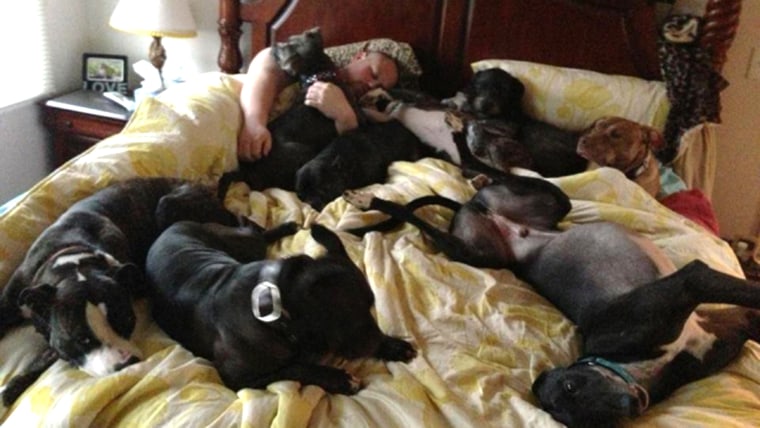 Gremlin, a senior pit bull who is the couple's most famous dog, sleeps in the middle, often with her head on a pillow.
RELATED: Meet TODAY's new puppy with a purpose
Pittie Sam sleeps under the covers, preferably between someone's legs. Stig, yet another pit bull, sleeps in the arms of Mariesa Hughes.
"He uses his paws as we use our hands and he pulls the covers down or grabs my head and turns it so he can kiss me," she said.
There's Quinn, the wire hair terrier who sleeps in bed but is not, according Mariesa, "much of a spooner." Meatball the bull terrier is, and sleeps up against Chris.
A gray-faced greyhound named Money sleeps in bed on his back with his legs straight up in the air. "Those are greyhound legs: They are long and strong. He usually kicks one of us along the way," said Mariesa.
RELATED: This baby cheetah and puppy are best friends
Another greyhound, Tejas, only sleeps in the bed some of the time — and when he does, it's unobtrusively.
Mabel the elderly Chihuahua, the newest member of the family, is also a part-time bedmate. She starts off the night cuddling with Chris. Being as she's so tiny and delicate, Mabel is later dispatched to a pack and play next to the bed, where she won't get smushed during the night.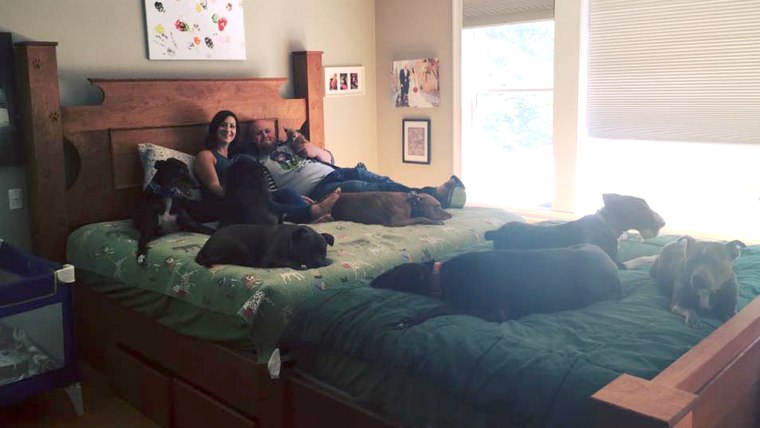 Even with this crowd, there's plenty of room left for the Hugheses, who report feeling extremely refreshed and well-rested, for a change.
So much so, there's talk that the megabed may even be able to accommodate yet another couple of rescue dogs.
"I'm sure it could," said Mariesa. "And I'm sure one of these days we will find out."