Morgan Moffitt loves her three corgis and one rescue mutt. She posts a lot of photos of them to Instagram, where for the most part other people shower them with well-deserved admiration.
But the other day, a picture of Pax — the oldest of the pack — enjoying a visit to the groomer prompted much meaner remarks.
Like, "that poor dog is so obese,'" Moffitt recalled to TODAY. "How is he poor? I do everything to keep him healthy, happy, loved. He's the happiest dog on the planet."
Indeed, Moffitt has worked very hard for Pax to be in good health.
She bought him on a whim for $800 from a pet store back in 2012. Moffitt was 22 years old, and while she'd volunteered as a cat rescuer, at the time she didn't know much about dog adoption, or puppy mills.
Having Pax made Moffitt a quick study. He was 9 weeks old when Moffitt brought him home, and he was very sick. The veterinarian said he'd had kennel cough that turned into pneumonia at the pet store.
"The vet said not to get too attached," said Moffitt, who is now 28 years old and lives outside Houston, where she is training to be a real estate agent.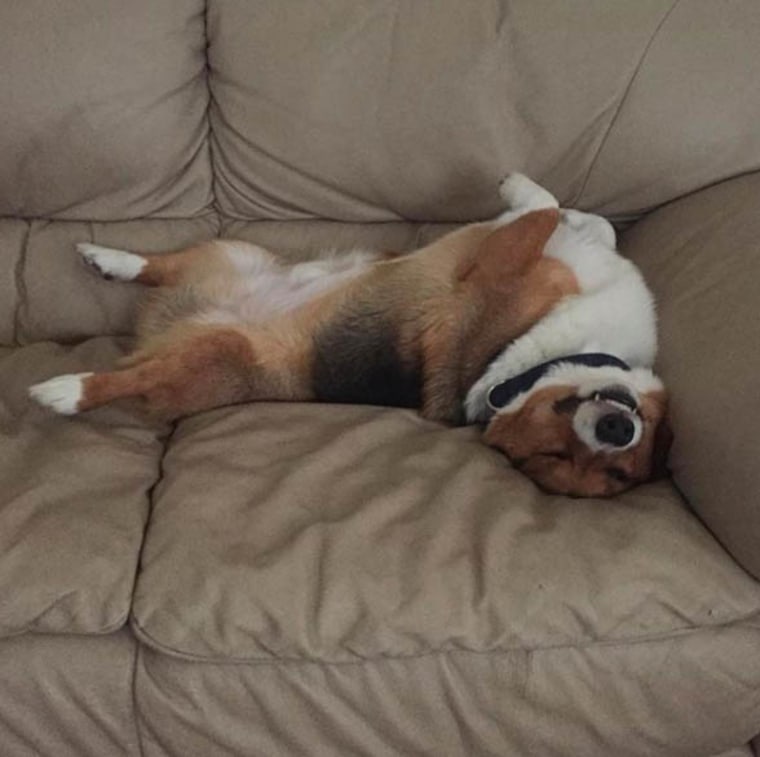 But she did get attached, and was determined to make him better. It took a few months and a lot of medication for Pax to be in the clear. Moffitt spent a lot of that time worrying.
She also tried to track down the breeder Pax came from, but the pet store wouldn't give her that information, citing privacy concerns.
Moffitt learned this lack of transparency is a marker of dogs coming from puppy mills. The American Kennel Club even recommends that those buying a dog visit the breeder's home and ask to meet the puppy's parents to help ensure you're not supporting puppy mills.
Moffitt's eyes became opened to the horrors associated with the worst kinds of commercial pet breeding practices, and she was frustrated and sad about not being able to find out more about Pax's origins.
"Everything was a dead end," she said.
Pax's health problems did not end with his pneumonia, either. He's also suffered from chronic back pain, which Moffitt believes may have resulted from bad breeding, and separation anxiety so bad that for a while Pax was taking the antidepressant Prozac.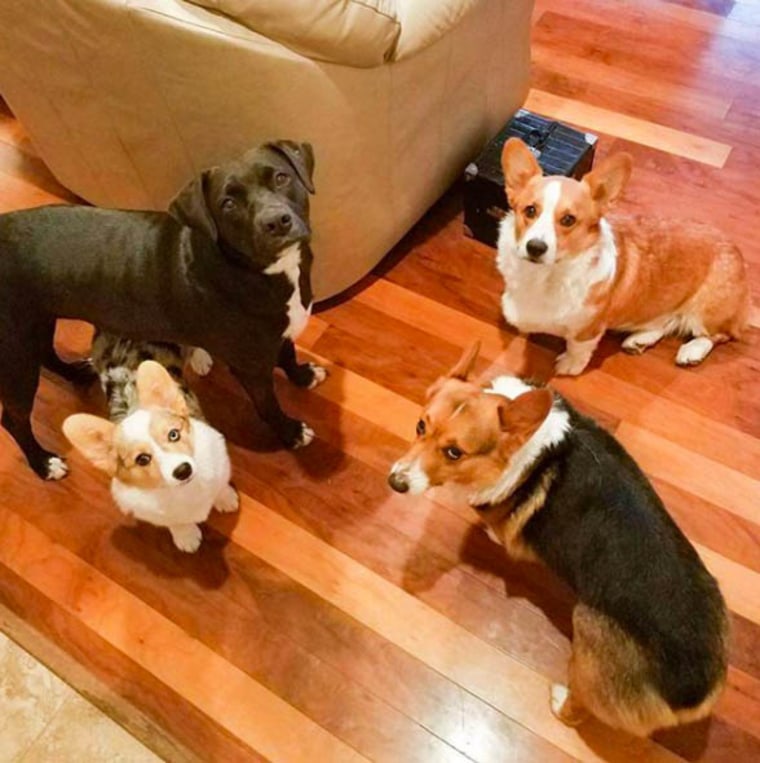 But while Pax was on Prozac, he lost so much weight that "I could feel all his ribs," Moffitt said. Normally in the range of 26-29 pounds, Pax was down to just 23. He was taken off his pills in the summer of 2017, and has climbed back up to his regular size.
Pax's veterinarian seems satisfied that he is healthy, and Moffitt is satisfied, too, which she has said pretty vehemently in the comments on her post.
She and Pax even got some implicit affirmation in this matter from model and fellow dog lover Chrissy Teigen, who "liked the post," Moffitt said. "I was hoping that meant she was showing her support but I don't really know so I don't want to put words in her mouth."
Moffitt's other two corgis didn't come from pet stores. She knows better than that now. One was from a breeder she'd researched thoroughly. The other had been posted to Facebook by his former owner, who said he just wanted to get rid of him. And Pirelli, the fourth dog, came from a local shelter.
The household's five cats are also all rescues. Moffitt's fostered many more cats through the years, especially those who are very hurt or sick and need a safe place to stay while they heal.
The Pembroke Welsh Corgi Club of America recommends that male corgis be no more than 30 pounds to meet the American Kennel Club standard. The ideal general appearance is described as "low-set, strong, sturdily built and active, giving an impression of substance and stamina in a small space. Should not be so low and heavy-boned as to appear coarse or overdone, nor so light-boned as to appear racy."
Pax would seem to meet this type.
This is not to say that pet obesity isn't a serious problem. It is.
"More than half of dogs and cats in the United States are overweight or obese, and this excess weight can reduce their expected lifespan by more than two years," said Michael San Filippo, spokesperson for the American Veterinary Medical Association. "A few extra pounds can add up to a really big problem for our pets."
San Filippo recommends that folks consult with their veterinarian to determine if any given pet has a weight problem, and if so what ought to be done about it.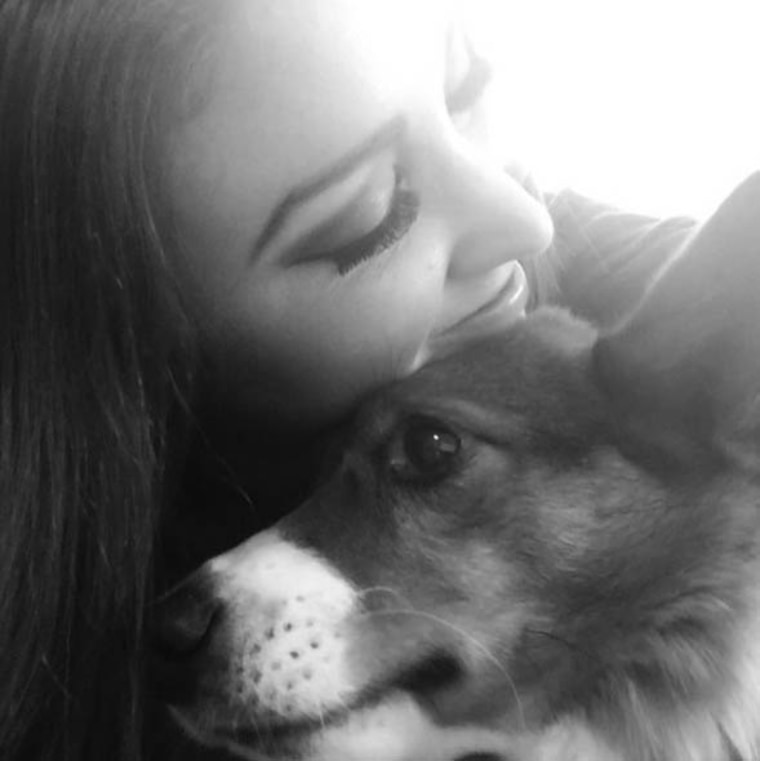 Though Pax is now doing great, Moffitt understands why someone who doesn't know Pax's history might at a glance come to the wrong conclusion.
"Looking at that picture, it's not his best angle," she said. "He does look a little chubby."
And while she can't understand why some people would feel compelled to be rude about her dog's physique, the experience has taught her to discount strangers' negativity, as their comments bear little relationship to reality.
"It doesn't matter how perfect you are, obviously," Moffitt said. "You can be a perfect, adorable dog and still get fat-shamed."