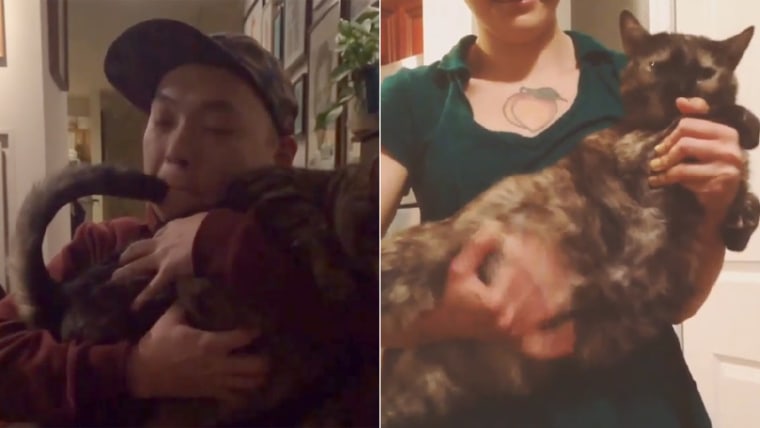 A former shelter cat named Lilly is gaining attention as the star behind #catband, a collection of humans using their feline friends as instruments in a series of videos posted to Instagram. 
Now 9, Lilly was about 2 years old when her owner Julie Malone first moved to Philadelphia and adopted her. Malone was petting Lilly recently and miming air-guitar movements when she joked about the cat being a ukulele, later calling her a "Uku-lilly." Malone's boyfriend, Ryan Johnson, played some ukulele music in the background for a short cat video that Malone posted to Instagram — and an Internet sensation was born.
The couple's friends began responding using the hashtag #catband, and soon enough the band had a purring bongo, bagpipe, guitar and keyboard section.
But not just anybody can join the band. To audition, interested participants must post videos of themselves playing their cat-struments with the hashtag #catband. All entries are reviewed, and those who make it on to the official #catband Tumblr site are officially in the band. Kenny Kim, a friend of Malone's and Johnson's and the creator of the #catband hashtag, said people beyond their group of friends have gotten involved, and unfortunately, not everyone makes the cut. 
"Most people that haven't made the blog are people that either make the music with their mouths, aren't really playing any particular instrument, or their cat is clearly distressed," Kim told TODAY.com. "We've made a few exceptions for things that are just really cute and a few compilations that we called 'groupies.'" 
As far as advice goes for the safest way of playing your cat-strument, Kim said it's important to be familiar with the cat's demeanor and to be knowledgeable about the way in which the feline is most comfortably handled. 
"Don't pick up a friend's cat and just go to town unless you have a pre-existing friendship with them," Kim said. "Picking up a stranger's cat is a good way to get scratched. Choose an instrument that plays into what they like. The happier the cat looks, the better the video, in my opinion."
Going viral has been "surreal" for the Philadelphia friends. "The fact that I'm answering questions about it right now is blowing my mind a bit," Kim told TODAY.com. "All of our friends are joking about quitting their jobs to 'catband' full time and go on a tour."