It's been less than a month since Wrangler joined the TODAY family and he's already won the love of a supermodel.
Chrissy Teigen stopped by TODAY to discuss her fifth consecutive year posing for Sports Illustrated's Swimsuit issue, and she also took free reign of Studio 1A, storming social media for a #TODAYTakeover.
During her takeover, Teigen unexpectedly found true love, and it wasn't with her husband, singer John Legend. Instead, Teigen hit it off with TODAY's Puppy with a Purpose right off the bat — in fact, Wrangler went for the kiss at first sight.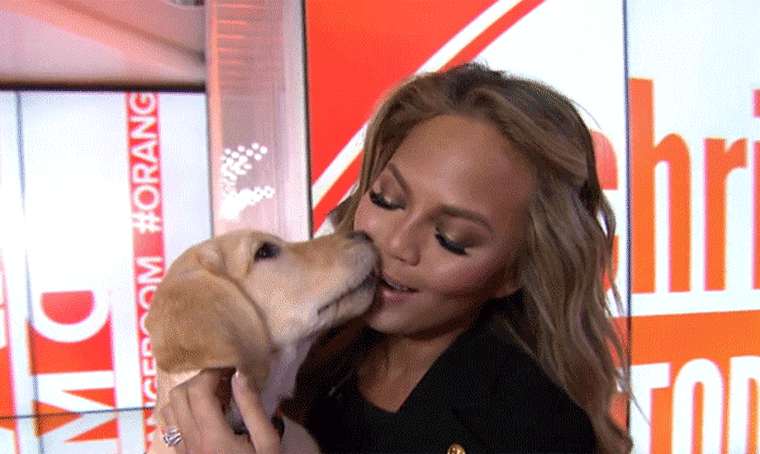 "Wrangler and I, we're dating," Teigen joked.
So Teigen decided to join Wrangler in his pen.
And even tried to get him to tweet for her.
He respectfully declined.
But Teigen made sure to find the Polaroid of John Legend and blew him a kiss to smooth things over, even if she did pretend it was for Jane Fonda.
And now the two hang side-by-side on the Orange Room wall.
When Tamron, WIllie and Al asked Teigen who is the better kisser: Wrangler or John Legend, Chrissy didn't even have to think twice.
"Wrangler!" she joked. "He's so soft. He's gentle too, it's nice."
And when Chrissy suggested that someone should Photoshop Wrangler into a photo of her with her hubby, her fans promptly complied.
We wish the very best for the new love triangle.