She lost nearly all four legs — and almost her life — but Chi Chi the golden retriever never lost hope.
After being rescued from a trash bag inside a dumpster, Chi Chi not only overcame her severe injuries, she thrived with the support of her rescuers and a new adoptive family. Today, with the help of two sets of prosthetic paws, she uses her sweet demeanor to assist others as a certified therapy dog.
For the inspiration she provides, and in recognition of the joy she brings daily, Chi Chi has been named American Humane's 2018 American Hero Dog.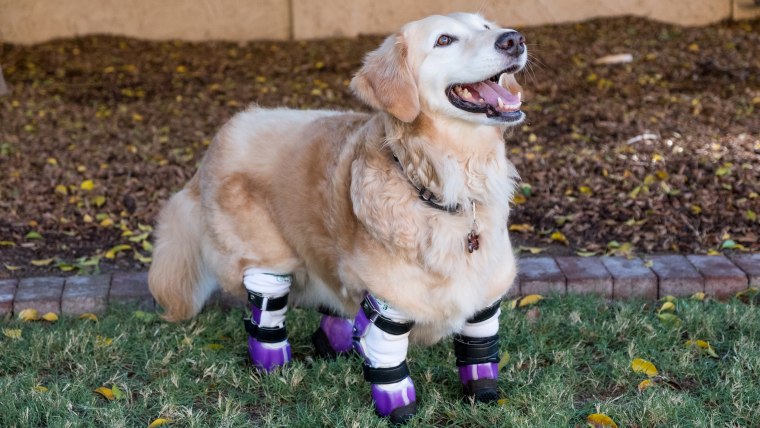 Chi Chi's life nearly came to an end after she was left for dead inside a South Korean dumpster. Animal workers discovered her inside a trash bag, her legs bound and rotting away by wires still wrapped around them.
A Facebook video describing Chi Chi's story, showing her shortly after surgery to amputate all four limbs just above the paws, caught the eye of Elizabeth Howell in Arizona. The video had been posted by Animal Rescue, Media and Education, the parent organization of a group from which Howell and her husband adopted two beagles.
Howell watched the video repeatedly, captivated by Chi Chi's eyes and the way she wagged her tail despite her injuries.
"She stole my heart," Howell told TODAY last year for an interview about the adoption.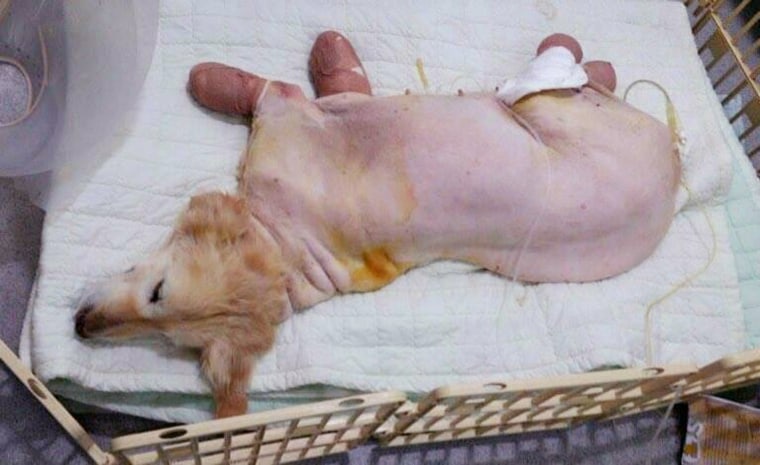 The Howells arranged to adopt Chi Chi, even though they weren't sure how she would recover from her surgery or if she would even be able to walk. But Chi Chi demonstrated a perseverance that surprised everyone. She not only learned how to walk, she soon kept up with the other pets in the Howell family.
But the process of finding prostheses turned into a bit of trial and error, in large part because she needs four different prostheses because each leg was amputated at a different height.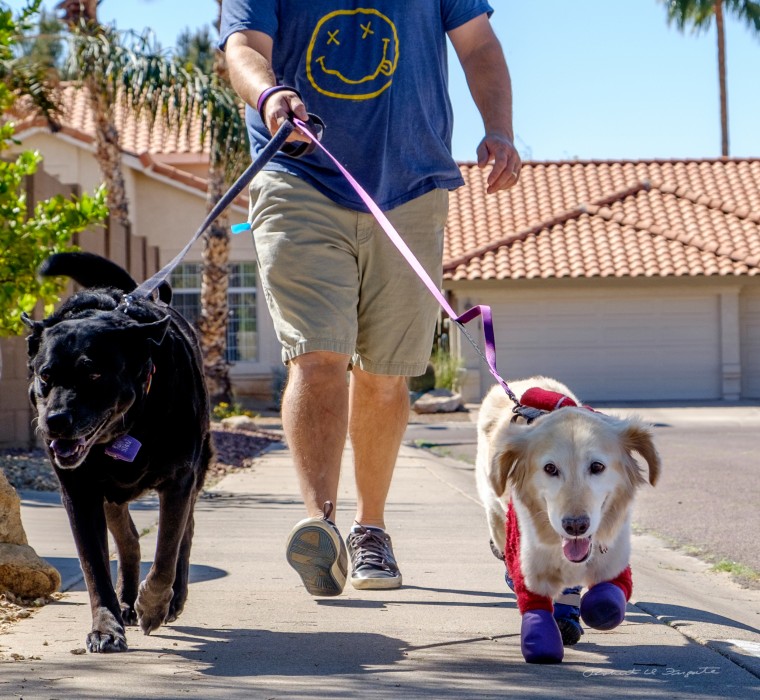 The couple first connected with someone locally who made a simple set of foam-like covers that slipped over her stumps. It was a dramatic improvement over what they had been using: cotton padding secured by baseball tube socks.
With help from a veterinary technician, the family found a prostheses expert who specifically works with animals.
Recently, Chi Chi had surgery to remove cancerous tumors, making her a cancer survivor on top of everything else she has overcome.
"When people meet Chi Chi, they are inspired by her courage, perseverance, ability to overcome adversity and her never-give-up attitude," Howell said in a statement released by American Humane. "She exemplifies resilience and forgiveness, and openly shares her love and compassion in abundance. Her sweet-tempered and gentle spirit opens people's hearts and her perceptive spirit senses where her love is needed."
Chi Chi has become a familiar fixture for people she helps as a therapy dog. On any given week, she could be visiting veterans in physical rehabilitation, residents of assisted-living facilities or young children learning how to read.
"Chi Chi is truly a gift from God," Howell told TODAY in a statement about the honor. "And we are grateful for every day she is here to abundantly share her love and inspire us to never give up."
Chi Chi bested 265 other brave canines to earn the American Hero Dog honor, for which she received more than a million votes by the American public along with input from a panel of dog experts and celebrity animal lovers.
Chi Chi and other Hero Dog finalists were honored Sunday night in a black-tie gala in Beverly Hills, California. The Hero Dog Awards were created to celebrate the powerful relationship between dogs and people and recognize extraordinary acts of heroism performed by ordinary dogs. Sunday's award ceremony will be broadcast on the Hallmark Channel on Oct. 24.