Obie the dachshund is half the dog he used to be. 

When Obie first appeared on TODAY in 2012, he weighed a whopping 77 pounds, more than twice the size of an average dachshund. On Monday, the newly svelte dog made a return trip to TODAY with owner Nora Vanatta after dropping 54 pounds thanks to regular exercise and a high-fiber, low-carb diet.
The pup from Portland, Oregon, had a difficult time adjusting to his new diet because he hated vegetables, but now he munches on carrots and lives a healthier life. "He was eating only people food before, so it took a little bit of a transition to get him on dog food,'' Vanatta told Carson Daly on TODAY. "Now [he has] two meals a day, a couple snacks and lots of exercise."
When Obie was at his biggest, he had to wear a special harness to avoid injuring his large stomach. Since dropping the weight, he had to have cosmetic surgery to remove 2 1/2 pounds of excess skin. Vanatta said he had previously belonged to an elderly couple who overfed him, ballooning him to twice the size of a normal dachshund, between 16 and 32 pounds.
In addition to fixing his diet, Vanatta also made sure to keep Obie active. "He didn't really take to the treadmill very well, but lots of walks on the beach and hikes,'' Vanatta said. "He is perfect at this weight. I got him down to 21 pounds, but he looks better at 23. I had no idea what he should weigh when I got him. You can see his bone structure now. This is a great weight for him."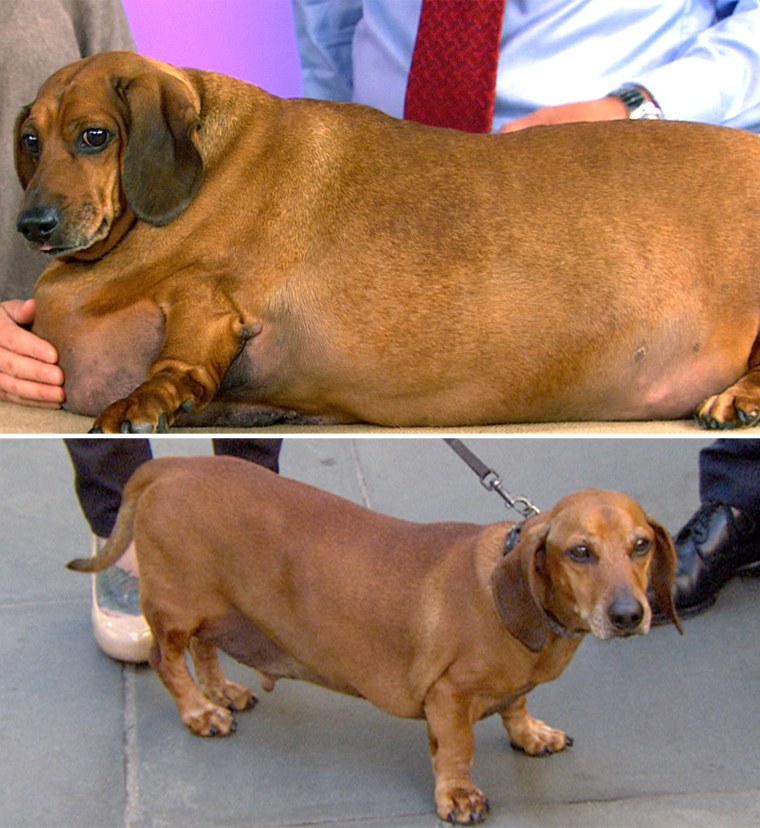 Dr. Leilani Alvarez, a veterinarian who is director of the Tina Santi Flaherty Rehabilitation & Fitness Service in New York City, told Daly that obesity in dogs is "the No. 1 problem that we see in our practices" and is mainly due to the pets getting treats outside of their scheduled feeding times.
That was the old Obie, but the new version is the picture of health. "He is a star representation of a perfect body condition,'' Alvarez said.