You can't bring a horse inside a nursing home!
But when you do, it just might go viral because it's so darn cute.
In a photo posted on Reddit last week, a Clydesdale horse gently approaches an elderly woman in a wheelchair, which happens to be in the hallway right outside her room in the Village of East Harbor Senior Living Community.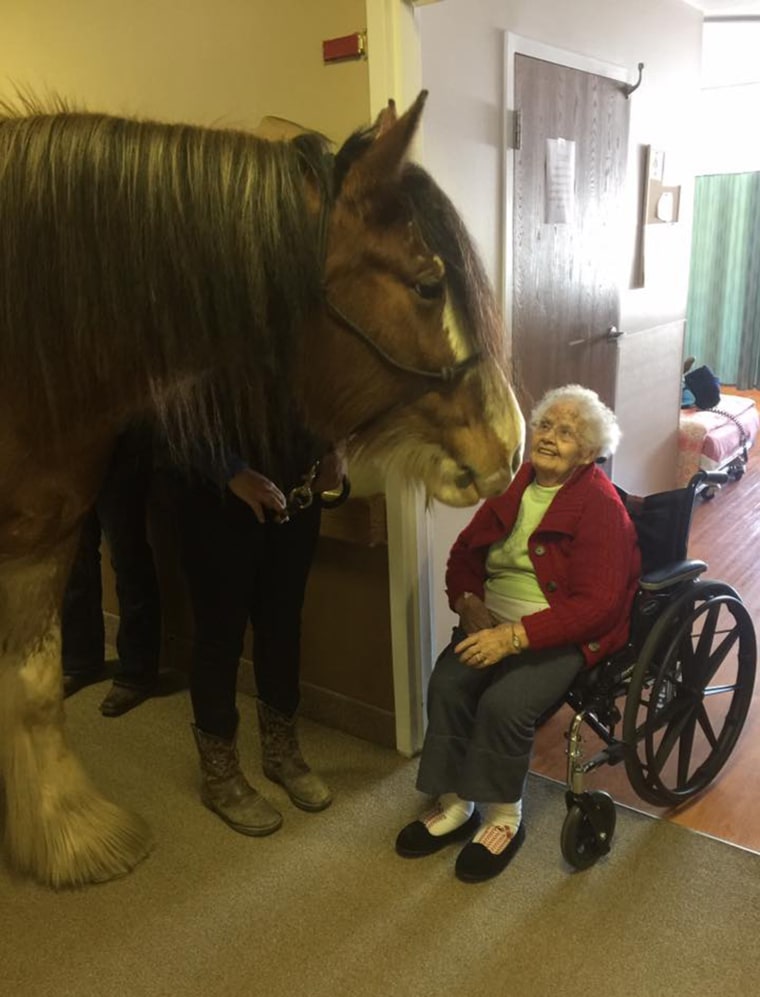 For more great stories to make you smile, be sure to like The Upside on Facebook.
That horse's name is Renee, affectionately known as Neigh-Neigh, and she warmed the hearts of every senior citizen in the nursing home, according to administrator Carolyn Martin.
"It was pet therapy on steroids," Martin told TODAY.
Some people on the nursing home's staff said that it couldn't be possible to bring the Clydesdale into the nursing home.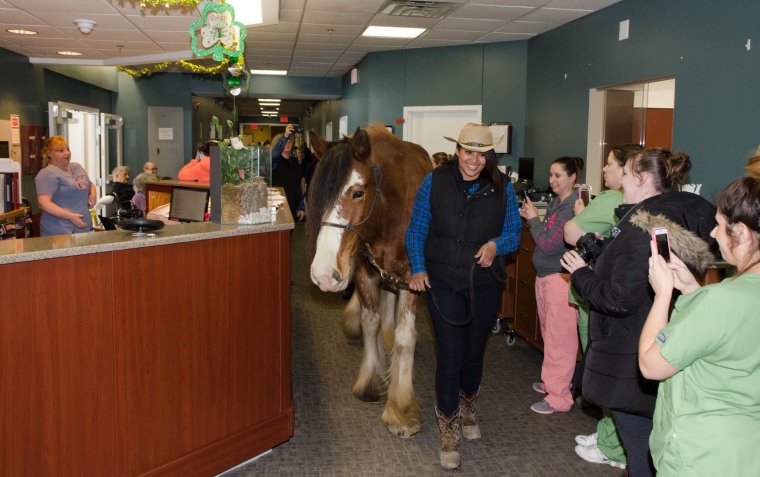 But bringing a horse inside was exactly what she needed to do for this group, as many of the seniors living have mobility issues preventing them from going outside.
Martin contacted Chamberlin Pony Rides in Michigan, who put her in touch with one of their contractors, Maggie Provenzano.
Provenzano had never brought the horse inside before, but Martin said she was certain they could make it happen.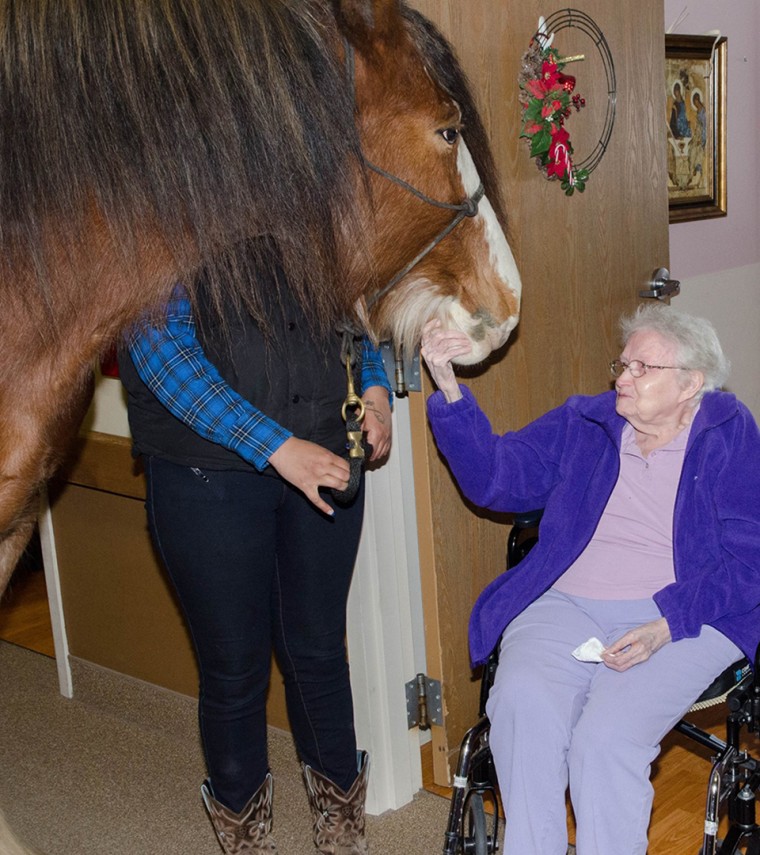 All it took was a little patience to put the plan into motion — someone following the horse with a bucket.
The event turned out to be "one of the most moving days we've ever had," Martin said.
Neigh-Neigh brought everyone out of their rooms, even those who rarely go to activities or come out to socialize, Martin said.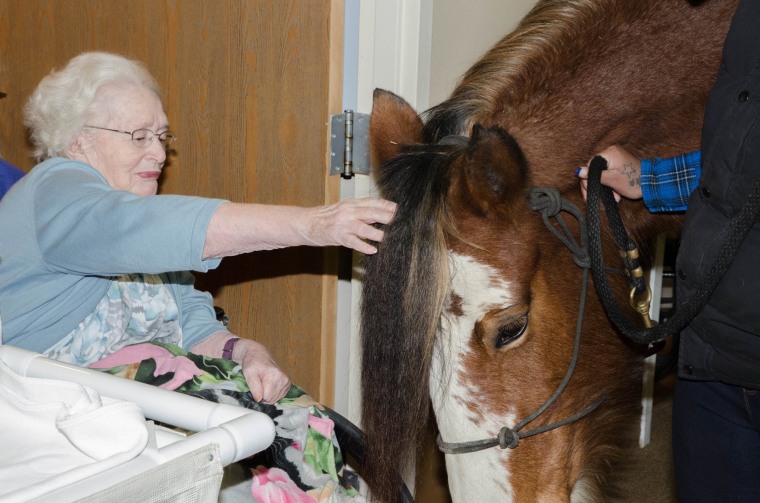 The emotional encounter between the horse and the seniors was scheduled to be an hour long.
But once Provenzano saw how much they all benefited from meeting Neigh-Neigh, she stayed for two and a half hours, making sure that Neigh-Neigh met each and every person.The horse even put her head in some of the seniors laps.
One woman in memory care, the section of the facility that helps manage dementia and Alzheimer's disease, became visibly excited as Neigh-Neigh approached her, and they put their heads together.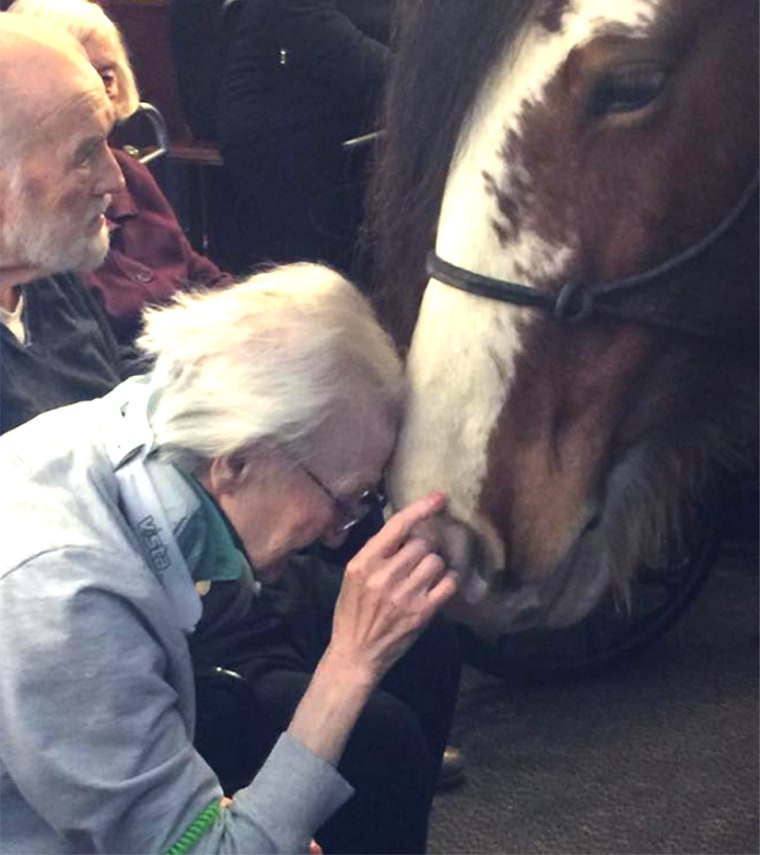 The unique therapeutic experience brought tears to many of the residents', family members' and staff members' eyes.
"Everybody was just so moved by the experience," Martin said. "It was almost like she just knew."