Want a bigger serving of TODAY's newest (and furriest) family member? Then join us every Wednesday!
Each week we're celebrating #WranglerWednesday with a live stream of TODAY's Puppy with a Purpose.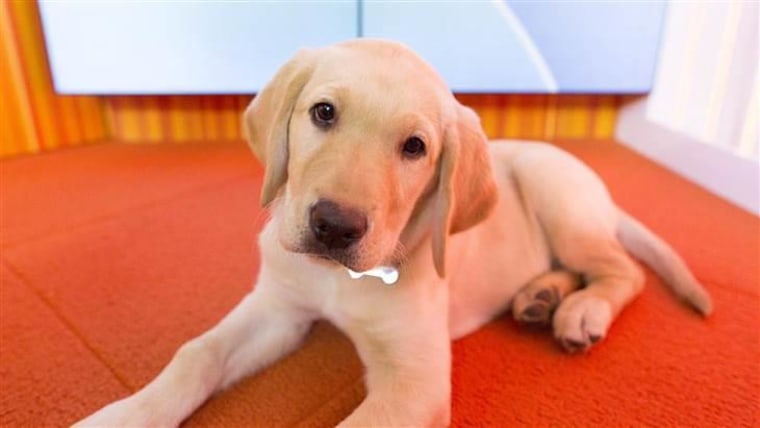 Fans can't get enough Wrangler! The little guy has wrangled nearly 100,000 followers on Twitter and Instagram since joining the TODAY family, and is making friends with some pretty big names.
No big deal | just hanging out with @NaomiCampbell & @RyanSeacrest. pic.twitter.com/7WPFKvtAZ0
— Wrangler (@WranglerTODAY) January 23 | 2015 " title="desktop:
No big deal | just hanging out with @NaomiCampbell & @RyanSeacrest. pic.twitter.com/7WPFKvtAZ0— Wrangler (@WranglerTODAY) January 23 | 2015
" class="news-widget" id="widget_0" data-widget-name="tweet_embed" data-widget-id="33" data-widget-image="http://citrus.today.com/sites/default/files/tweet_embed.png" data-desktop="%3Cblockquote%20class=%22twitter-tweet%22%20lang=%22en%22%3E%3Cp%3ENo%20big%20deal,%20just%20hanging%20out%20with%20%3Ca%20href=%22https://twitter.com/NaomiCampbell%22%3E@NaomiCampbell%3C/a%3E%20&%20%3Ca%20href=%22https://twitter.com/RyanSeacrest%22%3E@RyanSeacrest%3C/a%3E.%20%3Ca%20href=%22http://t.co/7WPFKvtAZ0%22%3Epic.twitter.com/7WPFKvtAZ0%3C/a%3E%3C/p%3E—%20Wrangler%20(@WranglerTODAY)%20%3Ca%20href=%22https://twitter.com/WranglerTODAY/status/558611899898548225%22%3EJanuary%2023,%202015%3C/a%3E%3C/blockquote%3E%20%3Cscript%20async%20src=%22//platform.twitter.com/widgets.js%22%20charset=%22utf-8%22%3E%3C/script%3E" data-meta-info="desktop">
Getting ready for an appearance on the @MeredithShow with my buddy @mlauer. No stage fright here! pic.twitter.com/16cLTRRNRQ
— Wrangler (@WranglerTODAY) January 21 | 2015 " title="desktop:
Getting ready for an appearance on the @MeredithShow with my buddy @mlauer. No stage fright here! pic.twitter.com/16cLTRRNRQ— Wrangler (@WranglerTODAY) January 21 | 2015
" class="news-widget" id="widget_1" data-widget-name="tweet_embed" data-widget-id="33" data-widget-image="http://citrus.today.com/sites/default/files/tweet_embed.png" data-desktop="%3Cblockquote%20class=%22twitter-tweet%22%20lang=%22en%22%3E%3Cp%3EGetting%20ready%20for%20an%20appearance%20on%20the%20%3Ca%20href=%22https://twitter.com/MeredithShow%22%3E@MeredithShow%3C/a%3E%20with%20my%20buddy%20%3Ca%20href=%22https://twitter.com/MLauer%22%3E@mlauer%3C/a%3E.%20No%20stage%20fright%20here!%20%3Ca%20href=%22http://t.co/16cLTRRNRQ%22%3Epic.twitter.com/16cLTRRNRQ%3C/a%3E%3C/p%3E—%20Wrangler%20(@WranglerTODAY)%20%3Ca%20href=%22https://twitter.com/WranglerTODAY/status/557920137106698241%22%3EJanuary%2021,%202015%3C/a%3E%3C/blockquote%3E%20%3Cscript%20async%20src=%22//platform.twitter.com/widgets.js%22%20charset=%22utf-8%22%3E%3C/script%3E" data-meta-info="desktop">
Agreed Anne! @WranglerTODAY is a Cuddle-saurus Rex! Tks for the Instagram @InStyle! #SongOne http://t.co/Cu7FacI3l0 pic.twitter.com/6dcfhuyecs
— TODAY (@TODAYshow) January 20 | 2015 " title="desktop:
Agreed Anne! @WranglerTODAY is a Cuddle-saurus Rex! Tks for the Instagram @InStyle! #SongOne http://t.co/Cu7FacI3l0 pic.twitter.com/6dcfhuyecs— TODAY (@TODAYshow) January 20 | 2015
" class="news-widget" id="widget_2" data-widget-name="tweet_embed" data-widget-id="33" data-widget-image="http://citrus.today.com/sites/default/files/tweet_embed.png" data-desktop="%3Cblockquote%20class=%22twitter-tweet%22%20lang=%22en%22%3E%3Cp%3EAgreed%20Anne!%20%3Ca%20href=%22https://twitter.com/WranglerTODAY%22%3E@WranglerTODAY%3C/a%3E%20is%20a%20Cuddle-saurus%20Rex!%20Tks%20for%20the%20Instagram%20%3Ca%20href=%22https://twitter.com/InStyle%22%3E@InStyle%3C/a%3E!%20%3Ca%20href=%22https://twitter.com/hashtag/SongOne?src=hash%22%3E#SongOne%3C/a%3E%20%3Ca%20href=%22http://t.co/Cu7FacI3l0%22%3Ehttp://t.co/Cu7FacI3l0%3C/a%3E%20%3Ca%20href=%22http://t.co/6dcfhuyecs%22%3Epic.twitter.com/6dcfhuyecs%3C/a%3E%3C/p%3E—%20TODAY%20(@TODAYshow)%20%3Ca%20href=%22https://twitter.com/TODAYshow/status/557632532444090369%22%3EJanuary%2020,%202015%3C/a%3E%3C/blockquote%3E%20%3Cscript%20async%20src=%22//platform.twitter.com/widgets.js%22%20charset=%22utf-8%22%3E%3C/script%3E" data-meta-info="desktop">