The wildfires ravaging California are growing increasingly severe, with the Mendocino Complex fire recently becoming the state's largest on record.
But in a small story of hope, a pet chicken and a cat found solace in each other during one of the blazes last week — and were recently reunited with their owners' families.
"It really was an inferno," Jennie Sierra, owner of Whiskers the cat, told TODAY through tears. Whiskers has burns on his paws from the heat that emanated from the ground during the fire, and is currently visiting a local animal hospital daily to get his bandages changed (many of his whiskers were also singed off during the ordeal).
Firefighters found the strange bedfellows "huddled together for safety and support," according to a Grass Valley Fire Department Facebook post, after surviving the deadly Carr Fire in Shasta County.
Evacuations of the Bay Area were ordered after the Carr Fire doubled in size between June 23 and June 26, ultimately consuming more than 163,000 acres (45 percent contained), according to the California Department of Forestry and Fire Protection.
The Grass Valley Fire Department sent a response team in the early hours of June 26, though the fire was about four hours north in Shasta County, according to representatives for the city of Grass Valley.
On the second day of fire response, while working to clean and surveil fire damage, the team stumbled upon the pair of animals in the doorway of a home. The crew responsible for rescuing the animals is still currently involved in managing the incident, Grass Valley Fire Chief Mark Buttron told TODAY via email.
The firefighters coaxed the chicken and cat into an animal carrier, where they gave them water and kept them together until they arrived at Shasta County's Haven Humane Society. Once examined there, the animals were transferred to the VCA Asher Animal Hospital in Redding, California, to receive further medical attention.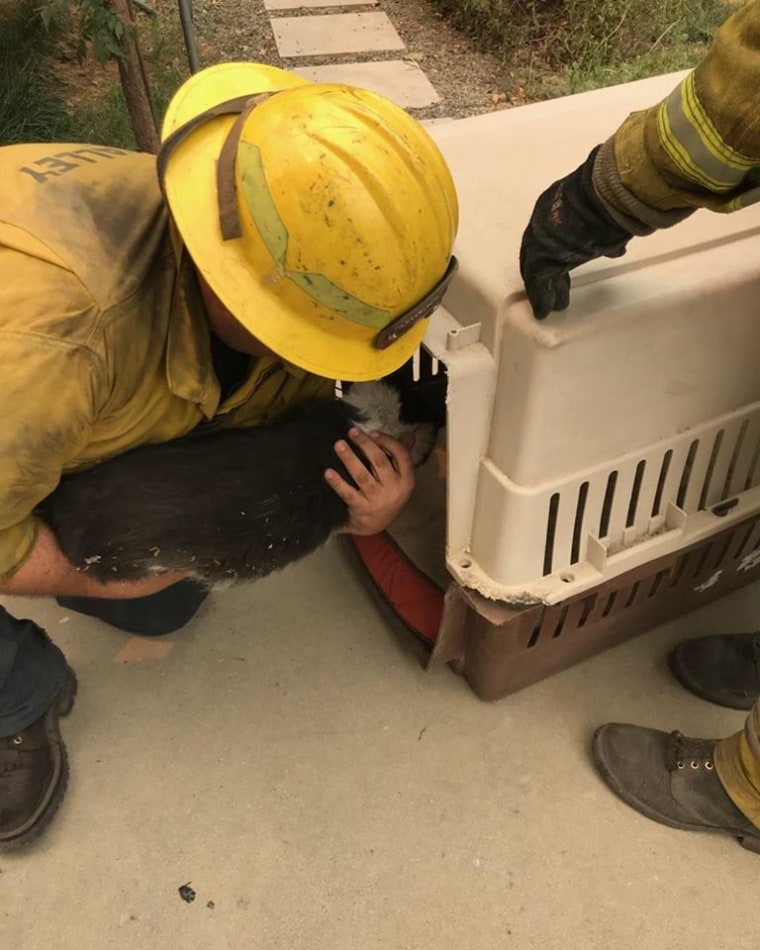 The chicken was identified after her owner, Niko Kuyper, was notified by his neighbor of photos surfacing in news reports of the incident.
"We were kind of shocked to see what looked like our chicken in these news reports," Kuyper told TODAY. "We have six chickens, but this one has a bit of a personality; she's a bit feistier, so we think that probably helped her through all this."
"Everyone in our area lost their homes," Kuyper continued. "It's nice to see something positive like this shining through."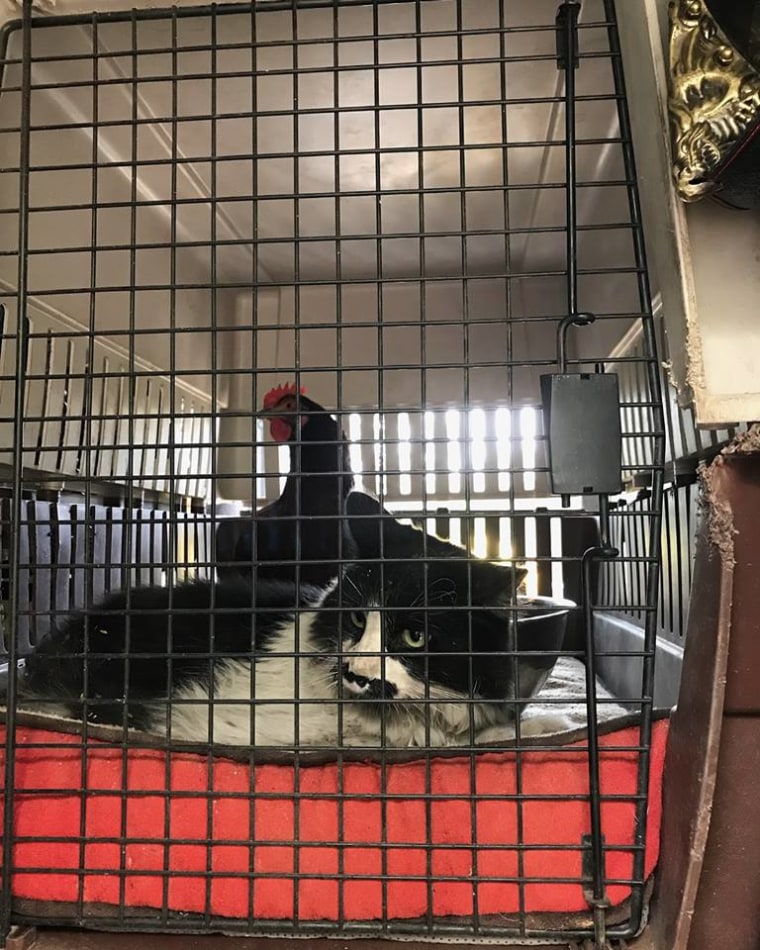 Kuyper said he took the chicken to his parents' house, where they're delicately introducing her into his parent's coop of chickens. Kuyper also recognized his neighbor Jennie Sierra's cat in the photos.
According to Sierra, she and her family had to evacuate to San Francisco at 5 a.m., and in their rush, they forgot to leave water out for Whiskers.
Sierra said her son's friend texted him a Facebook story with photos of Whiskers, and her cousin then went to the animal hospital to pick him up.
"I prayed to God that my son's cat would be OK," Sierra told TODAY. "I asked Him to put a bubble of protection around our property and that's what He did."
Sierra said that her home, which was full of supplies for two sober-living facilities supported by her ministry, was spared from the fire.
"It's an absolute miracle," she said.
To help, donate to the Shasta County Wildfire Relief Fund and other charities.