A precious cat named Little Andrew captured hundreds of feline-loving hearts across the internet recently, when a touching photo of the kitty, who appears to be a Russian blue, showed his paw "holding" his owners' hands.
His guardian, Reddit user "abherna3," captioned the photo on the popular online message board: "He held our hands on his last trip to the vet. Little Andrew was much stronger than his mom and I." The user responded to the outpouring of sympathy from other Reddit feline aficionados after the post went viral.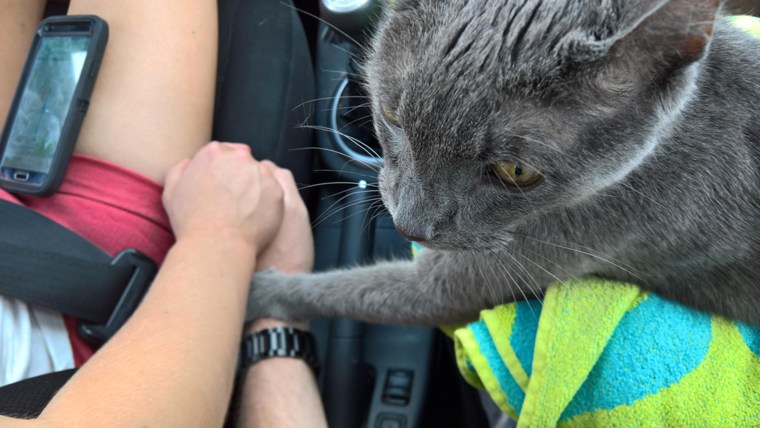 The cat's loving "parent" also shared that the 15 1/2-year-old pet "loved everyone," but had gotten sick over the past year. "He purred every day of his life and when he lost that, I knew it was time," wrote abherna3. "Always sad to lose a friend. Sorry for everybody else's losses as well."
RELATED: Missing dog found in drainage pipe makes miracle recovery after dramatic rescue
Reddit readers responded in kind. "Oh man, that made me tear up, rest in peace little kitty," wrote one commenter. "This just made me cry," wrote another. "What a touching moment. Condolences to you and your family."
Seeing the cat's paw brought back vivid memories of my orange tabby, Tigerman, who left me last September after 17 years. Every day I gaze at the little cedar box that contains his ashes and I recall his last morning.
Tiger was always demanding but super-affectionate, and early that day he valiantly climbed up and on to my chest as I dozed — he hadn't done that in months because he wasn't strong enough. He placed his paws on my hands and started kneading them as he head-bumped my face and rubbed his cheeks on mine. I stroked him and told him what a "dude" he was. And he was!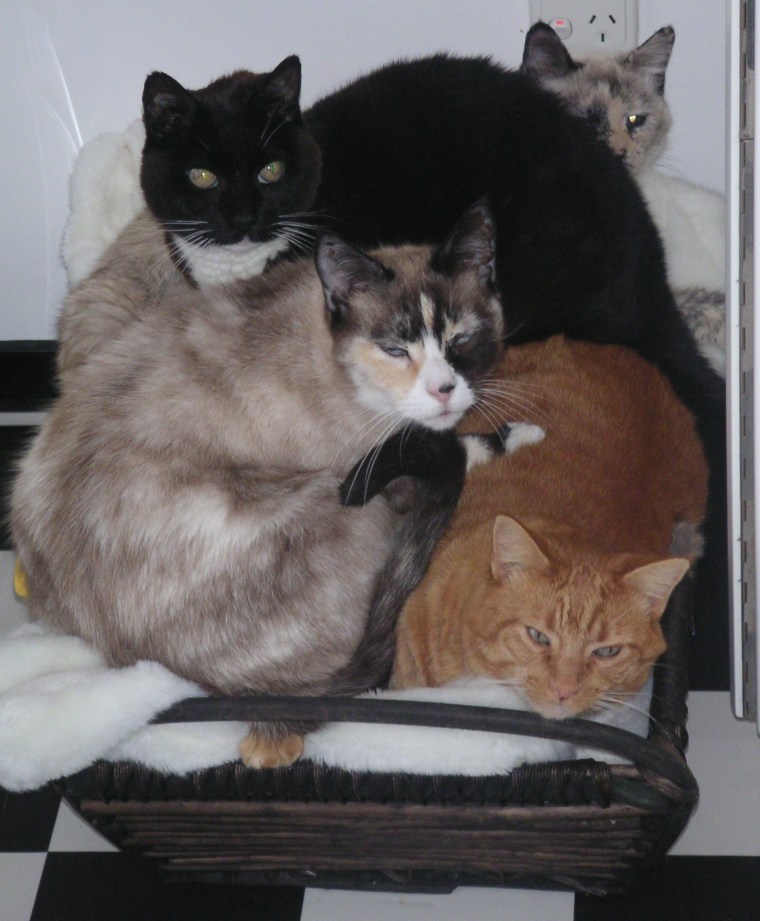 He had to climb three small kitty stairs to reach my pillow — hard to believe, since later that day he couldn't muster the energy to move at all. He and I were very much in tune. I do believe he was saying "Thank you, Mom, for saving me" and "I'm sorry about peeing on so much carpet."
RELATED: Volunteer pilots heroically rush to save animals trapped by Louisiana flooding
(It's OK, Tiger. Really, it is…)
These kinds of spiritual interactions aren't so uncommon among cat parents who often share similar stories. Joyce Gillette of Seal Beach, California, told TODAY that when it was "time" for her black-and-white rescue kitty, Bambi, she spent 45 minutes holding the cat in a blanket. Bambi "kissed" her mom and kneaded her paws too, she said.
"Bambi wrapped her little paw around my index and middle fingers, and she purred for the first time in three days," Gillette said. "I think she knew she was saying goodbye. She would have been 11 if she made it five more days."
A week before pet Sadie left animal-lover Vicki Greenleaf of Los Angeles, "her 'voice' changed, and became really raspy, Greenleaf told TODAY.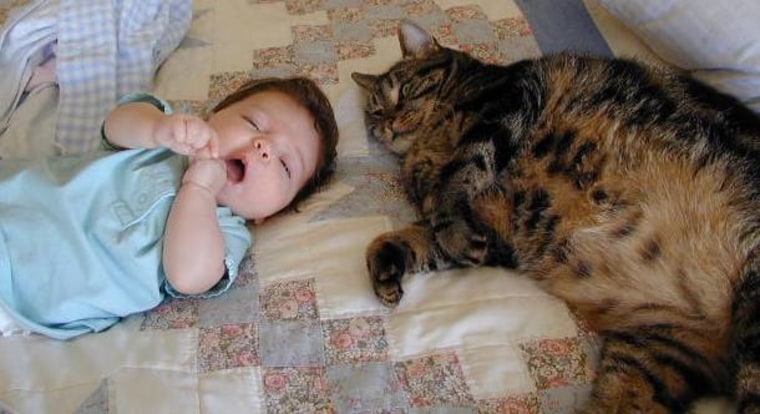 "I believe Sadie, who was an old soul, actually 'came back' a few days after she was put to sleep and that I heard her meowing in the night," she said. "At first I thought it was a cat in trouble outside. Then I realized the sound was in the house and that it was Sadie's pre-cancer voice, not her raspy, lung-cancer voice. After I convinced myself I was awake and not crazy, I got up and slowly walked towards the hallway, my heart pounding, as her meows just softly faded away. I think she came back to tell me she was OK."
RELATED: Cat daddy! Meet the 28-pound, 4-foot long feline taking over the internet
Flo Selfman of Los Angeles told TODAY that, on separate occasions, two of her cats may have somehow realized that their time with her was ending. They also knew she loved them very much, she said.
"The first cat, Punkin, had feline leukemia and made a valiant attempt to stay alive to please me. The second, Freddie, had diffused liver cancer," Selfman said.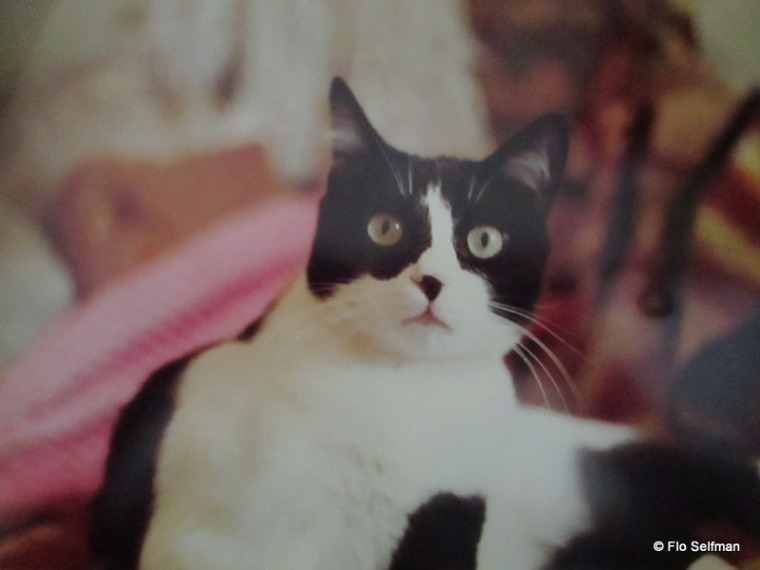 "They didn't do the 'paw thing,' but in each case, on the day I told myself I would finally make the decision to put them down, they died that morning on their own, sparing me the agony of making the decision," she said. "One was at the veterinarian's office while the other was at home."
But are pets communicating with their owners on a deep level, or are people struggling to find meaning in their loss? Barbara J. King, emerita professor of anthropology at the College of William and Mary and author of How Animals Grieve, says we shouldn't be too quick to assume that a cat is saying goodbye. Also an avid cat rescuer, King told TODAY that Little Andrew's story, for example, shows that "both cat and owner can feel mutual love."
RELATED: John Stamos mourns his beloved German shepherd in sweet post
"The attunement between both of them is real," she said. "I don't think we have the scientific evidence to say that animals can anticipate their own death, but they are probably very aware that they feel bad. They also know something is wrong, and can pick up on our worries when they reach out for love and comfort."
She also said that our larger human brains are quite different from cats' brains and cognition, which isn't a good or bad thing. "The anticipation of end of life is a human burden that I don't believe cats and dogs experience," King said.
American author Ernest Hemingway may have summed it all up with this quote: "A cat has absolute emotional honesty: human beings, for one reason or another, may hide their feelings, but a cat does not."