Cute animal photos make the rounds on the web every day, but a strikingly sweet photo going viral this week has the added bonus of doing some good: The heart-melting image of two dogs cuddling is raising awareness for an important animal-adoption campaign.
Brothers Jeffrey and Jermaine are eight month old lab/pit bull mixes in Philadelphia, who were recently taken in by local animal rescue group Operation Ava, where a staffer immediately noticed a unique bond between the siblings.
Ray Little, the organization's Director of Life Saving, noticed that when the dogs walked, Jeffrey walked behind Jermaine and rested his head on his brother's back. The team realized that Jeffrey was blind and that his brother has stepped up to become Jeffrey's very own seeing-eye dog.
"They cuddled and wouldn't leave each other's sides," Little told TODAY.

After the local Chester County, PA, animal shelter — which works in partnership with Operation Ava — posted a pic of the two pups snuggling online, the photo (and the dogs' adorable story) quickly went viral. Soon, dozens of people were applying to adopt the two dogs. Offers came from all over the United States, as well as Canada, the UK, Belgium, and South Africa.
And the power of social media has continued. Those who weren't able to take home two dogs began to inquire about other animals in the shelter, while folks not in a position to adopt offered to donate money for the dogs' care or for transportation to their eventual new home.
Others called, emailed, or posted to the Operation Ava Facebook page, all wanting to share their own stories of pet adoption. "Pets are important in our lives," Little says of the outpouring of support. "It's great to hear about others' special needs pets and their adoption stories."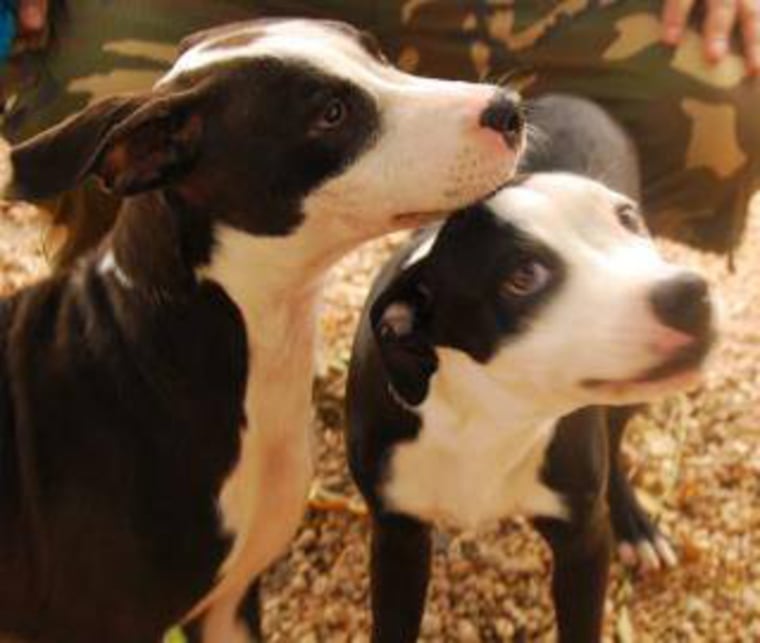 Operation Ava will be taking applications for Jermaine and Jeffrey's new home until 5 PM Tuesday, and Little says that it will take a very special kind of family to take care of these very special dogs.
"Imagine two teenagers in your house," he laughs. "They have lots of energy. You need a big yard and an active household. Be prepared for training!"

While Jeffrey and Jermaine will go to their forever home soon, Little urges everyone who has been touched by the dogs' story to continue thinking about ways to help shelter animals. "We urge people to go to their local animal shelters," he says.