Bryson Kliemann loves his Pokémon card collection, but when he found out his beloved puppy Bruce was sick and might not survive, the 8-year-old did what he could to save his best friend. He set up a stand on the side of the road in Lebanon, Virginia, with a sign: "4 Sale Pokémon."
Bruce, an adorable lab mix puppy, joined the family in March and quickly became best friends with Bryson.
"My son had been asking for a dog for a really long time, but we were renting our house and that meant we weren't allowed to have pets. When we decided to buy our house, he knew this meant we could get a dog, so he was super excited," Bryson's mother, Kimberly Woodruff, told TODAY.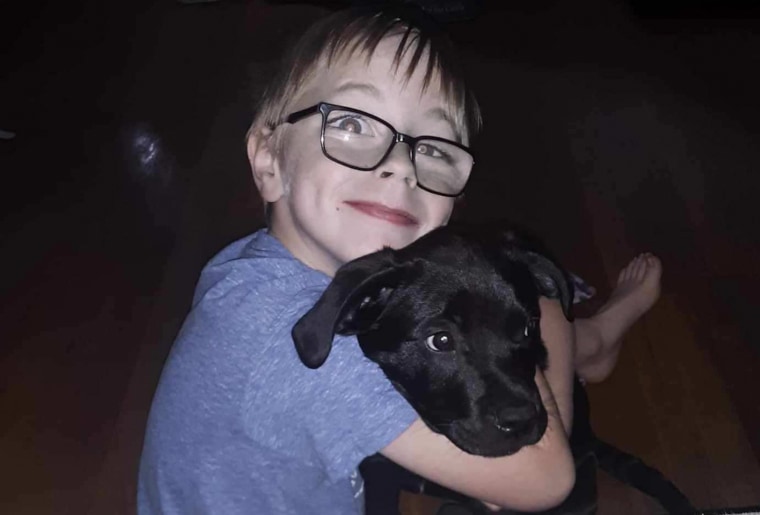 Weeks later, Bruce contracted Parvo, a highly contagious and sometimes fatal virus of the stomach and small intestine. Puppies can be exposed to the virus through infected dogs, sniffing infected feces, or indirectly, from people who handle infected dogs or contaminated objects, like a food bowl or leash, according to the American Kennel Club. Puppies receive a series of three shots to protect them from the virus, but are most susceptible to the virus between ages six weeks and six months.
By early May, Bruce was showing many of the symptoms, including lethargy and weight loss. The tiny puppy was severely ill and lost five pounds between May 3rd and May 4th, according to Woodruff.
She worried Bruce wasn't going to survive.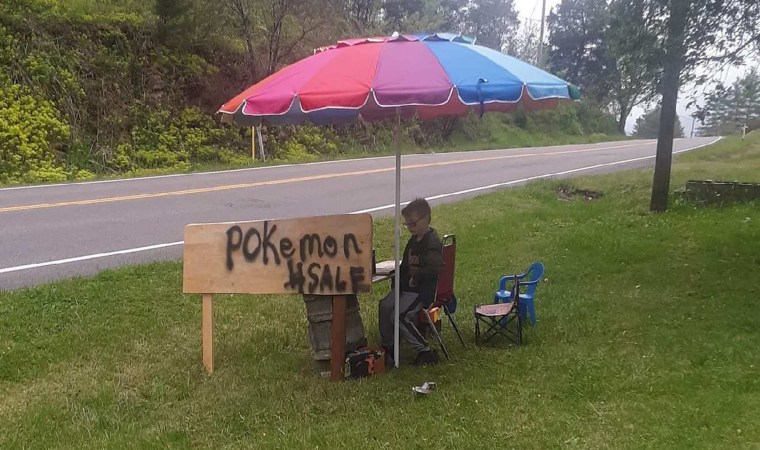 "I'm a realist with my kids," Woodruff said. "I told him Bruce was sick and said 'When you get home today from school, he may be at the vet's office or in heaven."
When Bryson got off the school bus that day, he showed his mother and stepfather a business plan he created to sell his Pokémon cards and snacks to help raise money to get Bruce the best possible care.
"I told him no, we've got this," Woodruff said. "And then he later asked my husband and we decided to say yes, because this was also an opportunity to teach him responsibility."
Bryson set up his stand on the side of the road, complete with a colorful umbrella and handmade signed, and started serving customers.
The first day he made $65. Within two afternoons, Woodruff said her son had made $400 and even received some Pokémon cards from kind strangers who wanted to help.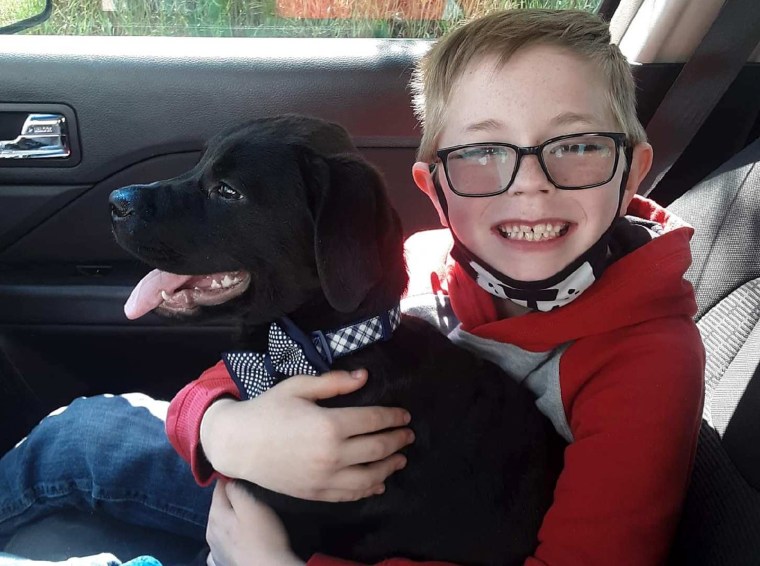 Woodruff set up a GoFundMe, where she shared the touching photo of Bryson's Pokémon stand and the reason behind it.
"My babies puppy is very sick. He has been diagnosed with Parvo. I know I have been raising him right. With a heart of gold because he's so worried about our Bruce he is beside the road trying to sell his favorite thing in the world just to make his puppy better," she wrote. "We currently have enough money for Bruce to stay in the vet hospital for a total of three days. But myself and the vet are very worried that he may need longer treatment."
The sweet story of a boy who would do anything to save his beloved dog went viral and donations started coming in faster than Woodruff ever could have imagined. Her $800 goal was smashed, and the fundraiser now has more than $26,000 in donations.
Bruce is now fully recovered.
"He's better times 10! He is truly one of the most rambunctious and hyper dogs," Woodruff said. "Bryson is currently in Michigan visiting his dad, but he's been video chatting to talk to Bruce all the time."
Woodruff is now focused on paying forward the generosity by calling veterinarian offices and paying off the bills of other pet owners who might need a helping hand. So far, she has 20 receipts for other pets she's been able to help.
"It is a little overwhelming and I feel like the world is looking at me to do good with it," she said. "There hasn't been a day I haven't been on the phone with a vet finding people to help pay off their bills."