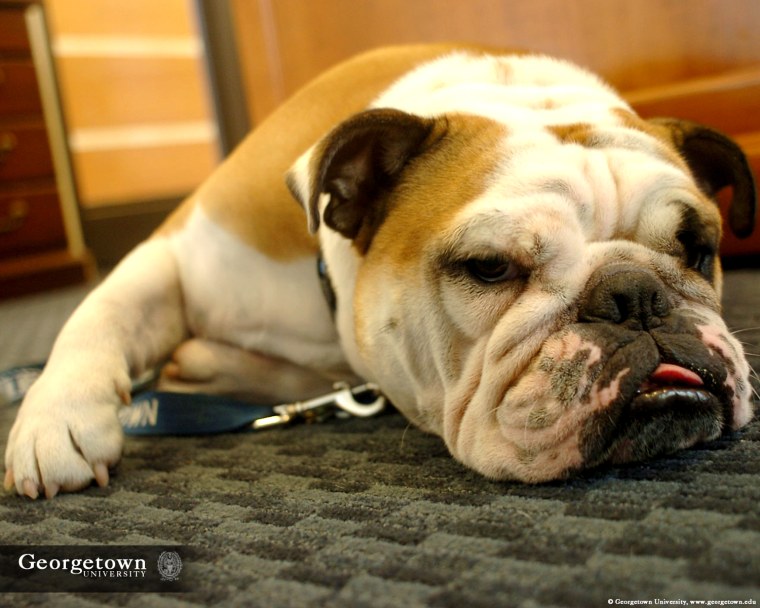 By Kristen Seymour
Updated, March 20: Jack's appointment on Monday with the orthopedic surgeon went well, his keeper Father Steck said. The good news is that there was no arthritis or damage to Jack's meniscus. But, the doctor believes 50-70% of Jack's ACL is torn, and while it is possible for a tear of this size to heal, it is unlikely, and so, Jack will undergo surgery in several weeks. Recovery will likely take 2 to 3 months — just in time to start cheering on the Hoyas next season!
Original story:
He has spirit — yes, he does — but now, Georgetown University's mascot, Jack, will have to take it easy on the cheering due to an injured hind leg.
The 8-year-old bulldog hurt his left hind leg on Sunday, according to the mascot's keeper, Father Christopher Steck, who is an associate professor in Georgetown's theology department and the resident chaplain in a freshmen hall.
The official cause of the injury is unknown, although Steck and Jack's vet, Dr. Kathleen Dougherty of Kenwood Veterinary in Bethesda, Md., believe it may have occurred jumping off a couch.
"Jack has an injury to his left rear leg that I believe is a tear of his cranial cruciate ligament, or CCL. (In humans, it is referred to as the anterior cruciate ligament, or ACL)," Dr. Dougherty told TODAY.com in an email. "This injury is very common in middle- to older-aged dogs. Ironically, it is also a very common injury in (human) athletes, so Jack deserves the sympathy and empathy of his fellow Hoyas as he goes through his surgery and rehabilitation."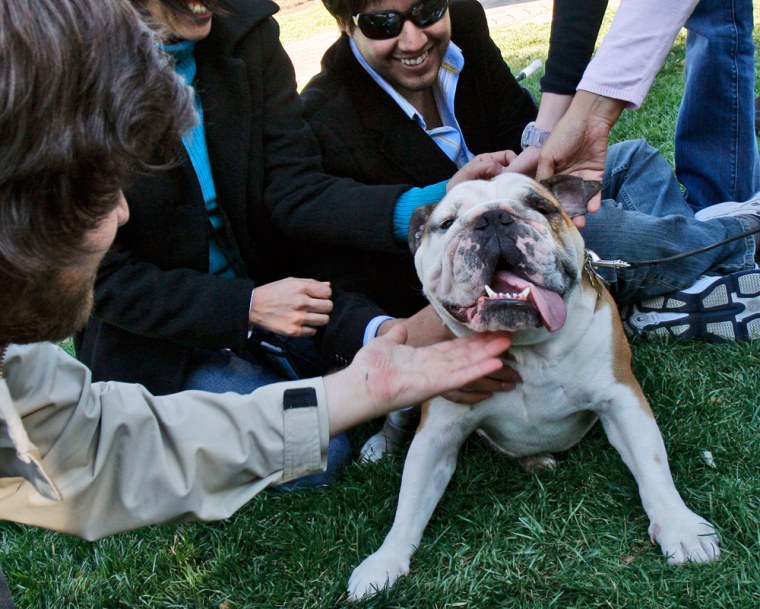 Jack and his keeper have an appointment on Monday with an orthopedic surgeon, who will determine whether the pooch needs surgery; if he does, it will take place that same day. The vet said the dog has an excellent prognosis.
Even in perfect health, Jack wouldn't have traveled to watch the Number 3 seed Hoyas take on Belmont University on Friday in Columbus, Ohio in the second round of NCAA Tournament — he only attends games closer to home. Steck said he and Jack will watch the game in his apartment with any students who care to join them. Although, from the sound of it, Jack will be bummed to miss the big game.
"He loves going to Georgetown basketball games — I know I'm supposed to say that, but it's true," Steck told TODAY.com. "He has two tasks at the game: to help lead the team in before the game, following the cheerleader with the flag, and attacking the box in the second half. The box is covered with opposing team's logo. He is obsessed until he gets to complete those two tasks."
Jack has a few other obsessions, too.
"He loves riding in golf carts and cars. Bread is fine; peanut butter is great. He loves liver and hates all fruits and vegetables," Steck shared.
He might love liver, but a lot of people love Jack. Not only does he have his own Facebook page , but he even has his own crew, aptly named the Jack Crew, which currently has about 25 students who aid in his care and help get him to various school-related appearances.
Membership requirements are "demonstrated school spirit, ability to sing the fight song, and willingness to put your hand in Jack's mouth in case of emergency," explained Jack Crew spokesman John Kenchelian. "Our wait list for membership is generally a semester long."
Kristen Seymour is a Florida-based writer who shares her office with two large dogs. After finding out about all of Jack's duties, she's planning to put her pups to work. Somebody has to do the filing!
More:  
Meet Maddie, the chilled-out balancing dog
Harper the puppy is doing great — and doing lots of good