For Jessica Kensky and Patrick Downes, time stopped on April 15, 2013.
Before that day, the newlyweds' lives brimmed with plans and dreams. Their medical careers were taking off. They were about to move across the country. They were young and healthy and athletic and in love. And on that bright spring morning in April, they relished a rare, unstructured day off together.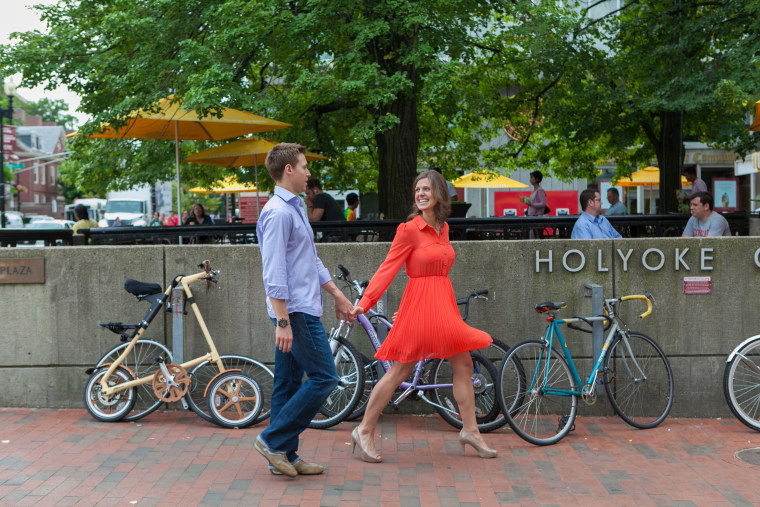 They slept in and went to the gym before deciding to swing by the Boston Marathon that afternoon. Downes, then 29, and Kensky, then 32, thought it would be fun to catch one last marathon before their big move from Cambridge, Massachusetts, to San Francisco. They found a spot near the finish line and settled in to cheer.
"None of our family knew we were there," Kensky told TODAY. "We had only been there a couple of minutes when the first bomb went off. Patrick lost consciousness. My memories are of very graphic things — like his foot was laying next to me."
The pair got separated and taken to different hospitals, where their painful, slow recoveries began. They both lost their left legs in the blast; Kensky eventually needed to have her right leg amputated as well. Their injuries were so severe and their surgeries so numerous that they lived at Walter Reed National Military Medical Center in Bethesda, Maryland, for three years.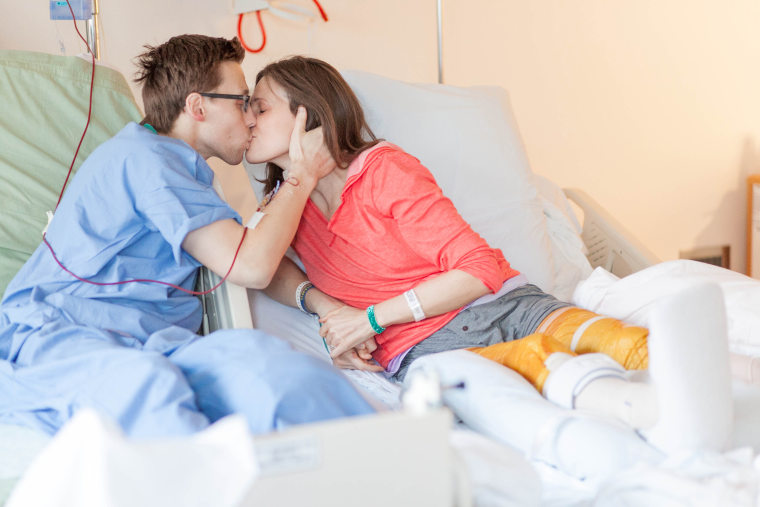 This week — 4 1/2 years after the bombing — Kensky was able to return to work on the oncology floor at Massachusetts General Hospital for the first time. Her recovery not only required a lot of time, but extra help — in the form of an affable black Labrador retriever with a huge head and an even bigger zest for life.
"We are just starting to piece some of our life back together," she said. "This first stage of recovery was quite long, and Rescue has been with us for most of it. I honestly don't know where we'd be without him."
Trained by NEADS (National Education for Assistance Dog Services), Rescue is a highly skilled service dog who can perform myriad tasks for Kensky, such as opening doors, fetching objects and calling for emergency help. He also provides plenty of emotional support, comfort and comedy for the couple. Rescue's impact on Kensky, Downes and wounded veterans at Walter Reed has been so profound that he's about to be named ASPCA Dog of the Year for 2017.
"Jessica and Patrick are very special people ... experiencing in a very intense way the emotional healing power that a dog can have in your life," ASPCA President and CEO Matt Bershadker told TODAY. "Rescue represents all the service dogs out there doing extraordinary things for people."
NEADS provided Rescue to Kensky without charge four years ago. She recalled being so focused on the specifics of her arduous medical routine that she couldn't anticipate what a game changer Rescue would be.
"I forgot how therapeutic a dog can be — how calming and peaceful he was at this terrible and chaotic point of our lives," Kensky said. "The first time I slept through the night after the bombing was when Rescue came home with us."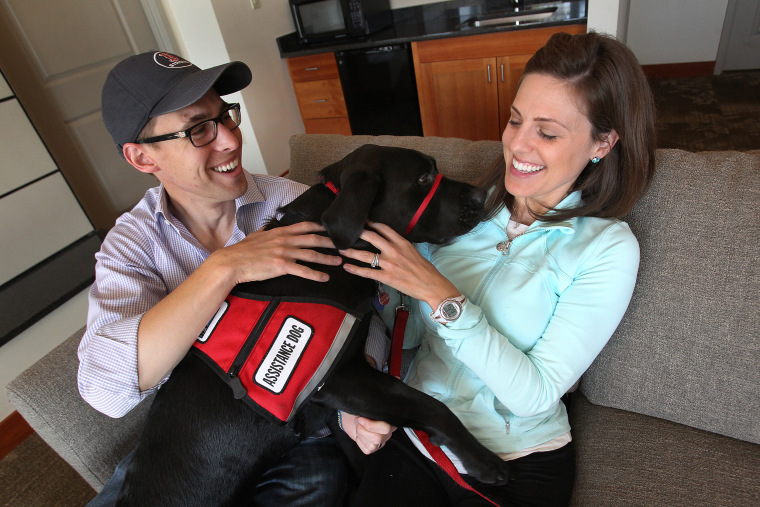 Downes described the contentment it gives them to throw a ball for Rescue and watch him run and romp in a grassy field.
"He is so much fun to watch," he said. "He's like a huge ball of energy and joy."
Their connection with Rescue runs so deep that they've authored a children's book about him, "Rescue and Jessica: A Life-Changing Friendship," due out in April 2018 right before the five-year anniversary of the bombing. The book deliberately doesn't mention the bombing; instead, it shares the story of an 11-year-old girl named Jessica adjusting to life with prostheses, wheelchairs and crutches with her service dog, Rescue, by her side. (Downes appears in the book as Kensky's kid brother with glasses.)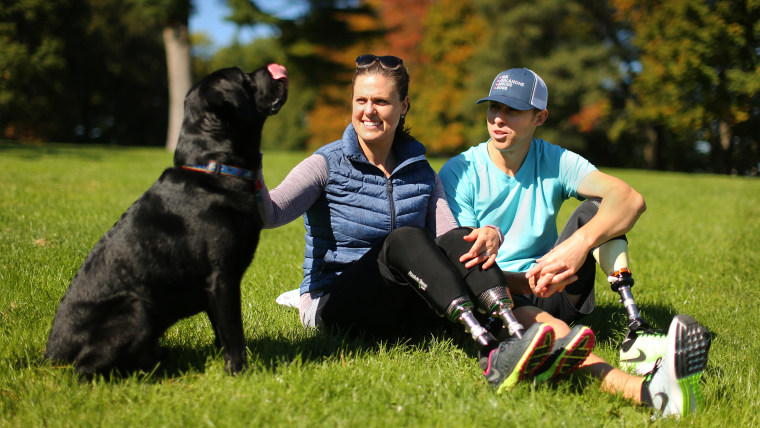 The couple's story was also portrayed in two 2016 films: the HBO documentary "Marathon: The Patriots Day Bombing," and the movie "Patriots Day," starring Mark Wahlberg. In recent months, the couple have advocated to allow Americans severely injured in acts of domestic terrorism to receive treatment at military medical centers via their own private insurance plans.
They said they feel rocked every time people get hurt in another attack.
"We feel like we can connect with that inescapable fear that we felt and our families felt, and we wish we could wrap our arms around them somehow," Downes said. "We've seen how powerful it can be when a community, a country, rallies around you and says they're rooting for you. ... That kind of love is the most powerful antidote to the hate."
Downes had this to say about the deadly mass shooting in Las Vegas earlier this month:
"That shooter took days, weeks, months to plan out what he did, but as soon as he started shooting, people sprang into action to help other people. Hate requires all this planning because it goes against what we're supposed to be as human beings. For the most part, we all have love in us as our instinct."
In addition to Rescue, several other special animals and humans will be honored at the ASPCA Humane Awards Luncheon in New York City on Nov. 16:
Flame, ASPCA Cat of the Year: This once-malnourished stray attached himself to the Belmont Fire Department in South Carolina, where he now provides comfort and companionship to firefighters.
Judy Obregon, ASPCA Citizen Hero Award: Obregon has helped more than 300 dogs abandoned near Fort Worth, Texas, find homes.
Mission K-9 Rescue, ASPCA Henry Bergh Award: Volunteers with Mission K-9 Rescue help military dogs and other working dogs find safe, permanent homes in their retirement years.
Elaine Nash, ASPCA Equine Welfare Award: Nash started Fleet of Angels to provide access to horse trailers and transportation for at-risk horses.
Jessica Brocksom, ASPCA Tommy P. Monahan Kid of the Year Award: This 11-year-old from Connecticut advocates to let children have therapy animals with them while testifying in court.
Follow TODAY writer Laura T. Coffey on Facebook, Twitter @ltcoff and Google+, and learn about her bestselling book "My Old Dog: Rescued Pets with Remarkable Second Acts" at MyOldDogBook.com.