TODAY is thrilled to welcome Beyoncé back to the broadcast! And just in time to celebrate her birthday!
(Just to be clear: We're referring to Beyoncé the miniature dog, not the singing-dancing-acting sensation.)
"The world's smallest puppy" visited TODAY last April with Beth DeCaprio of Northern California's Grace Foundation, a rehabilitation ranch for animals, to raise awareness for rescue pet adoption.
Barely alive at birth, rescue pup may be world's smallest
Veterinarians had their doubts the preemie would survive but, a year later, the 3-pound (fully grown!) pup is doing well.
"She is a dog that survived death three times," said DeCaptio. "We were able to revive her. She's really just a miracle pup."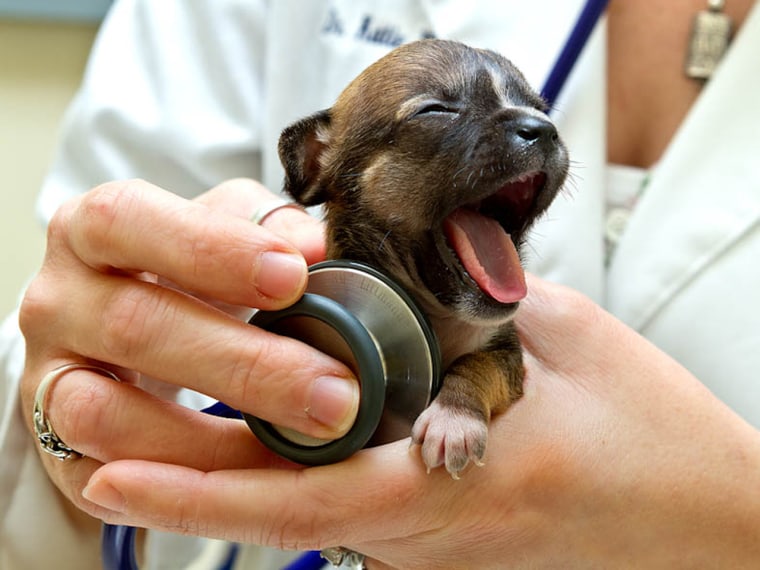 Beyoncé is making her time count, working as an "ambassadog" with DeCaptio to cut down on the euthanization of animals by encouraging spaying and neutering.
To mark her ambassadog status, Beyoncé wore a bejeweled cape on TODAY, which is meant to denote the super powers she holds that enable her to save other animals.
"She was able to save over 200 last-chance animals this year," DeCaptio said. "Imagine what she can do in her second year."
To keep up with Beyoncé, visit TinyBeyonce.com or follow the little one's adventures on Facebook.