It's a girl! And she weighs 126.5 pounds!
Fortunately, the newest addition to the Georgia Aquarium is a whale: At 1:25 a.m. on May 10, the aquarium's mama beluga, Maris, gave birth to a 59-inch female calf in her tank following hours of labor.
"We couldn't be happier, as Mother's Day took on a new and special significance here at Georgia Aquarium!" the institution stated on its blog Monday.
Moments after birth, Mama Maris helped her little one rise to the surface to take a breath. At birth, beluga calves are usually dark gray or bluish/brownish-gray, and darken at one month. It can take one up to eight years to turn fully white, an adaptation to the endangered whale's natural Arctic habitat.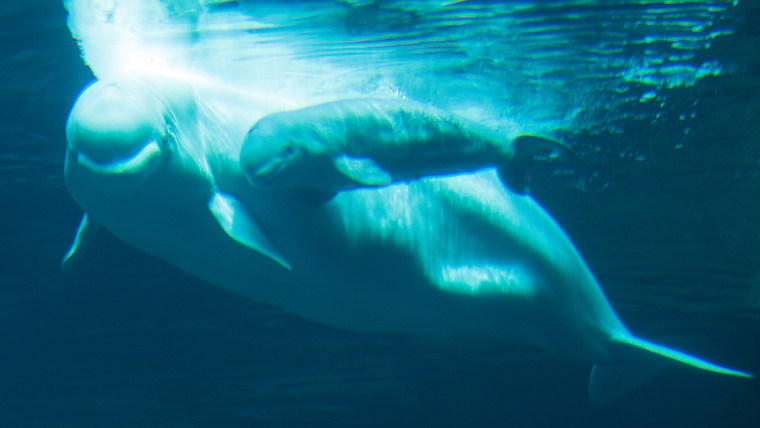 The baby is smaller than one that would have been born in the wild; SeaWorld experts note that in the oceans, beluga calves weigh about 176 pounds, but in captivity, they tend to range between 119-140 pounds. An adult female beluga can top the scales at 2,600 pounds.
Beluga calf births in captivity are rare, and Maris' last calf, born in 2012, died after less than a week.
Maris has been under 24-hour watch since last March (beluga pregnancies can last up to 15 months), as experts gathered information on her pregnancy and kept an eye on her health. Now that the little one has arrived, she will also remain under the watchful eyes of experts at the aquarium.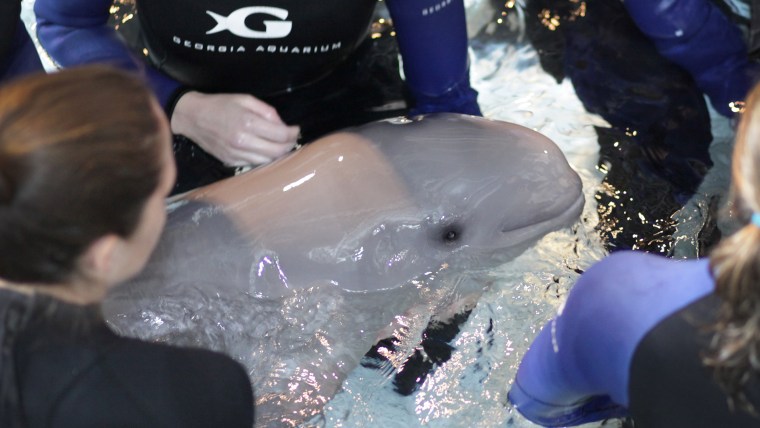 "While there are many milestones within the first year that this baby beluga girl must surpass to ensure its survival, the team is hopeful for a successful outcome," the aquarium wrote in its statement.
We're all cheering along, too!