It's a good thing wildlife rehabilitator Kris Porter had some extra skunk milk on hand, when five rare, orphaned skunk babies showed up needing her help.
Of course being as these baby skunks are adorably sloppy eaters, now the skunk milk is also all over Porter's shirt and pants as well.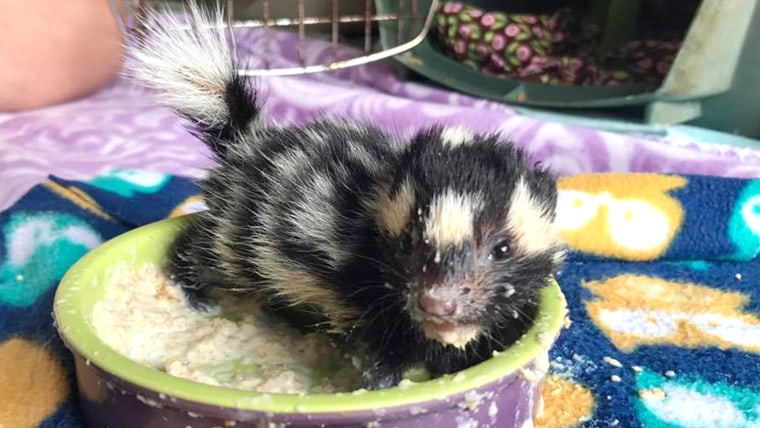 The adorable critters came to Porter in late June, after their mother was killed by a dog. (We know; we hate that part, too.)
Porter, founder of Owl's Nest Sanctuary for Wildlife based outside Tampa, Florida, takes in all kinds of injured animals and orphaned babies. Just this year, she estimates she's cared for some 300 opossums alone, more than 200 squirrels and double the usual number of songbirds following a warm winter that led to an extended breeding period.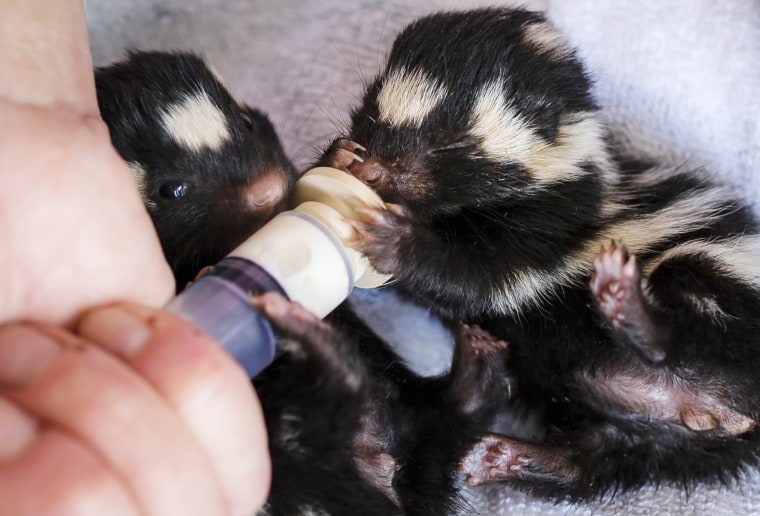 Striped skunks — the ones with the white stripes down their backs, a la Pepé Le Pew — aren't as common as opossums at Owl's Nest but aren't unheard of. (Hence, the reserve of skunk milk — a replacement formula for what their mother would be feeding them.)
But spotted skunks like these little ones? The International Union for Conservation of Nature lists them as "vulnerable," meaning they are "considered to be facing a high risk of extinction in the wild."
In Porter's four decades of rehabilitating wildlife, "I've personally never seen one before in Florida," she told TODAY. "Obviously, they exist!"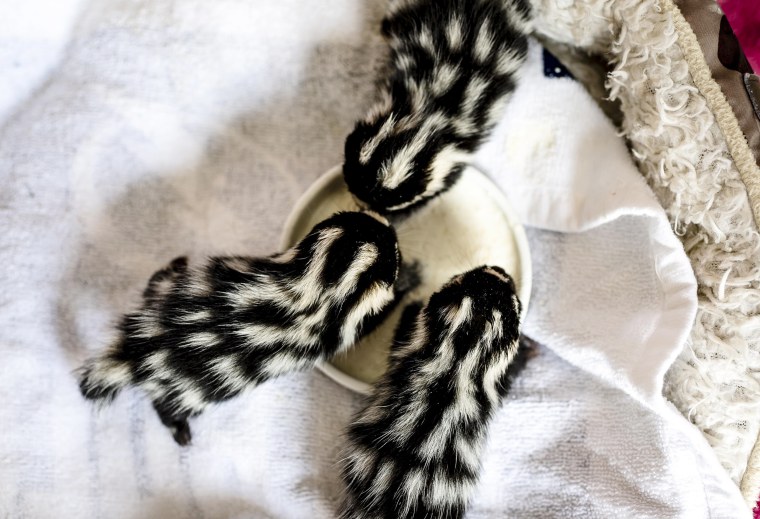 Her years of experience meant Porter was able to quickly figure out what it would take to keep these little ones alive and thriving.
At first, they needed regular feedings of the specialty skunk milk replacement, administered via a syringe. Now they're chowing down on dishes of skunk milk mixed with some cereal and puppy chow for extra protein.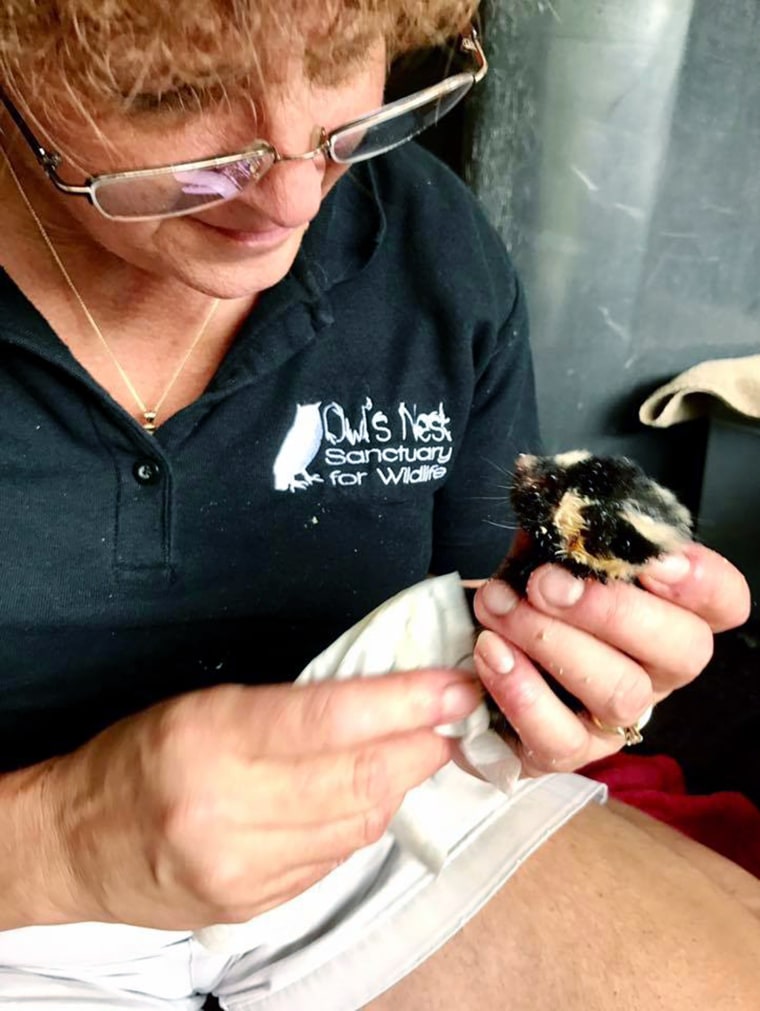 Porter is charmed to find them waiting eagerly by their enclosure's door every four hours when the grub is coming.
"They do almost like a little dance," she said. "They know their feeding schedule."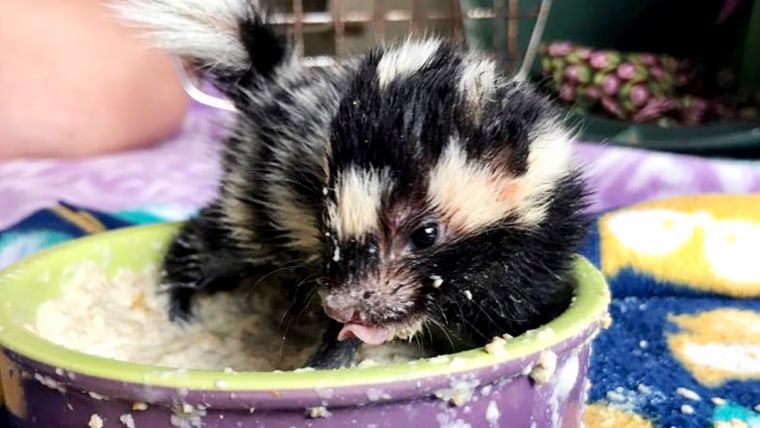 All five of the little ones — three girls and two boys — are messily enthusiastic about their meals.
One of them in particular gets so enraptured with eating that he climbs into the middle of the food bowl so he can lick up every last drop — except for the bits he flings onto Porter.
"They're a disaster," she said, laughing, then adding that the skunks are not as happy about their post-meal baby wipe baths.
Luckily, they're too young to express displeasure by spraying just yet. Once that happens, probably pretty soon, Porter expects that after the skunks' baby wipe baths, she herself "might be swimming in tomato juice" (referring to a common solution people turn to in order to help overpower the skunk odor).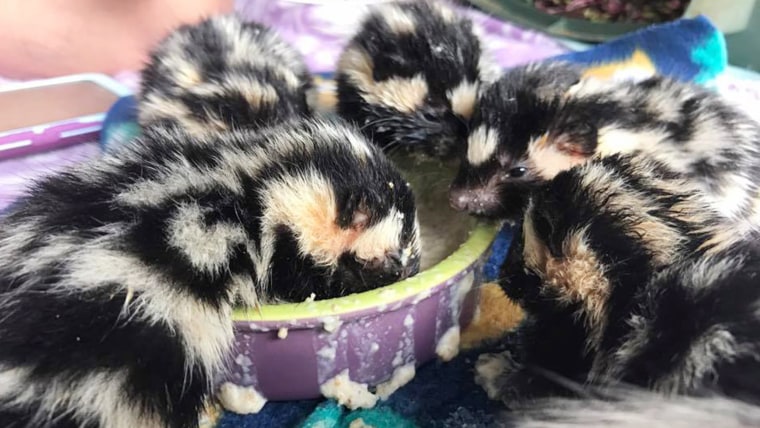 There's a reason Porter hasn't named the skunks: If you name them, it's harder to remember that they are wildlife and not pets.
In the fall, it's expected the skunks will be released back into the woods. As a rare species, it's important they are in a position to find and develop intimate adult relationships with other spotted skunks to perpetuate the species.
Even during what has been an incredibly busy period for Owl's Nest, Porter has enjoyed this time of caring for these unusual, unexpected, endearingly messy critters.
"They are so darn cute," she said. "They make you smile because they're so darn cute."