Even baby river otters have to learn how to swim, and they can't do it without some help from mom.

In an adorable video posted to YouTube by the Oregon Zoo, a 2-month-old baby river otter named Molalla gets a swimming lesson from his mother, Tilly. She nudges Molalla close to the water before grabbing her pup by the scruff of his neck with her mouth and plunging into the water with him.

"This might look a little brutal to us,'' the Oregon Zoo's Becca Van Beek says on the video. "It's kind of scary for us to watch, but it's natural for them.''
Tilly, a first-time mother, can also be seen teaching Molalla how to dive. She yanks him down under the water by the scruff of his neck and holds him down there for a few moments to get him used to being underwater. The pup is naturally buoyant and able to dog-paddle, so he needs his mom to help him with the advanced stuff.
Tilly is an orphaned otter who was brought to the zoo in 2009 when she was 4 months old, and Molalla, named after a river in Oregon, is the first river otter born at the zoo. The pup's father, B.C., was found orphaned in Arkansas in 2009 and was transferred to the Oregon Zoo in 2010.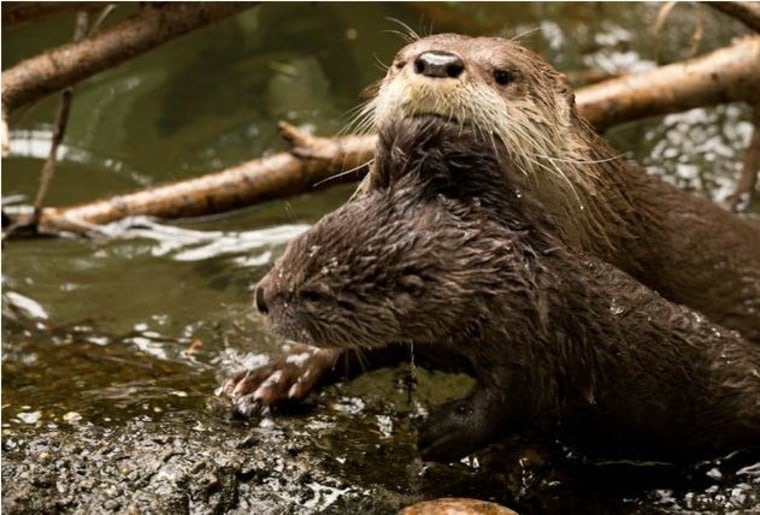 Molalla is growing rapidly after weighing only 4 ounces at birth; he is nearly 5 pounds now. It usually takes three to five weeks before young otters even open their eyes and nearly five weeks until they walk, according to the Oregon Zoo. Now, with some help from Mom, Molalla should be a natural in the water in no time.