Sunny Bayne really loves horsing around.
A video of the young woman being won over by a foal that gently knocks her over for a cute cuddle has gone viral.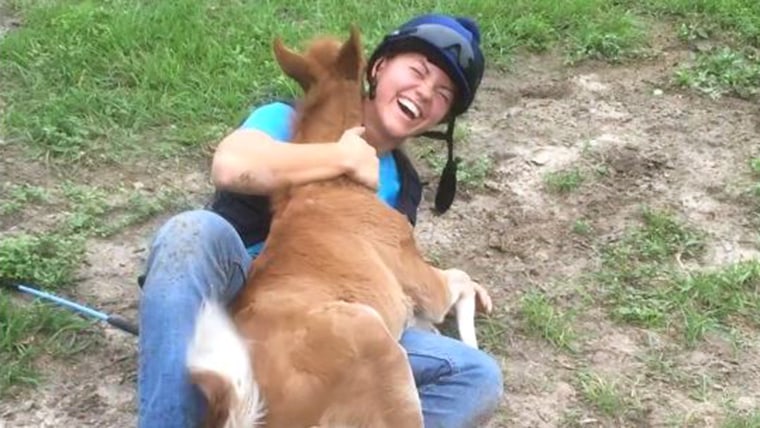 "This is the best day of my life," Sunny Bayne declares in the one-minute video she originally posted on her Facebook page last Friday. The video received nearly 10 million views by late Monday morning and was shared more than 280,000 times.
The video starts with Bayne on her knees, scratching the foal's neck. The animal responds by nibbling on Bayne's back and then gently pushing her over before resting comfortably on top of her. Bayne laughs throughout the entire scene.
"This is the happiest moment of my life!!!!!!" she wrote in the caption of the video she posted April 17.
Bayne identified the owner of the foal as Meg Miranda. "I have been around a ton of foals but not one quite like this gem! She's one in a million!"
A few days later, Bayne described her amazement at the response the video quickly received.
"I am in awe and complete shock that this video has went viral! I love horses with every fiber of my being," she wrote in a Facebook status update. "Horses have a way about them that touches my soul. Every now and again horse people come across a horse that places a mark on their heart. This one truly touched my heart and soul."
She said just moments before the video started recording, the foal galloped up to her and started playing.
"I could feel her love and curiosity. She walked all over me and I was okay with that because, I mean... look at her," she wrote. "Then we rolled around and played like kids. She melted my heart that day and I believe it's safe to say that she melted a few million other peoples hearts. She is ONE in a million! Heck lets get crazy and say a billion. Love her little pea pickin heart."